BULLETIN: 2 Memphis Cops Shot
DEVELOPING STORY: Two Memphis Police officers were shot Thursday night in Whitehaven. The attack happened on East Raines Road. Sources
Thailand Arrests 63 Chinese Christians Seeking Asylum
The "Mayflower church" members, who first sought refuge in South Korea, fear repatriation to China after finding sponsors in Texas.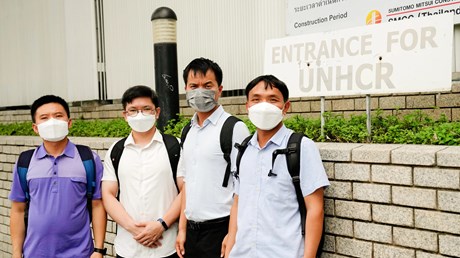 Thai immigration officials detained members of a Chinese house church Thursday that had been seeking resettlement in the United States since August. Human rights groups fear the 28 adults and 35 children could be repatriated to China, where they would likely face prison time.Members of Shenzhen Holy Reformed Church, known as the "Mayflower church," left China in 2019 due to religious restrictions and tried unsuccessfully to gain asylum in South Korea before coming to Thailand and applying for refugee status at Bangkok's UN refugee office.Bob Fu, head of ChinaAid, said that the raid didn't come as a surprise: Last week, the congregation noticed one member had been acting strangely. When confronted, he admitted to working with China's state security and had been coerced into revealing the group's location. Fu said church members last saw the man being escorted away by Chinese operatives, leaving behind his wife and daughter, and he hasn't been seen since.Pastor Pan Yongguang and the group went into hiding for a few days, then returned to their hotel. At about 11 a.m. on Thursday, about 20 Thai immigration police showed up and asked to see their passports and visas, which had expired in October.Deanna Brown of Freedom Seekers International, an NGO that helps persecuted Christians, had just arrived that morning to help the Mayflower church members when the police arrived, some taking photos and videos. Around 2 p.m., they transported the entire group to an immigration center 30 minutes away.Officials interrogated Pastor Pan Yongguang and other church members. As night fell, Brown said the officials debated bringing the group to Bangkok's Immigration Detention Center, notorious ...Continue reading...
Democrats Introduce Bill to Legalize Abortions Up to Birth Nationwide
A group of U.S. House Democrats reintroduced legislation Wednesday that would force every state to legalize the killing of unborn babies for basically any reason up to birth. Nicknamed the
Catholic Writer: Nancy Pelosi Should be Excommunicated for Promoting Abortion
Nancy Pelosi received more criticism this week for claiming to be a devout Catholic while supporting the killing of unborn babies in abortions. In a column at the Washington Examiner, commentary writer Christopher Tremoglie said it's time for the Catholic Church to excommunicate Pelosi, a California congresswoman, unless she repents of her evil ways. "Nancy […]The post Catholic Writer: Nancy Pelosi Should be Excommunicated for Promoting Abortion appeared first on LifeNews.com.
Federal Judge Strikes Down California Law Criminalizing Pro-Life Free Speech
A federal court yesterday struck down a provision of a California law that threatened the right of pro-lifers to exercise their First Amendment rights on public sidewalks outside abortion clinics. In 2021, California Governor Gavin Newsom signed SB 742, which criminalized speech and other First Amendment activities outside any "vaccination site," including Planned Parenthood and […]The post Federal Judge Strikes Down California Law Criminalizing Pro-Life Free Speech appeared first on LifeNews.com.