Russell Moore: From Hesitancy to Wholeheartedness
How surrendering our identities to God helps our children do the same.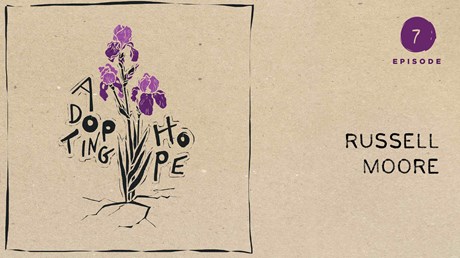 On this week's episode of Adopting Hope, Sasha and Joyce welcome Dr. Russell Moore. Dr. Moore is the president of the Ethics & Religious Liberty Commission, the public-policy arm of the Southern Baptist Convention.He and his wife, Maria, have five boys—two of whom joined their family through adoption. Dr. Moore also authored, among several other books, Adopted for Life The Priority of Adoption for Christian Families and Churches.Listen in as Dr. Moore tells their story of adopting two boys from Russia. He shares many of the peaks and valleys his family has traveled, and speaks to some of the particular temptations and struggles adoptive parents may face. And he encourages parents who are in the throes of raising teenagers—particularly adopted teenagers wrestling with questions of identity.Adopting Hope is a production of Christianity Today.Produced by Mike Cosper, Joyce Koo Dalrymple, and Sasha ParkerEdited and mixed by Alex CarterTheme song "We've Got This Hope" by Ellie HolcombContinue reading...
It's Inauguration Day. What's Next for Christians?
Many parents wonder, "What kind of world will I be raising my kids in?" Well, we don't know exactly what the future holds, but we do know who holds the future.
Will the Puzzle of the Cambrian Explosion Finally Be Solved?
Evolutionists claim fossil found in the Ediacaran layer to be ancestor to Cambrian creatures—while ignoring the more credible and biblical explanation.
Why Politics Isn't the Way to End Abortion (the Gospel Is)
Today is National Sanctity of Human Life Day, set aside to affirm and celebrate the sanctity of human life from the moment of fertilization to natural death.
Did You Know AiG Has a Christian School (And They're Having an Open House)?
You can meet instructors, tour the facility, ask any questions, and discover what makes Twelve Stones unique during the open house on January 30 and March 13.