In the mountains of Papua, missionaries and Indonesian professionals serve the lost together.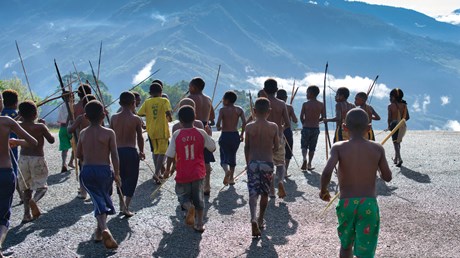 High above the interior of Papua, the pilot is getting anxious. It's later in the morning than he wanted, and the clouds are thickening. Somewhere below is the tribal village of Mokndoma. Every now and then the clouds part, revealing its dwellings for a moment, perched on a jungle slope. But the small prop plane is running low on fuel and lacks a clear, windless shot at the grass landing strip.The pilot goes back and forth with his colleague, whose own plane, bearing the other half of a delegation of Christian businesspeople, scholars, and journalists, landed successfully mere minutes before but now might be stuck there until the next morning. Banking in tight circles, he finally calls it. Mokndoma will have to wait.Such are the challenges missionaries confront in one of the most remote places on the planet. Months after this group left Papua, an American pilot with Mission Aviation Fellowship (MAF) lost her life there. Early on the morning of May 12, Joyce Lin's Kodiak aircraft faltered and plunged into the waters of Lake Sentani. The MIT and Gordon-Conwell Theological Seminary graduate had been on her way to deliver coronavirus supplies to Mamit, another tribal village in the highlands.Her death focused many Christians worldwide, if only briefly, on this far corner of the world where missionaries have been working for generations to share the gospel and translate the Bible for hundreds of animistic tribes.Today, a creative form of partnership between foreign missionaries and native Christians allows both to focus their unique gifts in the body of Christ.The island where Lin died is the second largest after Greenland and boasts the tallest mountains between the Himalayas and the Andes. Its tribes were once known ...Continue reading...
Patriarch Irinej of the Serbian Orthodox Church died after attending funeral of Montenegro counterpart who also had COVID-19.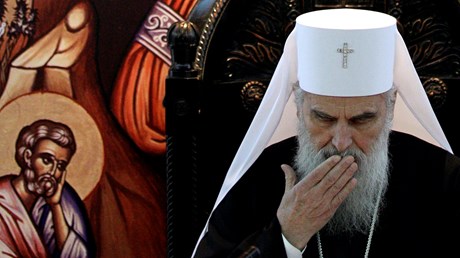 Church bells tolled and mourners flocked to light candles as the Serbian government proclaimed three days of national mourning for Patriarch Irinej. The 90-year-old leader of the Serbian Orthodox Church, who passed away November 20, became the world's highest-ranking cleric to die from COVID-19.Evangelical leaders in Serbia described him as kind and sincere in his dialogue with them.The Orthodox lost a towering figure, who nurtured the church through the Soviet era."I knew the patriarch as a simple man, modest in his needs, and of strong moral character," said Zoran Filipovic, an Orthodox priest who served on his staff."His greatest concern was the welfare of the church."It may have contributed to his death.The patriarch was hospitalized with the coronavirus early in November, soon after attending the funeral of the head of the Serbian Orthodox Church in Montenegro, Bishop Amfilohije [profiled by CT], who also died from complications caused by COVID-19.Thousands of mourners, most of them without masks, gathered at the November 1 funeral for Amfilohije in the Montenegrin capital, Podgorica, in violation of pandemic-fighting measures proclaimed by the small Adriatic state's authorities. The burial turned out to be a superspreader event, with several high-ranking church officials and other attendees later testing positive.After Amfilohije's death and Irinej's hospitalization, Serbian priests have started to appeal for their parishioners to take the deadly virus seriously. They had previously downplayed the threat from the global pandemic and largely ignored bans on large gatherings and preventive measures during prayers and other church services.Irinej was buried in the main Saint ...Continue reading...
In challenging circumstances, European evangelicals share a message of hope.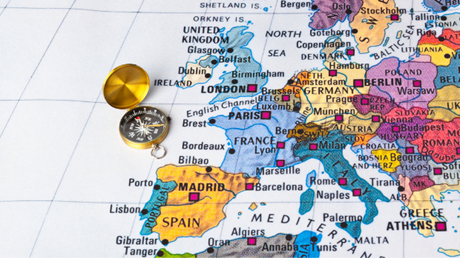 As the coronavirus pandemic continues its relentless march across the world, Europe battles a frightening second wave. New lockdowns, overwhelmed hospitals, and social unrest are increasingly the norm across the continent.But as a dark winter looms, European evangelicals can look back with gratitude and look ahead with expectation, thanks to a renewed rediscovery of fervent prayer, fresh creativity, and resilient hope in this trying year.Fervent prayerWhen churches were prevented from meeting in the spring, small communities scrambled to minister to people online while larger congregations grieved the loss of members who had weak links to the faith and attended church sporadically before the pandemic. "Not since the Second World War has something so profoundly affected the lives of all Europeans simultaneously," explained Jim Memory, leader of the process team for Lausanne Europe 20/21.The pandemic's effects were also felt by continent-wide gatherings of evangelical leaders, such as Lausanne Europe 20/21 and the annual European Leadership Forum. "Not being able to come together was like not being with your family at Christmas," explained Greg Pritchard, director of the European Leadership Forum.But as the discouraging news mounted, intercession initiatives sprung up across the continent. Local churches launched virtual prayer rooms, Evangelical Alliances hosted National Days of Prayer, and student movements such as IFES hosted prayer meetings for people across the continent. "The pandemic brought the European church to our knees," reports Sarah Breuel, director of Revive Europe. "We have never seen so many calls to prayer and fasting like this before."Fresh creativityContinue reading...
Worry about present hardships and trouble distorts our faith in God's future.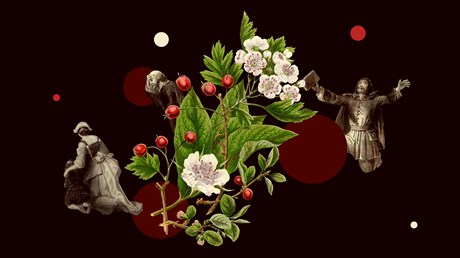 Much has been made among Christians in 2020 about systemic sin—the collective fault of institutions, societies, and their norms and laws to engender injustice and cause harm. Most evident in heated debates over race, politics, policing, education, and the economy, systemic sin implies a capacity for wrong on the part of structures that individuals could not accomplish on their own.But racism still requires racists; unjust institutions and arrogant corporations require people who are corrupt and arrogant. Systemic sin implicates individual sinners whether we realize it or not. In a previous era, inhabited by those Pilgrims whose gratitude we emulate every Thanksgiving, sin was understood as chronic, spiritual corruption solved by salvation alone. Once saved, redemption pressed the saved sinner into obedience, a good tree bearing good fruit (Matt. 12:33).Jesus taught his disciples how a wise man built his house on a rock before the rains fell and the flood came, the rock being obedience to Christ in every aspect of life (Matt. 7:24–25). As the Pilgrims courageously crossed the Atlantic for the sake of religious liberty, their courage derived from their conviction that not even a sparrow "will fall to the ground outside your Father's care" (Matt. 10:29). Shaped by what they long held in their hearts, they viewed their journey's ultimate end as a heavenly country, a city God had prepared for them (Rev. 21:2). When stalked by exposure and starvation in the New World, they recalled the words of Jesus: If "God clothes the grass of the field, which is here today, and tomorrow is thrown into the fire, how much more will he clothe you—you of little faith!" (Luke 12:28).They would ...Continue reading...
When Juwan, a man from a tiny Ethiopian village, found Jesus, he heard about taking the gospel 'to the ends of the earth.' He knew exactly where to start.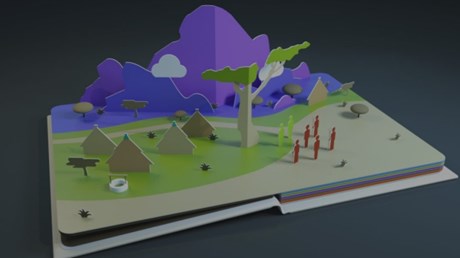 The movement in the Horn of Africa continues to make disciples, planting four new house churches every day. To date, they have seen more than 230,000 people become followers of Jesus. With a deep commitment to prayer and fasting, they follow Luke 10, looking for "people of peace" who then bring households, villages, and entire tribes to Jesus. Daily, their church planters face persecution for the sake of the Gospel. But, they say, "we count it all joy so that we can share Jesus with more people." For security reasons, we don't divulge the identity of these brothers and sisters.After watching this episode of God Pops Up, read our article about a kindergarten teacher called to ministry aboard The Africa Mercy.Through God Pops Up, Christianity Today brings stories to you from some of the world's most dangerous locations. We tell of people risking their lives in hard places to share the Good News. While we have confirmed these stories' accuracy, unlike most of our journalism, we cannot cite sources, show photos, or name names. God Pops Up tells true stories through animation to encourage the global church while protecting these heroes.Continue reading...
When the government blocked his Christian radio station, Chanda had to find another way to spread the good news of Jesus. His answer came on a microchip.
This strategic work in Southeast Asia faces continued pressure from the government and yet it continues to spread. Drawing on new technologies, the leaders have equipped hundreds of "hubs" across their region. In some places, they have brought the Gospel to tribes who have never heard. They've even translated the Bible, for the first time, into the language of some of these people. Their video ministry is even reaching untold numbers of deaf people, helping them learn sign language, and the language of God's love. For security reasons, we don't divulge the identity of these brothers and sisters.After watching this episode of God Pops Up, read the story of missionaries in the mountains of Papua, who face life and death in "The Land of the Clouds."Through God Pops Up, Christianity Today brings stories to you from some of the world's most dangerous locations. We tell of people risking their lives in hard places to share the Good News. While we have confirmed these stories' accuracy, unlike most of our journalism, we cannot cite sources, show photos, or name names. God Pops Up tells true stories through animation to encourage the global church while protecting these heroes.Continue reading...
Following the miraculous healing of his mother, Anil seeks out the man he is convinced saved his mother.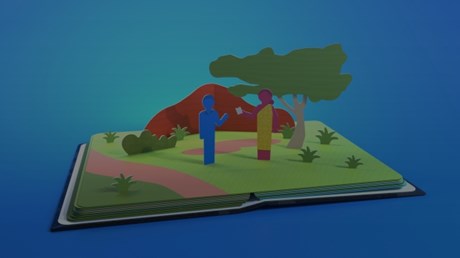 Anil's life took a sudden turn after his mother was miraculously healed following a woman's simple prayer to Jesus. In this episode of God Pops Up, follow Anil's journey to learn more about the man, he is convinced, saved his mother.After watching this episode of God Pops Up, read more about Apilang Apum's call to Christ in a remote corner of India.Through God Pops Up, Christianity Today brings stories to you from some of the world's most dangerous locations. We tell of people risking their lives in hard places to share the Good News. While we have confirmed these stories' accuracy, unlike most of our journalism, we cannot cite sources, show photos, or name names. God Pops Up tells true stories through animation to encourage the global church while protecting these heroes.Continue reading...
As Abiy's military closes in on TPLF forces, thousands flee to Sudan.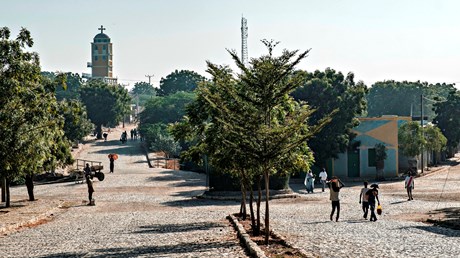 The jagged rock spires and steep mountains of the Tigray region in northern Ethiopia are home to some of the oldest churches in the world.Against that historic backdrop, forces loyal to the central government in Addis Ababa have pushed toward the regional capital, Mekele, fighting soldiers loyal to the Tigrayan People's Liberation Front (TPLF).Fierce fighting has raged since November 4, when Ethiopians awoke to see Prime Minister Abiy Ahmed announce that he had sent federal troops to Tigray in response to an attack on the Northern Command Post of the National Defense Force in the region. The once-dominant TPLF, whose relations with the central government had been souring for months, had attacked federal troops."The last red line has been crossed with this morning's attacks and the federal government is therefore forced into a military confrontation," Abiy said.All internet and telecommunications have been shut off in Tigray since then, making information difficult to verify. The Ethiopian government says it is making advances that include the capture of the ancient city of Axum, where the church of Our Lady Mary of Zion is believed by the Ethiopian Orthodox Tewahedo Church to host the original Ark of the Covenant.As they retreated, TPLF forces damaged the Axum airport and destroyed bridges leading into Mekele."There was a lot of confusion," a Christian expat working in the Tigray town of Shire, near the border with Eritrea, told CT. Evacuated by the United Nations last week, he asked to remain anonymous in order to protect his work there. "That first day was the worst, because people were killed, shot, and beat. We heard soldiers trying to hide in homes, and other soldiers trying ...Continue reading...
The first question for Christians living abroad was, "Go or stay?" After that, it got hard.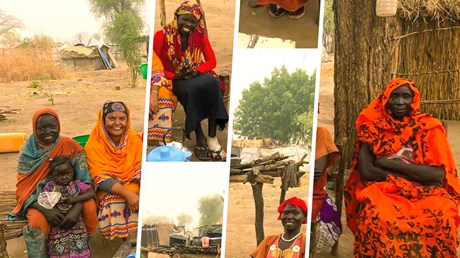 Eric Katzung's two-year-old daughter saw snow for the first time this spring in Colorado. But the question she keeps asking is when she can eat her favorite meal again—Taiwanese clams and rice. Katzung explains that they don't have Taiwanese food in Colorado, and his daughter says, "When can we go home?"Katzung doesn't know if Taiwan is home anymore. He and his three daughters, ages 5, 4, and 2, left the country in a hurry in March when coronavirus case numbers started getting bad and borders started shutting down. His wife, Dava, was already in the States for a visit with family and never got to go back to Taiwan to say goodbye.They had lived there for two years, sharing their lives and their love with their Taiwanese neighbors as Katzung worked as a counselor at a university.Now they are living in a borrowed one-bedroom apartment in Colorado. They have a borrowed car, borrowed children's toys, and borrowed coats that the girls wear when they go outside to see the snow."We are in an uncomfortable holding position, a forced flexibility," Katzung said. "These are the struggles of cross-cultural workers. We get things stripped away. Now we're at another layer of stripping."About nine million Americans live abroad, according to the US State Department's most recent figures. Some of these are missionaries. Some are aid workers. Some, like the Katzungs, are Christians who want to live out their faith in a cross-cultural context.Their lives and work are dependent on governmental permissions, work visas, plane rides, the willingness of communities to welcome outsiders, and sometimes financial support from churches or friends back home. The whole system ...Continue reading...
Cell phone location data indicated religious gatherings appeared to be a top transmission spot when the pandemic took off.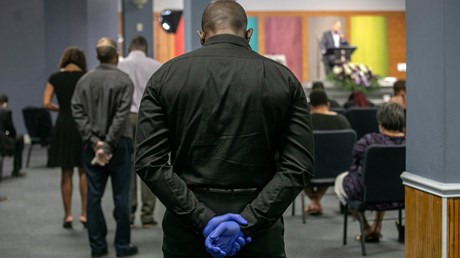 New research suggests that, at the beginning of the pandemic, Americans from lower-income or majority-minority neighborhoods were more likely to be infected with COVID-19 through religious gatherings such as churches than those living in higher-income or predominantly white neighborhoods.Cell phone data was an early indicator that Sunday morning church attendance slowed significantly in the spring. According to a new model published in Nature, it also reveals the disparities in which segments of the population were able to stay at home and reduce exposure.Researchers at Stanford University found that churches were among the top five sites for coronavirus transmission, alongside restaurants, gyms, cafes and snack bars, and hotels. According to an analysis of anonymous cell phone data, these places tended to have more visitors and longer visits. In all, the model calculates that visits to these sites accounted for 70 percent of transmitted cases during the first several weeks of the pandemic.The study used mobility data from cell phone users in 10 large US metro areas throughout March and April. They calculated the transmission rate in various neighborhoods by overlaying US Census data with the density of infected individuals in those locations. (They compared it to the New York Times' COVID-19 case tracker and found the model to be an accurate prediction.)Even though black churches have generally been the most cautious about reopening, residents in black and Hispanic neighborhoods who met in person during this time carried a greater likelihood of transmission largely due to their higher mobility and more frequent visits to crowded places.Since contact-tracing efforts weren't widely available, the cell phone data ...Continue reading...
A new study touches on many factors that shaped life in Plymouth Colony. But the most important one gets lost in the laundry list.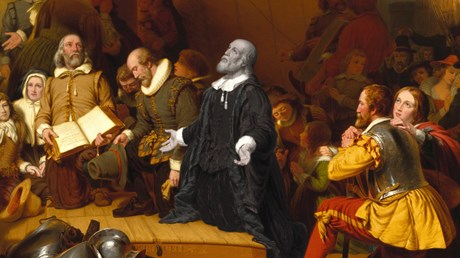 This December marks 400 years since the Mayflower dropped anchor in Plymouth Harbor, and for the past 200 years the story of its passengers has loomed large in American memory. Generations of schoolchildren have learned its basic plot: how a tiny band of plain men and women, desperate for a better life, crossed the stormy Atlantic and endured unimaginable hardships in a strange land where, with the help of their Native American neighbors, they managed to endure and even to flourish.But how well do we know this group that the 19th century would christen "the Pilgrims"? Not well at all, as it turns out. With her new book The World of Plymouth Plantation, UCLA historian Carla Gardina Pestana joins a long line of scholars who have tried to set the record straight over the years, seeking to challenge, complicate, and enrich our understanding of the story we think we already know. The result is a book that is generally informative and interesting but rarely edifying.A Little Bit About a Lot of ThingsPestana rightly laments that we condense the history of the Pilgrim colony into a series of discrete, still-life vignettes: the signing of the Mayflower Compact, the landing at Plymouth Rock, the celebration of the first Thanksgiving. She is correct in noting that Americans have mythologized each of those historic moments. If later generations insisted that the Mayflower Compact was "an early expression of democratic striving," the Pilgrims in reality gave "no indication of wanting to escape their status as subjects of a king." Although more than a million tourists flock to Plymouth annually to file past a shrine erected over the Pilgrims' supposed landing site, "those who designated ...Continue reading...
Aboard a Mercy Ship, a kindergarten teacher asked, "Should I stay or should I go?"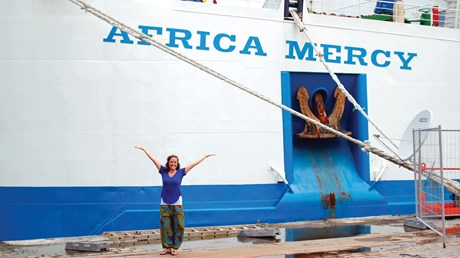 She had to decide right then. Should she stay or should she go?In early March, when the World Health Organization (WHO) declared COVID-19 a global pandemic, hundreds of volunteers aboard the Africa Mercy gathered in the ship's lounge for a mandatory meeting. The American Embassy had announced a special repatriation flight for US citizens, and the staff on the ship anchored outside Dakar, Senegal, providing medical care and humanitarian aid to the Senegalese, had to choose whether or not to write their names on the "fly list" and return home.Beth Kirchner, a kindergarten teacher, had talked with her family before the meeting, but now the decision was hers. An initial wave of nonessential volunteer staff had already left the ship, but then the city's airport canceled all international flights. This flight was the last option if she was going to leave.She couldn't sit on the deck of the ship at sunset and allow the dolphins and turtles and other creatures of the sea to speak God's peace to her. There was no time.From school teachers and caregivers to health care workers and heads of state, no one was unaffected when the virus swept across the globe in early 2020. Many people had to make decisions about safety and risk, and some, like Kirchner, faced existential questions of calling.As with many aid workers and missionaries, Kirchner's job wasn't a job so much as a part of her core identity. It was how she answered the question "Who am I?" and connected her deepest self and God's calling on her life.It was her answer to that call in the first place that put her in the lounge, facing the decision to stay or go. More than a dozen years earlier, Kirchner had become ...Continue reading...
Report: How smaller congregations are still showing up to support their communities through growing social action.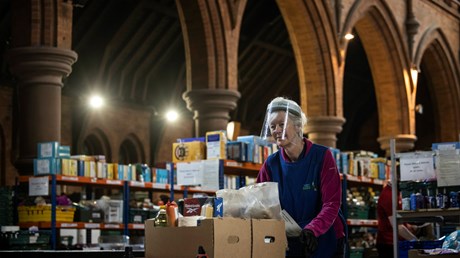 There are two pictures I could offer you of the role and significance of the Church of England in contemporary British society. The first is one of growing secularization and declining church attendance. The second is one where the church is the beating heart of the nation's socioeconomic infrastructure, with an ever-increasing contribution of food banks, homeless shelters, and a range of community support.Paradoxical though it may seem, both these pictures are recognizable reflections of the national church in Britain in 2020.The evidence for secularization, or at least for the declining importance of Christianity, is compelling. Christian affiliation in the UK fell from 66 percent to 38 percent over 25 years, with Anglicanism accounting for the sharpest decline in affiliation. By 2018, only 12 percent of the national population identified as belonging to the Church of England or its sister churches in Scotland and Wales.Any residual cultural affiliation to the Church of England appears to be in freefall and is likely to accelerate; surveys show as few as 1 percent of 18- to 24-year-olds now identify as Anglican. Likewise, attendance at Church of England services has fallen significantly in recent decades, down to an average weekly attendance of 57 people (compared to a mean of 81 in the Episcopal Church in the US, which has also suffered decline).Looking at the data, we might question the validity of a national church that attracts less than 2 percent of the national population to regular worship. Indeed, this might even be taken as fuel to fire the debate about the established nature of the Church of England. But what of the second picture?The material and social conditions of the UK have seemed especially urgent ...Continue reading...
Like Peter, we too are offered freedom, though we deny him.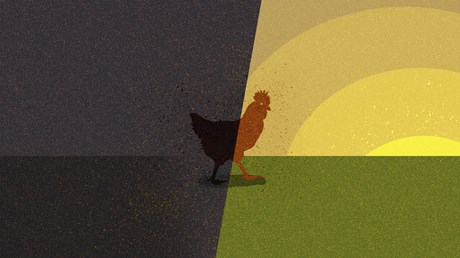 When my parents entered their latter years, they took up a new hobby: keeping chickens. At the height of their enthusiasm, they tended 21 chickens in a hen house affectionately dubbed the Taj Mah'Omelette—20 chickens, that is, and one noisy rooster. To be a houseguest during this season was to have, as they say, a rude awakening—albeit one followed by a magnificent breakfast.The briefest Google search confirmed what I suspected to be true from my own brief exposure to the Taj Mah'Omelette: Roosters crow and crow. They crow every morning, and they crow all morning. They crow to announce another day, but they continue crowing as long as it is called "today." We just notice it more in the morning because roosters are particularly adamant when they wake up.Roosters populate ancient fables and mythologies, and they make a notable appearance in the Bible. All four Gospels record Peter's famous three-time betrayal of Jesus punctuated by the crowing of a rooster, just as Jesus had prophesied. All three synoptic Gospels say Peter "wept bitterly" at the sound.Our senses are powerful memory holders. The smell of mothballs transports me to my grandparents' attic where I played dress-up. The taste of pound cake transports me to my mother's kitchen where I licked batter from a wooden spoon. Sounds, too, attach themselves to memories. From childhood, an old screen door banging shut is the sound of homecoming to me.I imagine what kind of memory the rooster's crow evoked for Peter. Every dawn after that first terrible morning of betrayal, the proclamation of his bitter guilt would have rung afresh in his ears. Carried in the crowing would have been the memory of his ...Continue reading...
COVID-19 causes decline, hurting CCCU campuses.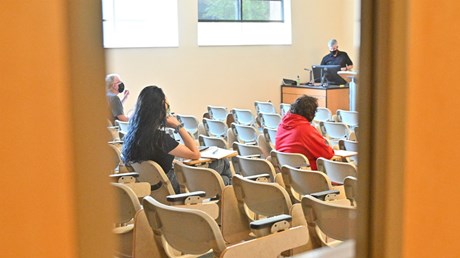 A precipitous drop in the number of international students this fall is taking its toll on evangelical Christian colleges.Embassy and consulate closures, coronavirus-related travel bans, and fewer international flights made it difficult for international students to attend school this semester. Total international student enrollment across American higher education dropped by 16 percent this fall, according to a survey of 700 institutions by the Institute of International Education (IIE). New international student enrollment declined by 43 percent. Approximately 40,000 international students deferred enrollment to a future term.The decline was less pronounced at small Christian colleges, but the absence of international students is still straining institutions in major ways."Every single student matters. That's not just being trite about it. It's significant," said Chant Thompson, executive director of the North American Coalition for Christian Admissions Professionals. "It's very, very impactful, even though people might say, on the whole spectrum, the international student population is not the majority."On average, about 4 percent of students at Council for Christian Colleges & Universities (CCCU)–associated schools come from outside the United States, according to the most recent data from the Integrated Postsecondary Education Data System. Recruiting more is often a priority.International students, first and foremost, bring a global perspective to campus and have an impact on student life, Thompson said. Finances are a second driver. Many Christian colleges are facing challenges in enrolling students from the US, leading to revenue losses, and international students ...Continue reading...
The commemoration we recognize each year came out of a deep view of providence and everyday gratitude to God.
Studying all extant eyewitness accounts of the first Thanksgiving is not difficult. It requires reading just 152 words, written in late 1621 by Plymouth colony statesman Edward Winslow: Our harvest being gotten in, our governor sent four men on fowling, that so we might after have a special manner rejoice together after we had gathered the fruit of our labors; they four in one day killed as much fowl, as with a little help beside, served the company almost a week, at which time amongst other recreations, we exercised our arms, many of the Indians coming amongst us, and among the rest their greatest King Massasoit, with some ninety men, whom for three days we entertained and feasted, and they went out and killed five deer, which they brought to the plantation and bestowed on our governor, and upon the captain, and others. And although it be not always so plentiful as it was at this time with us, yet by the goodness of God, we are so far from want that we often wish you partakers of our plenty.The celebration bore marked differences from some traditional portrayals. The 90 Wamponoags present were nearly double the 50 Englishmen still alive after their first grueling winter in Plymouth, down from 102 who arrived on the Mayflower. It probably took place outdoors, in September or October rather than November. They ate more venison and seafood than turkey, berries rather than pumpkin pies.In some quarters, it has become popular to suggest even deeper differences between traditional American Thanksgiving celebrations and what occurred at Plymouth in 1621. Contrary to the traditional portrayal of families gathered around their tables with heads bowed in prayer, some historians question whether Christian spirituality should be associated ...Continue reading...
How does theology explain a pandemic? Basic biology, human sin, or the Devil?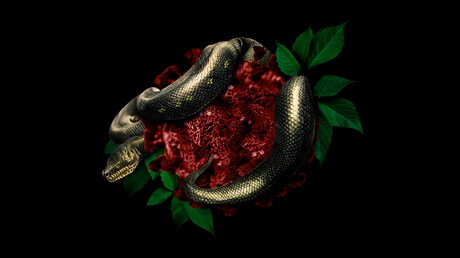 When I first asked whether the coronavirus is evil, the virus was still novel and the panic not quite a pandemic. But as I type now, almost 1.5 million people have died worldwide and the virus proliferates relentlessly, a conflagration with plenty of wood yet to burn as we await a vaccine and its dissemination. What may have seemed to be a controllable fire in the beginning now rages nearly out of control in the United States, India, Brazil, Europe, and elsewhere. Viewing the virus as part of God's "good creation" presses against our theological sensibilities. Is the coronavirus evil? How can it not be?"COVID-19 pandemic has wide implications for what Christians mean by the goodness of creation," wrote theologian Hans Madueme, who leveraged my "hornet's nest" of a query for an online symposium. As this array of brilliant respondents has written, a virus, no matter how destructive, cannot carry the moral equivalence of human willfulness. But the mere lack of moral willfulness does not make it good.Viruses are not free agents, but I still wonder about a kind of created freedom in the nature of things—akin to what we know about uncertainty in the quantum realm undergirding the reality we experience. Inasmuch as humans are made from the dust in God's image (Gen. 2:7), there exists a continuity between Creator, creation, and creature. The free will of God manifests in the moral choices humans make, and is reflected, perhaps, in what we perceive as the random nature of nature.John Stackhouse labels the virus "a pestilence with no place in the messianic kingdom to come." Katherine Sonderegger aptly narrated the dreadful landscape wrought ...Continue reading...
Let incisive comedy give us "eyes to see."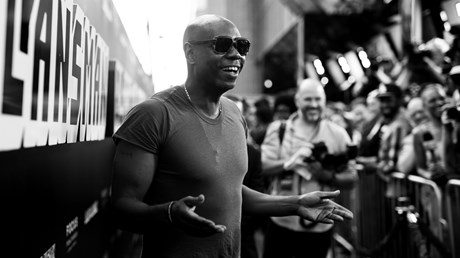 The weekend after the election, I was exhausted like the rest of the country, and my spirit was in need of a good sermon. Thankfully, all I had to do was tune into Saturday Night Live to hear from the great American preacher himself: Dave Chappelle.As he stepped onto the iconic SNL stage to bring his long-awaited word, I smiled at his familiar Washington, DC, swagger. I've been a fan of Chappelle since he played comic Reggie Warrington in the Eddie Murphy classic The Nutty Professor. He has shaped the voice of comedy over three decades, and as he has evolved, comedy has grown with him.Standups historically have pushed boundaries, skewered politics, and forced us to see the absurdity in our society. But Chappelle has been willing to do so with moral heft and ethical grounding rather than comedic detachment. He jokes, smokes, curses, and shouts, but like a preacher in the heat of a sermon, there's a point to it. He is a pastor among comedians, and once again he's got a message for us."Don't even want to wear your mask because it's oppressive? Try wearing the mask I been wearing all these years. I can't even tell something true unless it has a punchline behind it," Chappelle said during his 16-minute SNL monologue. "You guys aren't ready. You're not ready for this. You don't know how to survive yourselves. Black people, we're the only ones that know how to survive this. … You need us. You need our eyes to save you from yourselves."The best comedians, like the best preachers, give us eyes to see. For black comedians, though they're after laughs, their perspective stems from trauma and suffering."If we really took a closer look ...Continue reading...
Annual gathering of Christian scholars seeks better engagement with Islam.
It is not often that a Muslim appears at an evangelical theological gathering.Al Mohler invited three.The trimmed-down 72nd annual conference of the Evangelical Theological Society (ETS), held virtually this week, usually welcomes up to 2,000 top scholars to present on the most salient issues facing evangelical scholarship.This year's theme: Islam and Christianity."We are called to truth, and to understanding the world around us more accurately and thoughtfully," said Mohler, president of Southern Baptist Theological Seminary (SBTS), who also served as ETS program chair."That certainly includes our understanding of Islam, which has from the beginning represented an enormous challenge to Christian evangelism, apologetics, theology, and cultural engagement."Roughly 15 percent of the 130-plus events addressed these challenges, including the three official plenary sessions—in typical academic parlance: "The Authority and Function of the Quran in Islam," by Ayman Ibrahim of SBTS "Through the Prism: The Trinity and the Islamic Metanarrative," by Timothy Tennet of Asbury Theological Seminary "American Christians and Islam: From the Colonial Era to the Post-9/11 World," by Thomas Kidd of Baylor UniversityBut it was the challenge of "cultural engagement" that led ETS to reach out to the Muslim panelists. Each was invited to share their view of evangelicals, and address the issues that concern them. It could "scarcely be more relevant and urgent," said Mohler.Three Christians joined them on the panel, focused on"Understanding Our Neighbor.""We don't resist the idea we must love Muslims," said John Hartley, a research ...Continue reading...
Leading through challenging circumstances does not mean leading in isolation.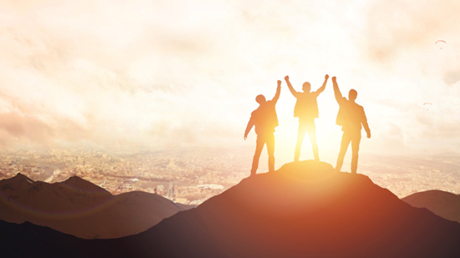 Have you ever been in a class, whether in school, college, or an training course of some kind, where everyone seems to be struggling except that one student who not only succeeds but does so with an ease that seems to make the mere completion of the assignment feel like gloating?In our current socio-political moment, where leaders of all kinds have felt the push and pull of ever changing public health regulations, the social media-fueled politicization of all of life (even mask wearing), an economy that is booming for some and busted for others, not to mention watching our communities suffer through the fallout of a zero-sum contest that seems to force a choice between opposing racism and supporting our local police officers, any leader of any organization large or small who can casually say that the stresses and strains of leadership haven't increased over the last few months feels a lot like that math-wiz in our fourth grade class. Good for them. Now, what about the rest of us?Leading in a Changed LandscapePastors definitely aren't immune from this heightened leadership stress. Over the last few months I've found pastoral leadership to be more of a tightrope walk than ever before. If your experience is anything like mine you've probably have had sleepless nights or seemingly endless conversations with yourself and your board (or your unfortunate spouse) about which of two less-than-ideal choices is the least bad or which decision will ostracize the least number of folks.Now, before you write off the rest of this essay as a sort of extended whine, let me say that I am a person who enjoys leadership. I feel called to lead as a husband and father, as a pastor, and as an involved member of my local community. ...Continue reading...
The simple church model may no longer be effective in our new reality.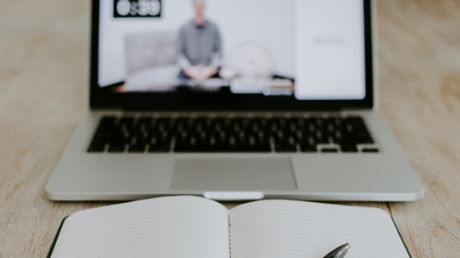 Change: Simple church may no longer be effective in a changing environment. Shift: Churches need to shift from simple-models to hybrid-models of church.We've all heard the saying you can't teach an old dog new tricks. But new tricks—structures and strategies—must be learned if churches want to be effective in this new era.Years ago, Thom Rainer and Eric Geiger wrote Simple Church. I devoured that book. It became my mantra and my model that I sought to implement in the churches I served. For the most part, I have seen many churches adopt some simple form of ministry and mission. For instance, very few churches have the traditional (more complex) structures of church—Sunday morning bible study and worship, Sunday evening discipleship training union and worship, Tuesday visitation, Wednesday night agape meal and prayer meeting.Beyond the scope of their book, there are other "simple" models that the church enacts that I believe will need to be reimagined. First, most churches have a simple model when it comes to corporate worship—even if they do multiple weekend gatherings. Second, most churches have a simple model when it comes to funding ministry and mission—solely through tithes and offerings. Third, most churches have a simple model when it comes to reaching new people—"invite them to church."Given COVID-19 and the future being expedited, the shift churches should make is to navigate away from simple models of ministry and mission and more to hybrid models of ministry and mission.What does that look like?First, churches may want to consider going to multiple kinds of teaching environments.We know COVID-19 basically scattered the church during lockdowns, ...Continue reading...
Evangelicals have done commendable work advancing religious freedom around the globe. But that work has involved some questionable moral compromises.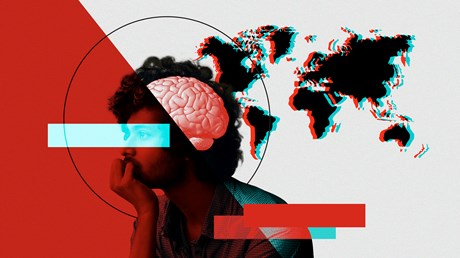 In 1998, President Bill Clinton signed the International Religious Freedom Act, authorizing the government to impose sanctions on nations violating religious liberty. The law created an Ambassador at Large for International Religious Freedom along with the United States Commission on International Religious Freedom. It enshrined religious liberty as a goal of United States foreign policy and created a special advisor on the subject within the National Security Council. The act was a milestone in international religious-freedom advocacy. It was also the culmination of years of evangelical activism in favor of a foreign policy that advanced the rights of conscience abroad.In her book To Bring the Good News to All Nations: Evangelical Influence on Human Rights and U.S. Foreign Relations, historian Lauren Frances Turek explores those preceding decades and the role evangelicals played in shaping foreign policy. Much scholarship has focused on evangelical engagement during the 1970s and '80s on domestic issues such as abortion or the Equal Rights Amendment. And to the extent that this scholarship considers evangelicals' foreign-policy objectives, the focus tends to fall on their support of Israel. But Turek moves beyond this framing, arguing that evangelicals advanced the cause of religious liberty as a right of all individuals because of their commitment to world evangelism.The book is organized into two sections, with the first half setting the framework and historical context and the latter half presenting a series of case studies in three regions (Russia, Guatemala, and South Africa) for how evangelicals operated on the foreign stage. Her book illustrates the commendable work evangelicals have done to advance the ...Continue reading...
I have a legitimate need for monastic silence. But that need is also a serious temptation.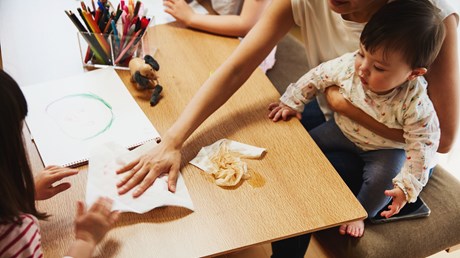 Covidtide has been a deeply lonely time for many of us. My single friends miss gatherings and human touch. They bear a unique and heavy grief in this season. But those of us with a full house experience another kind of sorrow that comes with the unrelenting presence of people. We know well the strange dichotomy of simultaneously feeling lonely yet desperately longing to be alone.Over the last few years, I've regularly retreated to a convent near my home, but since COVID-19 hit, I go more often. When I'm home, I catch myself fantasizing about the monastic life with its blessedly quiet order. But my home is a far cry (literally) from the hushed hallways of a monastery. I wake each day not to the singing of the Psalms but to a hungry one-year-old crying. Soon he is joined by other small voices.All day and into the night, the house echoes with kids giggling, arguing, shrieking, hollering that we're out of toilet paper, hollering that we're out of milk, and my husband hollering that there's too much hollering. And with the pandemic's curtailing of in-person school, playdates, babysitters, and open coffee shops (which are my office), there's no escape. The five members of my family are nearly always together, housebound in a small space.My monastic longing is understandable—I crave silence, solitude, and prayer. These longings spring from what theologian Greg Peters delightfully names "the monkhood of all believers," which he identifies as the call on every Christian's life to single-heartedly seek God. But I'm also learning that among these legitimate desires dwells a kind of monastic temptation.In Henri Nouwen's The Genesee Diary, he chronicles ...Continue reading...
A new initiative led by Thabiti Anyabwile aims to support leaders serving in distressed urban areas.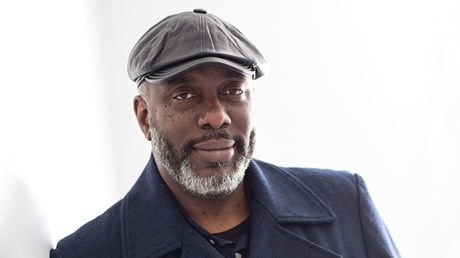 A team of pastors including Thabiti Anyabwile and John Onwuchekwa have launched a new network—The Crete Collective—to support church planters focused on black, Hispanic, and Asian American communities.The network represents a move to bring more people of color into leadership for church-planting initiatives and to focus more missional attention toward poor and underserved urban areas with high concentrations of ethnic minorities."The Crete Collective would place at the center of its work the concerns, ideals, aspirations, frustrations, struggles, and realities of black and brown neighborhoods in all of their diversity," said founding president Thabiti Anyabwile, a pastor at Anacostia River Church in Washington, DC."We would enthusiastically encourage the kind of holistic discipleship that sees gospel preaching and justice as siblings rather than as enemies. We've got a whole range of issues that we have to care about in our communities … immigration challenges, prison reform, hunger, homeownership."While major networks have worked for years to make church planting more diverse in the United States—a majority of Southern Baptist church plants, for example, are multiethnic or non-Anglo—the movement overall remains disproportionately white. It also tends to concentrate new churches in places with the most existing churches.Len Tang, the director of church planting at Fuller Theological Seminary, called plans for a network led by and for black, Hispanic, and Asian American pastors "so timely and relevant.""Much of the modern church-planting movement has primarily been white and suburban and male. Over the last generation, there's been—like ...Continue reading...
Church growth has corresponded with a huge jump in multisite locations and deeper engagement in small groups.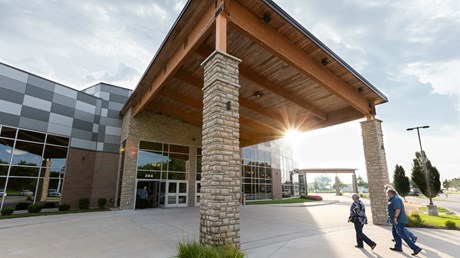 Megachurches have gotten so big over the years that they've outgrown their sanctuaries.The average megachurch in the United States had 4,100 regular attendees (before the pandemic) and seating for 1,200. That's because, unlike in earlier days, most now spread services across multiple sites and locations over a weekend, according to a new report by the Hartford Institute for Religion Research and the Evangelical Council for Financial Accountability (ECFA)."The 20-year trend to become multisite … has continued to explode," the researchers wrote in the report, a 2020 survey of 582 megachurches, defined as Protestant churches with regular attendance of 2,000 or more.Multisite megachurches tripled between 2000 and 2020, now with 70 percent of megachurches operating as multisite and another 10 percent considering it.Pastor Phil Hopper leads a multisite church called Abundant Life in Lee's Summit, Missouri, a suburb-turned-city outside Kansas City. The multisite trend may be new, but to him it's actually a return to an ancient strategy."We have to get back to that early paradigm of church ministry," the pastor said. "The 'win' has to be 'Wow, we just sent 500 people from here somewhere else to launch something brand new.' … That's what made early Christianity a move of God that swept through the ancient world."As megachurches continue to grow, logistically they have to add services or locations to accommodate new attendees. "You can't keep building a bigger building every time you run out of seats," said Hopper, whose congregation drew 7,000 attendees across two locations before the pandemic.The average US megachurch, ...Continue reading...