Suggests that "employment suspension or stay-at-home orders" should be used to force people to get a jab

Democrat presidential candidate uses negative results to push face masks.

A look inside CT's reporting and what it means for Christian witness and evangelism.
By Aaron Kesel Volansi has partnered with Big Pharma Merck to launch a test program in rural North Carolina to examine their ability to deliver...Merck Partners With Drone Startup Volansi For Vaccine Delivery

Germany experienced drought in the past four years and Israel has extensive experience in agriculture in arid conditions, Prof. Vinnie Altsein from Volcanic Institute told the 'Post.'
By Tyler Durden When we recently described the upcoming "Unprecedented monetary overhaul" which will come in the form of the Fed sending out digital dollars...Bank of America: Fed Will Use Digital Dollars To Unleash Inflation, UBI And Debt Forgiveness

Listen to this sermon here Last Sunday evening at the ABF at Brandon and Christina's home we had a question and answer session about the morning sermon… hopefully you will recall I preached on The Lord's Prayer last week, and I spent a good deal of time on the subject of forgiveness.  One of the questions [...]
By B.N. Frank The majority of scientists worldwide oppose 5G until there are studies that show it's safe. Doctors and scientists have asked for moratoriums...Lille City Council Passes Moratorium on 5G Deployment Due to Health and Environmental Concerns (France)

By B.N. Frank Expert warnings about satellites and similar vehicles adding to already dangerous levels of Space Junk are NOT new. There are also safer...More SpaceX Satellites Launched: No Mention If Engine Issue Threatens Next Month's Launch of 4 Astronauts

Christian Broadcasting Network's Pat Robertson is claiming that God sent him a prophetic word regarding the 2020 presidential election. According to Robertson, God told him that President Trump would win reelection and as a result, the U.S. would be torn apart and a massive war would break out against Israel.

WASHINGTON, D.C. - Pacific Justice Institute, representing Family Research Council (FRC), sent a letter today to MobileCause CEO Victor Limongelli regarding their termination of their contract with FRC. Last month, in a stunning incident of big tech censorship and religious discrimination, MobileCause terminated the contract one hour before the conservative religious organization's Pray Vote Stand broadcast. The termination, based upon Family Research Council's religious views, prevented the broadcast from reaching thousands of Christian voters with information about the 2020 election....

By B.N. Frank Experts continue to warn that Autonomous Vehicles (AVs) are NOT safe (see 1, 2, 3, 4, 5). There have been multiple reports...WaPo: Safety Criticism by Experts and Drivers of Tesla Self-Driving: "…it picked up the piles of poop as [traffic] cones…"

By Brett Wilkins Residents of a Sacramento suburb were left scratching their heads and asking questions on Sunday following a report that a National Guard...National Guard Spy Plane Monitored Racial Justice Protest in Sleepy Sacramento Suburb Where Commander Lives: Report

By B.N. Frank Opposition and warnings continue to increase about 4G being installed on the Moon AS WELL AS tens of thousands of satellites being...Astronomers Give 2 Thumbs Down to 4G on the Moon Due to Radio Frequency Interference – SpaceX Satellites Problematic Too

As a result of the coronavirus crisis, many airlines have been forced to cut services and staff in order to save money from the major drop in demand.
An excerpt from Ed's recent interview with David Platt.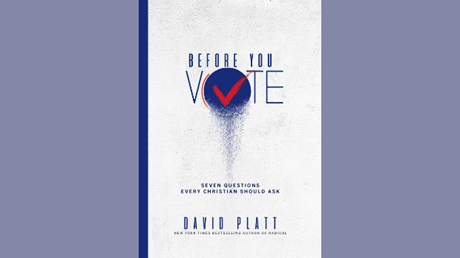 Ed: A lot of people are feeling discouraged by that toxic political culture. Why do you think believers should be engaged in the democratic process? Why shouldn't we disengage right now?David: I think the main reason is because we have been given grace from God that can be used for other people's good. That's one of the things I walk through in the Before You Vote book. We don't have a clear command from God and scripture about voting, partly because God doesn't address democratic elections in the first century or before that. But we do have a clear picture that when we have been given grace from God, we are to steward this for the good of others and the glory of God's name. It's a privilege we have to speak into who lead us and how we're led, how laws are made, and how people are cared for according to those laws. This is a grace God's given us. If we are told to love our neighbors as ourselves, then we're inevitably going to think through political issues that affect people around us. I think that picture of stewardship alone compels us to say, how can I use this grace God's given me as as a citizen in a representative democratic government of the people, by the people, for the people? How can I use this? He's entrusted to me to glorify him and lead to the good of others. I think that's a really good thing for Christians to think through. How do we wisely steward this grace?Ed: The New Testament was obviously written in the time of the Pax Romana, when the Roman empire ruled. There are obviously some differences between where we are now. You mentioned specifically that the Bible does not address democratic structures and processes. Why do those differences matter?David: ...Continue reading...
By B.N. Frank Decades ago, the Environmental Protection Agency (EPA) was responsible for alerting Americans to biological and environmental risks from exposure to cell phones...EPA Was Defunded from Reviewing Research Proving Harm from Cell Phone Radiation, WiFi, Other EMFs 20 Years Ago

By Mayukh Saha The coronavirus pandemic has impacted many sectors of the economy. It is the healthcare system and hospitality industry that have suffered the...Cruise Ships Are Being Dismantled For Scrap Metal As The Industry Struggles To Survive

By B.N. Frank Experts continue to warn that Autonomous Vehicles (AVs) are NOT safe (see 1, 2, 3, 4, 5). There have been multiple reports...Verizon Admits 5G is More about Autonomous Vehicles and "Smart Cities" Than Speed — Experts Warn All Are Unsafe

By B.N. Frank As wildfires continue to wreak havoc on the West Coast, there's been no shortage of finger pointing. In California, some blame climate...Oregon Wildfires Spark Class Action Lawsuits: Victims Blame Negligent Utilities and Downed Power Lines for Devastation

By B.N. Frank Much to the dismay of environmentalists and residents, some states are already using toxic radioactive waste to de-ice roads. Now the EPA...EPA Approves Radioactive Waste Product in Road Construction. Using It to De-Ice Roads Wasn't Bad Enough?