by Hohn Cho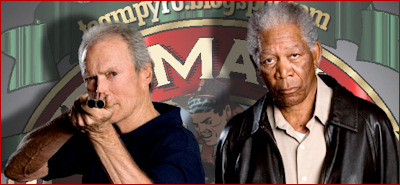 n my pre-Christian life, I was a political leftist who considered identity politics to be the pathway to a more enlightened future. I was deeply invested in what I like to call a "race-centric" view of the world, so much so that I would bristle and correct anyone who dared to use the word Oriental in my presence—with a toxic blend of self-righteousness, condescension, and pique that is sadly so common in much of today's political discourse.If anyone else has a mind to put confidence in "wokeness", I far more. As a student, I marched and protested and helped occupy buildings for the cause of affirmative action in faculty hiring, and my course of study was all about ethnicity in America. I was steeped in concepts of critical race theory at one of the most liberal campuses in the nation, and considered myself to be a full-blown socialist (not the weak-tea Bernie Sanders types that we see these days).Fast forward to today, and thanks to God's free gift of salvation, followed by the sanctifying power of the Holy Spirit working through the perfect Word, I can honestly say that verses such as Galatians 3:27-28, Colossians 3:11, 1 Peter 2:9, 2 Corinthians 5:16, and John 3:30, among others, have thoroughly demolished my race-centric worldview. And so it is that I marvel when I see significant portions of the conservative evangelical church appearing to move more and more toward a race-centric worldview, while the Gospel is seemingly emphasized less and less.Now, I will readily admit that even the most race-centric evangelicals would likely dispute that characterization quite vigorously, but the reality is that when race seems to be all that a person talks about, other topics—including the Gospel—start to recede into the background. This is the very point that Phil made to Thabiti Anyabwile in his article, "Against Mission Drift."As it has been in the world, this discussion is fraught with challenges in the church. Some people object to using the term "race" while others might prefer or actually insist on it. There are explicit or implicit questions about who is allowed to speak on the topic, or at least speak with any degree of perceived credibility. Actual data and even Scripture are sometimes minimized or ignored in favor of emotions and experiences. Positions are staked out, often at increasing distances from one another, the temperature rises, cognitive biases hinder understanding, unfair generalizations abound, and soon you realize that you're in the middle of a giant mess and you've lost sight of the exit.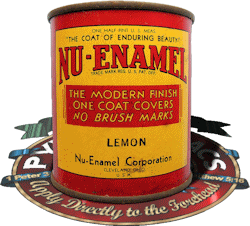 And very often, you see people bemoaning others' tone and diction. Offense is taken, accusations fly, people become defensive, and the odds of having a meaningful discussion plummet. This is a real shame, because in order to make any progress on an issue as intense and emotionally charged as race, the order of the day must be level-headed civil discourse—and in the church, always keeping central what the Word of God says.As with any passionate endeavor, however, if one decides to engage, there must also be a willingness to have a thick skin and "overlook a transgression" as we know from Proverbs 19:11 and 1 Peter 4:8Which brings me to the subject of my post. The often hair-trigger reactions to others' tone and diction are unsurprising in a world where "microaggressions" are actually a thing.Merriam-Webster defines a microaggression as "a comment or action that subtly and often unconsciously or unintentionally expresses a prejudiced attitude toward a member of a marginalized group (such as a racial minority)." I can understand why the world would buy into this concept, as it pushes all of the worldly buttons: the elevation of self, the smug moral righteousness that can come along with self-positioning as a victim, the clinging onto offense and unforgiveness, the rhetorical escalation of small slights into matters of first importance, and ultimately, the great sin of pride.In the church, however, this really ought not be, as we have the perfect Word to guide us. In that sense, even the very nature of the secular word "microaggression" is telling, because micro admits that the behavior being complained about is tiny, while aggression is self-refuting, as it typically requires overt hostility or violence, and not acting merely "subtly and often unconsciously or unintentionally".Instead, I would argue that a more biblical term for calling out small slights of this nature would actually be speck-plucking from Matthew 7:3, representing a microscopic focus on others' shortcomings while ignoring one's own. When we apply the concept of speck-plucking to race, seemingly the most common source of "microaggressions" today, the concern comes into stark focus, especially in light of the worst race-centric pundits' own propensity to make sweeping race-based generalizations (see, e.g., "white evangelicalism", "white fragility", "white guilt", "white privilege", etc.). They really ought to remove the planks from their own eyes, before critiquing others' subtle, unconscious, or unintentional comments or actions!This dynamic of racial speck-plucking is all the more puzzling when one understands that gauging whether or not someone else "subtly and often unconsciously or unintentionally expresses a prejudiced attitude" involves a significant likelihood of false positives, so much so that the first question should never be, "Are you offended?" but rather, "Did the other person intend to offend you?"Among Christians, hopefully the answer in the vast majority of cases will be, "Of course not!" If the world will know us by our love for one another (John 13:35), then we should exercise love toward one another, which according to 1 Corinthians 13:7 "bears all things, believes all things, hopes all things, endures all things." And ultimately, 1 Corinthians 4:5 tells us that we are not to pass judgment upon another person's heart motives toward us; it is instead the Lord who will reveal and judge.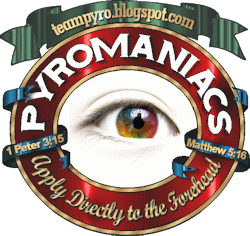 But the practice of fixating on speck-plucking carries with it another grave spiritual danger, and that is the sin of unforgiveness. In the Parable of the Unforgiving Slave in Matthew 18:21-35, after a slave's plea for mercy, the Master forgives his debt of 10,000 talents, which is billions of dollars in today's currency. This slave then proceeds to physically abuse another slave for not repaying a debt of 100 denarii, or 100 days of wages for a laborer. The debtor slave makes a nigh-identical plea for mercy, which is heartlessly rejected, and the debtor slave is thrown in prison. Upon hearing of this, the Master then hands the unforgiving slave over to the torturers.The entire passage is a beautiful but sobering picture of a Christian's response to salvation, as well as the reality that we who know that we have been saved from an unpayable debt and an eternity in Hell are to be kind and patient and forgiving even when wronged by others. I think many Christians understand this parable reasonably well as an abstract concept, but moving into the details, it's noteworthy that the example chosen as a debt to forgive, 100 denarii, is actually several thousand dollars by today's currency. This is not an insignificant sum!In light of this, I would be deeply concerned for any Christian who would seize upon a perceived "microaggression" and elevate it to the level of a confrontation, an issue between brothers. The way that we handle personal offense, suffering wrong, and being sinned against can be a powerful reflection of our own spiritual maturity. And to the extent a person escalates speck-plucking to the level of offenses or censorious accusations, were I shepherding that person, I would gently attempt to demonstrate from the Scriptures I describe above that responding to a perceived offense is actually an area where the person could grow spiritually.Bringing it back to the example of the speck, immediately prior to the famous speck-plank reference in Matt. 7:3-5, we see our Savior say in Matt. 7:2, "For in the way you judge, you will be judged; and by your standard of measure, it will be measured to you." So if we're actively engaged in speck-plucking toward others, we will have that returned to us in full measure . . . something that any rational person would want to avoid.James 2:13 is arguably an even more directly applicable verse along these lines. As a closing comment on a passage about the sin of showing favoritism to people based on their wealth and social class—and analogously, any class, such as race—James exhorts Christians to show mercy to each other, and warns that "judgment will be merciless to one who has shown no mercy."This warning was an especially apt one for early Christians who were overtly favoring the rich over the poor, in keeping with the heavy social stratification of Rome and the Ancient Near East. But I believe it's just as apt for today's environment, where hypersensitivity over race has led to a social media uproar over a high school girl's wearing of a Chinese dress, excoriations of a Jewish journalist for complimenting immigrants, and the mob-demanded firing of two former employees at a Portland bakery who appear to have done nothing objectionable. If there is mercy in any of these judgments, I am unable to see it.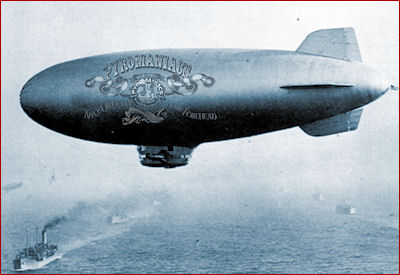 Sadly, even some within the conservative evangelical church appear to be heading down a similar path to the world. The race-centric nature of much of the recent discussion has seen prominent leaders such as Anyabwile saying, "My white neighbors and Christian brethren can start by at least saying their parents and grandparents and this country are complicit in murdering a man who only preached love and justice" (which Phil has already commented on). And Matt Chandler calling 300 people who left his church over his view on the topic of race "fools," in a manner that reminds me of the warnings in Matthew 5:22. . . because obviously, he spoke to all 300 people who departed, and none of them had any valid reasons to leave. And Eric Mason declaring that "pushback from a privileged position will get shut down," which could perhaps be summarized as "disagreeing while white". Although these types of statements are not (yet) to the level of the ones in the prior paragraph, the amount of mercy shown to their targets is still depressingly thin, especially in light of James 2:13.I take no joy in highlighting these public, unambiguous comments, all of which remain to this day without retraction. These men are conference speakers, authors, and most of all pastors accountable to James 3:1 who have significant influence in the conservative evangelical church, and their comments do not represent "microaggressions" nor are they merely specks to be plucked. They have not personally offended me; rather, I am deeply grieved to see even some men who preach a faithful Gospel seemingly following a path cut more by the world than by Scripture.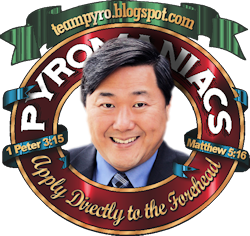 The current controversy over race-centric worldviews in the church is one that will require civil but robust discussion in order to attempt to make progress. May we do so with charity, yes, but also with stamina and perseverance, and without sweeping generalizations or hypersensitive speck-plucking.Hohn Cho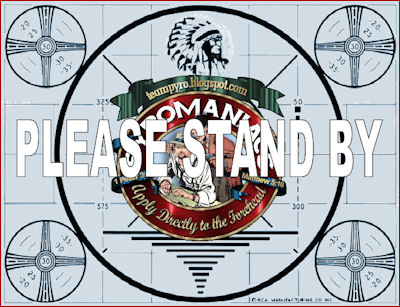 by Phil Johnson

egarding the previous post, let me underscore my answer to an objection that keeps coming up. One of my critics on Twitter stated it as succinctly as anyone. He wrote, "Attraction and lust aren't the same thing. [Therefore] your proposition collapses entirely."I'm aware, of course, that the words attraction and lust have different shades of meaning. Not every attraction entails lust. Attraction is the action or capacity of eliciting interest, affection, sympathy, fascination, or some similar eager response. It's possible—even desirable—to be attracted to things that are altogether holy and good, or even morally neutral, without being guilty of lust.Lust is a sensuous appetite or desire that is inherently sinful—or one that leads to sin. To explain the idea of lust in the sense Scripture uses the word, it is any desire or affinity for something that God has forbidden. "All that is in the world—the desires of the flesh and the desires of the eyes and pride in possessions—is not from the Father but is from the world" (1 John 2:16).In short, you cannot define lust without the idea of attraction. What distinguishes a neutral attraction from a sinful one is both the object of desire and the source of your inclination. To desire what God forbids is a sin, full stop. And such desires are "not from the father." This is never treated as an ambiguous or murky concept in Scripture.On an entirely different topic, several people have already eagerly responded to my call for potential Pyroposts and/or regular contributors to this blog. I haven't had time to reply to any of them yet, so if you submitted something and haven't heard back from me, please don't read my lack of response as apathy or negativity—at least not yet. It's been a terribly busy week. I am trying to clear my desk and calendar. Friday night I'm taking the redeye to NYC with Darlene and our eldest granddaughter for a rare week of pure vacation. I intend to evaluate contributors' submissions when I return.The upside is that if you intend to submit an potential blogpost and haven't done so yet, you have at least a week of breathing room. And if you submitted but wish to revise your submission, you have time for that, too.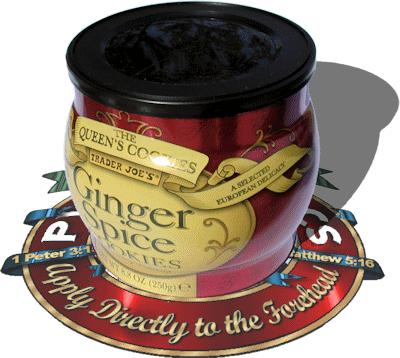 Here are some guidelines and caveats for potential contributors: I don't intend to furnish reviews or critiques of articles that are submitted for consideration. That would be too time consuming.If I decline to post your submission, it doesn't necessarily mean I didn't like it or didn't agree with you. There are lots of fine blogposts out there that just don't fit PyroManiacs tonally or stylistically.Our tone and styles have been so far-ranging, you may wonder what I'm looking for. Here's a list: It needs to be something I would agree with entirely.It needs to be crisp and riveting, not turgid or lackluster.Specifically, it needs to have elements of wit, passion, controversy, or high interest. For the purposes of this blog, it's better to be provocative or even comical than tedious or pedantic.Above all, you need to demonstrate amazing writing ability and sharp verbal skills.Suppose you write a discourse on the doctrine of eternal generation that is completely accurate. I like the topic. The doctrine is certainly an important one. And it's an issue that many people are ignorant of or misunderstand completely. The topic would seem to be good fodder for a Pyropost. Nevertheless, if your writing style is dry or merely academic, even if you explain the doctrine in a totally orthodox and biblical way, it's probably not going to be something I would post here. There are several sound, conservative blogs out there publishing that kind of thing. We want PyroManiacs to stand out, not blend in.I do intend to start posting the weekly Spurgeon excerpts in a few weeks. Kerry Allen has offered to help supply material. I intend to take him up on it.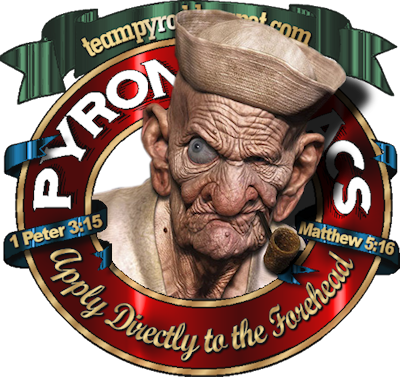 by Phil Johnson

ull disclosure: Here is the development that finally provoked my sense of consecrated indignation enough to motivate me to start blogging again: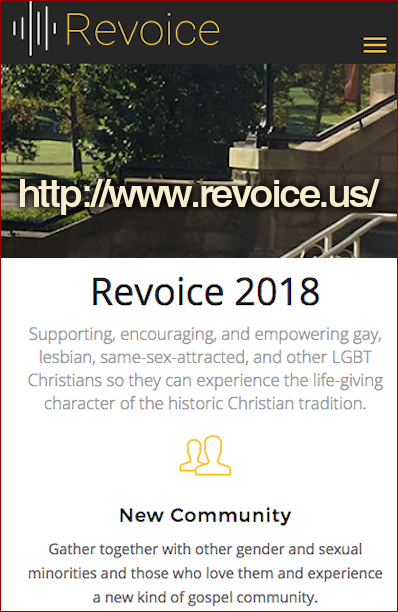 It's the latest "evangelical" superconference. As you see, their own ad copy tells us they are devoted to "supporting, encouraging, and empowering gay, lesbian, same-sex-attracted, and other LGBT Christians so they can experience the life-giving character of the historic Christian tradition." The conference is being organized and supported by a large cast of evangelical thought-leaders—including some people generally assumed to be sound and reliable spiritual guides.Fred Butler blogged about it yesterday, and it'll save me some work if you read his assessment of the actual conference itself. (You may need a translator for the cornpone-and-pot-likker dialect he slips into occasionally, but the cardinal points he makes are unassailable.)Anyway, I want to comment on the conference's underlying theory, because it strikes me as a Really Bad Idea (and a patently unbiblical opinion). Nevertheless, it seems to be gaining traction rapidly—even among many influential and hitherto trustworthy evangelical leaders. It's the notion that homosexual orientation is morally neutral. The claim being made is that gay desires are not really sinful unless they are acted upon. So a person can fully self-identify as lesbian, bi-sexual, gay, transsexual, gender-fluid, or otherwise "queer" and be a church member in good standing—as long as he, she, xe, (or whatever) remains celibate.I first began to realize realized how widespread that idea has become in the evangelical community two years ago, when the following Tweet was posted from the official Twitter account of The Gospel Coalition (TGC):"It's more masculine to be attracted to men yet obedient to God than attracted to women and disobedient to God."I referred to TGC's Tweet as a "hazy, misleading sophism" and added, "Lusting for something sinful is not 'obedien[ce] to God.'" A long argument ensued, with several friends on my FaceBook page and lots of my Twitter followers expressing shock and surprise that I would hold an opinion so egregiously out of step with postmodern political correctness. The "proper" postmodern opinion was succinctly stated by an exasperated commenter on my FaceBook page: "Desires are neutral until they are used sinfully," he wrote.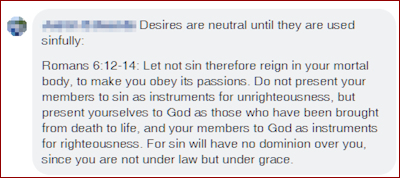 I fear that idea is finding currency among leading evangelicals. But it is dead wrong and subversive to genuine holiness. Scripture is chock full of statements emphatically condemning evil desires—from the Tenth Commandment (Exodus 20:17) to Jesus' words about mental and visual lust in the Sermon on the Mount (Matthew 5:27-29). What, after all, is lust but raw, sinful desire?Those who argue that LGBT "orientation" is morally neutral often point out that an unmarried heterosexual man's attraction to women isn't necessarily deemed sinful, assuming he remains celibate. Why, then, should we consider a celibate gay man's attraction wrong, as long as he doesn't act on it?I'd like to suggest two replies to that. First, a celibate heterosexual's attraction to women might indeed be sinful, if, say, he is attracted only to married women or underage girls. It would likewise be sinful if he allowed his interest in a particular young woman to become a fixation that distorts his perception of reality. A perfectly innocent attraction can even become a sinful passion for the person who indulges in immoral fantasies. No sane and reasonable person would try to argue that heterosexual desires are always wholesome. Second (and this is pretty straightforward:) Scripture says inordinate affections are sinful and commands us to mortify them (Colossians 3:5). I didn't make that up.But my Bible uses the expression "evil desire" in Colossians 3:5. How do I know if a desire is "evil"?In short, Scripture teaches plainly that any desire is sinful if it entails a wish for what we cannot righteously have. Far from "supporting, encouraging, and empowering" people with perverse sexual desires, Scripture repeatedly urges us to repent of all sinful desires—especially those wicked sexual passions that so easily entrap young minds (2 Timothy 2:22; 1 Peter 2:11). All of us—not just LBGTQ folk—are commanded to renounce and mortify every desire for anything God has forbidden. Those who think people beset with perverse desires can wear their peculiar lusts as badges of group identity merely demonstrate that they haven't a clue what repentance means. Furthermore, to omit or purposely obscure the Bible's clear call to repentance is to show contempt to one's unbelieving neighbors.Let me be clear: I, too, have friends and close neighbors who identify as LGBT, and I abominate the way some Christians seem to think it's OK to heap unbridled scorn, mockery, or insults on them. All our neighbors should be shown Christlike, loving compassion with the dignified respect that befits anyone who bears God's image.But to encourage them in their sin or offer them the false comfort of approval for their sinful desires is a serious breach of the Second Great Commandment.Let's not try to make any sin seem less wicked than it is.I would not necessarily single out homosexuality as the chief example of abominable sin if our culture didn't constantly insist on treating homosexual desire as a privileged category. Sodomy is only one of several notoriously odious abominations, and Jesus expressly said the hard-hearted unbelief of those who have actually seen and know the truth is a worse sin than all the evils of Sodom (Matthew 11:24).Furthermore, I'm happy to assert, emphatically, that any evil attraction is appallingly sinful, including that heterosexual tendency to want to click on clickbait when the link features a picture of some scantily-clad tart.But this one class of sins (LGBT etc.) is the only one that demands special status and unconditional affirmation.So perhaps the main point I want to make will perhaps be clearer if we consider one of the sexual perversions that hasn't yet successfully lobbied for social acceptance and special rights.Here's a real-life example:During my first year at Grace to You (1983), a man wrote our ministry looking for affirmation and encouragement. He wanted us to agree with his belief that mere attraction to a forbidden object is not inherently sinful. He gave a convincing testimony about his conversion from a life of sin and rebellion. He said he was now serving as an AWANA leader in his church. Then he got specific about what he was asking us to sanction.He said he felt sexually drawn to "large farm animals." (Those were his exact words.)I wrote back, citing Matthew 5:28, and told him it is our position that the desires he was describing are not morally neutral at all but a sinful perversion that he needed to repent of and vanquish through the means of grace. I'd give him the same answer today, even after reading reams of sophisticated evangelical reasoning trying to argue that "attraction" and "lust" are categorically different.One other point needs to be made before I wrap this up.People sometimes suggest that all sin is equally vile. That's simply not true. It's true that all sin is damnably wicked, but Jesus Himself made clear that some sins are worse than others (John 19:11; Luke 10:12-14). And Scripture clearly portrays certain sexual perversions (lesbianism and bestiality among them) as unusually and unnaturally perverse. (See, for example, Romans 1:26-28.)All of this raises an important question: How far do the culturally-engaged evangelical trend-setters want to take the notion that mere attraction is morally neutral? I hope we'd be concerned about the sanctification of someone who insisted on self-identifying as a pederast living a celibate life. Or my cowboy correspondent who harbored a secret desire for a closer relationship with his livestock. Or people drawn to any number of kinky fetishes too perverse to even talk about (Ephesians 5:12).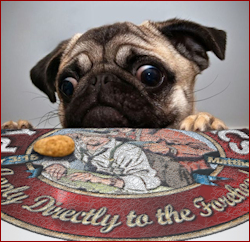 Yes, all of us struggle with evil desires. That's part of our fallenness. Even Paul struggled with covetousness—evil desire (Romans 7:7-25). But Paul's whole point was that those desires (even if never acted on) are sins to be mortified, not prize ribbons to be worn as badges of one's identity.

by Phil Johnson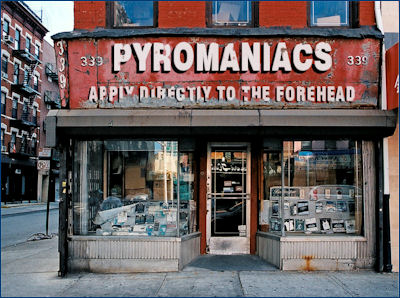 he issue underlying practically every popular evangelical trend we have ever decried here on PyroManiacs is the same moral defect that was the besetting sin of the Pharisees—namely, a craving for human applause. The current ranks of evangelical leadership are filled with men who care far too much about what the world thinks of them. The intellectually sophisticated among our Top Men tend to covet academic esteem, especially from unbelieving scholars. Those who are less—um, cerebrally endowed—just yearn to be admired for being über-cool. Between those two extremes are a legion of evangelical movers and shakers who think they can achieve both goals. Lately, they have sought to do this by cultivating a noisome air of political correctness.Scripture could not be more clear about the value of this world's approval. Jesus said, "Woe to you, when all people speak well of you, for so their fathers did to the false prophets" (Luke 6:26). And, "If the world hates you, know that it has hated me before it hated you. If you were of the world, the world would love you as its own; but because you are not of the world, but I chose you out of the world, therefore the world hates you" (John 15:18-19). And, "you will be hated by all for my name's sake" (Matthew 10:22). And, "Blessed are you when people hate you and when they exclude you and revile you and spurn your name as evil, on account of the Son of Man! Rejoice in that day, and leap for joy, for behold, your reward is great in heaven; for so their fathers did to the prophets" (Luke 6:22-23).It's a theme that runs throughout Scripture, starting with Cain's murderous contempt for his own brother's righteous offering, and finally summed up in 1 John 3:13 with this admonition from the Apostle of Love: "Do not be surprised, brothers, that the world hates you."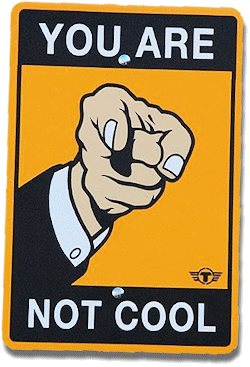 Christians are expressly forbidden to embrace the world's values or seek its approval: "Do not love the world or the things in the world. If anyone loves the world, the love of the Father is not in him. For all that is in the world--the desires of the flesh and the desires of the eyes and pride in possessions--is not from the Father but is from the world. And the world is passing away along with its desires, but whoever does the will of God abides forever" (1 John 2:15-17).The world is of course our mission field, so we're commanded to love people (including our enemies) as God does (Matthew 5:44-45). But worldly values, entertainments, and ideologies are full of spiritual poison. The current evangelical infatuation with such things is tantamount to treason against God. That's what James was saying when he wrote, "You adulterous people! Do you not know that friendship with the world is enmity with God? Therefore whoever wishes to be a friend of the world makes himself an enemy of God" (James 4:4).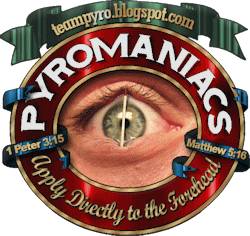 The notion that we must win the world's esteem before the gospel can do its work is, I'm convinced, a spiritually crippling error. But it's also the presupposition underlying most of the trends currently vying for widespread acceptance within the so-called evangelical movement. In reality, for three decades or longer the broad movement has been softening its commitment to (and in many cases totally abandoning) the two most important evangelical convictions—sola Scriptura and sola fide. Those cardinal biblical doctrines are now being replaced by secular dogmas: "wokeness," "social justice" (a liberal counterfeit, not biblical justice), critical race theory, gender fluidity, and an ever-increasing number of ideologies bred and popularized in secular academic circles.That now includes the normalization of LGTBQ perversions by evangelicals who argue that illicit desires in and of themselves aren't really sin; they are morally neutral expressions of one's "sexual orientation." (More on this subject in the days to come.)The "gospel-centered" movement that many of us were so enthusiastic for just one decade ago has gone with the drift. The Gospel Coalition has for some time now shown a pattern of embracing whatever new moral issue or political cause is currently popular in Western culture by arguing that this, too, is a legitimate "gospel issue." They are by no means alone in this. Everything from the latest Marvel movie to gun control legislation has been deemed a "gospel issue" by some savvy evangelical writer at one or more of the most heavily trafficked evangelical websites. But if everything is supposedly a gospel issue, the expression "gospel-centered" is rendered meaningless.As I said in a Tweet earlier today, we must not abandon the focused simplicity of Luke 24:46-47 in favor of a social gospel that encompasses a large complex of racial, economic, and political issues. Every denomination, every educational institution, and every church that has ever made that error has seen a quick demise. I for one don't intend to watch in silence while the current generation repeats that mistake.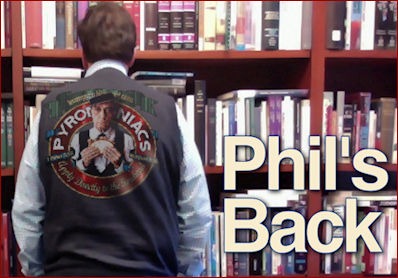 by Phil Johnson

t's been more than six years since I retired from the blogosphere. For half a decade, whenever someone would ask if I missed blogging, my honest answer was, "Not at all. Never even once." There wasn't a single moment in all those years when I thought, I wish I were still blogging so I could write something more than a Tweet about this issue. In my seven years of blogging, I had posted on practically every issue I really cared about. I ran out of opinions.Some HistoryI began blogging in 2005 because I was concerned about my fellow evangelicals' blithe acceptance of the so-called Emerging Church Movement. It seemed as if every elite evangelical agency—from Christianity Today to the Southern Baptist Ethics & Religious Liberty Commission (ERLC)—was foolishly hoping the Emergent Narrative would be The Next Big Thing. They were practically cheerleading for the movement! D. A. Carson was a rare voice of dissent, but his reply to the Emergent idea was (in my view) much too tepid to be an effective critique.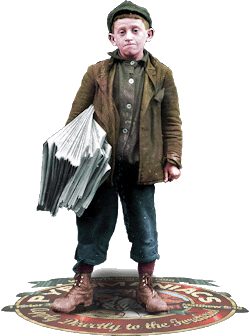 I had tried posting some opinions in the comments sections of a couple of popular blogs, but they made it clear they were not interested in dissenting views. One famous blog closed their comments completely when I tried joining their discussion. So on the last weekday of May 2005 I formally opened my own blog. My main goal was merely to articulate and catalogue my own misgivings about the drive to postmodernize evangelical Christianity. I had no expectation that anyone outside my circle of friends (and my Sunday school class) would be any more interested in my opinions than those blogs that had shooed me away when I commented.My first real blogpost went live the day after Memorial Day that year. It was a poke at the "Young, Restless, Reformed" movement, though I wrote it a year and a half before Christianity Today and Collin Hansen gave that movement its name.Right away, readership far exceeded what I anticipated. I immediately realized that I had inadvertently jumped into the deep end of the pool without any floaties.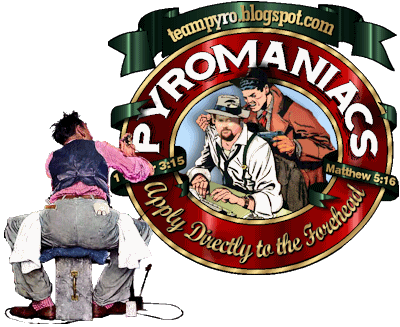 PyroManiacS: The birth of the Group BlogSo six months in, I invited Dan Phillips and Frank Turk to partner with me in the effort. I'd never met either one of them before, but I'd read their comments on line, and I knew 1) that they shared my views about the folly of postmodernism, and 2) that they were gifted writers with minds full of verbal mischief, more than capable of the kind of critique I wanted to level against the Emergent movement. So we launched the team blog in January of 2006.We wrote a lot of good, thoughtful posts attempting to provide Emergents with the "conversation" they were saying they wanted. But we quickly noticed a couple of surprising trends. First, the more purposefully rational and irenic our content, the less discussion our writing evoked. Second, no matter what we wrote or how we wrote it, there were swarms of smug postmoderns prepared to deconstruct our prose, pleading for every kind of "tolerance" other than tolerance of others' ideas, preaching love and kindness while eagerly spoiling for a fight with us.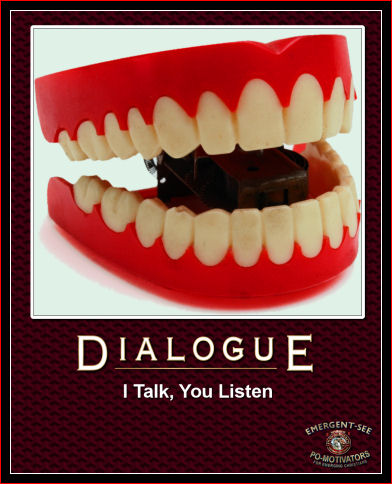 The High-Water MarkFrankly, making fun of postmodernism's foolish inconsistencies did far more good than trying to reason with postmoderns. Looking back, it seems to me that the Po-Motivators® may well have done more to open readers' eyes to the dangers of evangelical postmodernism than all the text we wrote combined. I'd hate to think those posters were the blog's high water mark, but it's true that the advent of the posters marked the turning point after which our postmodern critics dropped some of their trademark arrogance, and some of them actually left the Dark Side and joined the discussion we were having.Anyway, the Emergent movement finally died, and we're thankful for that. When we knew the fad was well and truly over (that the popular movement phase had passed, anyway), blogging seemed less urgent and less appealing. I formally retired in 2012 on my 59th birthday, and most of the evangelical blogosphere breathed a deep, cosmic sigh of relief.At the time, I remarked to anyone who raised the subject that although Emergent was dead and discredited as a movement, it had unleashed countless postmodern ideas and deconstructionist methodologies into the evangelical community, and these would bear some nasty fruit within a decade or less.I see the fulfillment of that prophecy in a myriad of ways today—including the emboldening of Andy Stanley, the rise of a quasi-evangelical brand of Critical Race Theory, eroding definitions of "biblical inerrancy," evangelical waffling on the moral questions raised by people who classify their own "sexual orientation" as LGBTQ, evangelicals still craving academic recognition or popular esteem from worldly minded people, the recent drift of Russell Moore and the ERLC—and other related or similar issues.So Here's the Thing . . .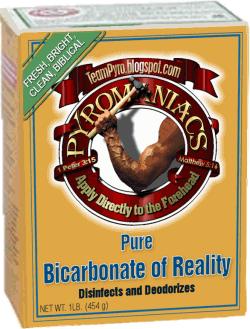 I suddenly have the itch to write about some of these things. Not every day, of course, but from time to time—perhaps weekly or so. Dan Phillips is now blogging to a bigger audience at PJ Media, and Frank Turk is more determined than I to maintain his retirement from controversial social media. Still, I'd love to get occasional contributions from them—or from others, such as Darrell Harrison, Justin Peters, Josh Buice, or anyone else who shares both my passion for biblical Christianity and my contempt for every effort to make the evangelical movement more politically correct. Consider this an open invitation to submit articles you think might be of interest to my readers. If you write enough blogposts that fit, I'll give you a set of keys to the blog and make you an official PyroManiac.Watch this space for my first actual issues-oriented re-entry into the blogosphere. If the Lord wills, I'll post it sometime next week.