Meet the conservative Baptists who don't like Billy Graham.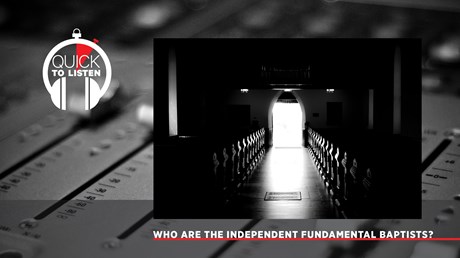 On Sunday, the Fort Worth Star-Telegram published a four-part series on more than 400 allegations of sexual misconduct affiliated with the independent fundamental Baptist movement. The scope of their reporting spanned nearly 1,000 churches and organizations across 40 states and Canada. The report noted: One hundred and sixty-eight church leaders were accused or convicted of committing sexual crimes against children, the investigation found. At least 45 of the alleged abusers continued in ministry after accusations came to the attention of church authorities or law enforcement.But what is the independent fundamental Baptist movement?Historically it has meant a firm belief in the "fundamental doctrines, that is to say, the essential doctrines of the Christian faith" and "an insistence that you should only extend Christian fellowship to people who profess to believe the gospel." said Kevin Bauder, a research professor of systematic theology at Central Baptist Theological Seminary and the author of a two-part volume on Baptist fundamentalism.But that's not necessarily what people hear, Bauder acknowledges."The term 'fundamentalist' has sort of been co-opted by Martin Marty's Fundamentalism project, where he made it a sociological designation for any extreme group," said Bauder. "None of us are really happy with that label these days, because of the connotations it carries now."(Perhaps one way to see it could be as the inverse of historian George Marsden's remark: "An evangelical is someone who likes Billy Graham.")Bauder joined digital media producer Morgan Lee and editor in chief Mark Galli to discuss the history of fundamentalism, why ...Continue reading...
We are going to hear the voice of survivors, trauma counselors, and Christian leaders who will call evangelicals to a better way.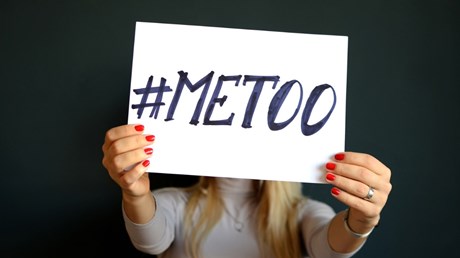 Maya Angelou once said, "There is no greater agony than bearing an untold story inside you."The reality of that agony is more real than ever as this powerful imagery speaks volumes to an important issue we face as a nation, and inside our church walls, today. The issue of sexual abuse and scandal has rocked and ravaged our front pages, our computer screens, and our congregations within the past year.Women across the country—and around the world—have put up with too much for too long. The tidal wave of reports bringing their stories to the surface in a tidal wave of reports called us all to reckon with the #metoo movement.Last year, Time Magazine's person of the year was actually more than one person. That annual high-profile cover showed us "The Silence Breakers," those behind the movement that gave voices to so many women.But well over a year after this all began, we still have so far to go—especially in the church.What followed #metoo was #churchtoo—the telling of stories of abuse specifically within the context of church life. The posts, tweets, and hashtags once again flooded our social media pages and dominated conversations everywhere. And still, the stories haven't stopped.Most are aware of the fire being felt by the Catholic Church for the behaviors of priests and bishops towards children. Some of the headlines this past year alone have read, "American Priest is Accused of Molesting Boys in the Philippines" and "U.S. Catholic Church Hit with Two National Lawsuits by sex-abuse victims" and "Catholic Priests Abused 1,000 Children in Pennsylvania, Report Says." The pope, in response to what happened in Pennsylvania, wrote ...Continue reading...
This may be the biggest reason great ideas die too soon. We're creating buzz, but we're not building substance.
If you have a message, idea or product you want the world to know about, there's never been a better time than right now to build the platform for it.Technology has enabled anyone, anywhere to take an idea (it doesn't even have to be a good one) and make it available to everyone, everywhere.At the press of a button.While sitting in your living room.In your PJs.Teams Build SubstanceBecause of this, it's easy to have an unbalanced approach to creating and promoting a new program or idea.The biggest mistake we make? Sinking all our energy into using technology to build a platform, while shortchanging the necessity of building a team to sustain that platform.But building that team is as important as it's always been. Maybe more so.Since everyone else has access to the same technology (more or less) team-building is what usually makes the difference.This happens in the church, too. Someone comes up with a great idea for an outreach, a sermon series or an event, and the first step we take is to start thinking of ways to promote it.We create graphics, shoot videos, and bombard social media with the images. But in too many cases we're promoting something that doesn't have the team to sustain it.Ideas Are Easy, Teams Are HardThis may be the biggest reason great ideas die too soon. We're creating buzz, but we're not building substance.Why do we do this?Because buzz is fun. It's fast. And technology has made it easy.Team-building is hard. It's slow. And even with the best technology and creativity in the world at our disposal, it takes the long-term, old-school application of high-commitment people-skills to build and sustain a strong team.Everyone can have an idea. Anyone ...Continue reading...
From Billy Graham to Bob Dylan, how a youth movement briefly changed the world.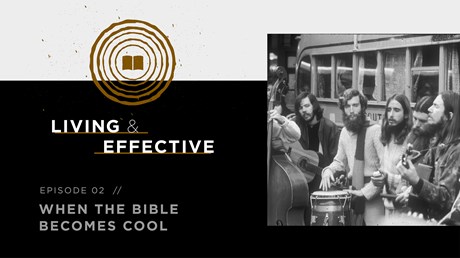 Imagine Christianity suddenly became cool.It may seem impossible, especially since Christianity has always been rooted in timeless tradition and wisdom.Sure, pop musicians and actors may embrace the Christian faith in carefully considered ways, but when talking about it, they tend to keep their theological cards close to the vest.What if rebirth, exclusivity of the gospel for salvation, good works accompanying genuine faith, and an explicit hope for Christ's second coming became explicit as part of a cultural phenomenon?On the second episode of Living & Effective, Richard Clark explores the origins and effects of one of the most impactful Christian youth culture movements in modern history. With special guests Larry Eskeridge, Greg Thornbury, and Trevin Wax, Clark finds out exactly how the Jesus Movement was so successful in thrusting the Bible into the mainstream, and what happened after public fascination with the movement faded away. Continue reading...
How, the late pastor asked, can you shepherd a flock you don't know?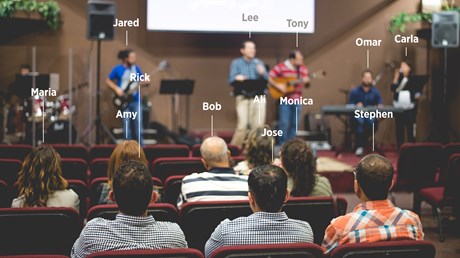 Eugene Peterson—who died in October at age 85—is best known, perhaps, as the author of The Message, his vernacular paraphrase of the Bible. But for many pastors and church leaders, Peterson was also a mentor who taught them to be shepherds rather than CEOs—in large part by modeling that approach himself. Drew Dyck, acquisitions editor at Moody Publishers, spoke with Peterson in 2017 as one of his final books (As Kingfishers Catch Fire) was published. They spoke about recent developments across the ministry landscape, the seriousness of the pastoral calling, and how The Message sprouted from his desire to truly know and listen to the people in his ministry. Pieces of that interview appear here for the first time.In the preface of As Kingfishers Catch Fire, you write that the Christian life is "the lifelong practice of tending to the details of congruence." What does that look like in a pastor's life?As pastors we're interested in getting people to live a life that is congruent with the gospel. One of the things I realized from day one is that I needed to listen to congregants and not just put things into their heads. This is one of the wonderful things about being a pastor. You get the time and the opportunity to make connections with the everyday lives of people in your congregation. You can't just treat Christianity as a pile of ideas from which to add and subtract.You grew up in farming country, and your father was a butcher. Did that environment shape you as a pastor?By all means. People who work with the soil and with animals learn to respect what they're doing and the subjects of their work. My dad had one man working for him who he would send to the farms or ranches. ...Continue reading...
The odd Old Testament episode is a sharp reminder of our need for Jesus.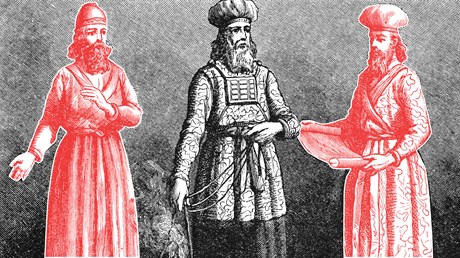 It's been a bad year for pastoral scandals in the church. Whether Roman Catholic cardinals or high-profile Protestant pastors, it's been devastating and sobering to read about sins and abuses by those entrusted to preach the gospel and shepherd God's people.Besides the horror of the abuses themselves, the sharp contrast between an outwardly successful ministry and the apparent darkness within is deeply discouraging. If our spiritual leaders cannot be trusted, who can?I'm reminded of the shocking deaths of Nadab and Abihu by divine fire in Leviticus 10. At this point in the Hebrews' journey to the Promised Land, things are going swimmingly. The Tabernacle is built. Moses has the instructions for the sacrifices. Aaron and his sons are being consecrated for ministry. On cue, God's glory appears, and fire consumes the burnt offering; the people are overjoyed (Lev. 9:24). But that joy suddenly turns to shock and sorrow when Aaron's sons try to offer up fire to the Lord—and flames burst forth and consume them instead (10:1–2).Most read this and naturally balk, asking, "Why is God so harsh? Isn't this just another sign of an arbitrary, angry, erratic God?"The natural question isn't always the right one, especially when taking the whole narrative context into account. This is the merciful God who redeemed Israel from Egypt, met them at Sinai, gave the covenant Law, forgave their infidelity with the golden calf, and instituted the priesthood and sacrifices precisely so sinful Israel could enjoy his holy Presence. We should ponder instead, "What went wrong?"Leviticus is light on explanation, but there are a few narrative clues. For one, the fire ...Continue reading...