Biden's Vaccine Push: A Mandate with Destiny --->Biden's Vaccine Push: A Mandate with Destiny July 30, 2021 By Tony PerkinsJoe Biden isn't a doctor, and he's certainly not your doctor. But that hasn't stopped the president of the United States from making every Americans' ...

Here are "The 7" top trending items at FRC over the past seven days:1. Update: CDC: Why Mask? Don't AskNew CDC guidance is directing vaccinated persons to wear masks indoors and is urging everyone in K-12 schools to wear masks in the fall. The guidance reversed the rules the CDC issued earlier this year, which recognized that people vaccinated against COVID-19 do not need to wear masks because they are immune, at least to its most harmful effects. So why are they being asked to wear masks?2. Update: CRT Shape-shifting in EducationConservatives are trying to keep parents from falling for the White House's line that it's backing away from critical race theory in the classroom. That's the impression Education Secretary Miguel Cardona was going for when he said that the department made an "error" promoting a radical group's CRT theories. Some people cheered, thinking the White House had finally seen the light. Don't buy it.3. Blog: What Christians Need to Know About the Case that Could Overturn Roe and CaseyMost Americans are familiar with Roe v. Wade, the U.S. Supreme Court's landmark 1973 decision that legalized abortion through all nine months of pregnancy. Many Americans, however, have not yet heard of Dobbs v. Jackson Women's Health Center, an upcoming Supreme Court case that could overturn Roe and likely return jurisdiction over abortion legislation to the states.4. Blog: How Should Christians Think About "Wokeness"?Since its beginnings in the first century, the church has faced varied resistance from the surrounding culture and challenges to the gospel. Recently, a new challenge has emerged: "wokeness." On the surface, wokeness might sound good. But, it embraces theories and ideologies inconsistent with, or even hostile to, the Bible. And many well-intentioned Christians are adopting this ideology.5. Washington Watch: Chip Roy, Matthew Spalding, Bob Gibson, Meg KilgannonTony was joined by Chip Roy, U.S. Representative for Texas, who called out Dr. Fauci for spreading misinformation. Matthew Spalding, associate vice president and dean of the Van Andel Graduate School of Government for Hillsdale College in Washington, D.C., talked about new advancements in history education, including Hillsdale College's new 1776 curriculum. Bob Gibson, Russell County School Board member, shared his school board unanimously rejected Virginia's transgender school policy. And, Meg Kilgannon, FRC's senior fellow for education studies, discussed the possible return of mask mandates in schools.6. Washington Watch: Roger Marshall, Kristina Wong, August Pfluger, Mark GreenTony was joined by Roger Marshall, U.S. Senator for Kansas, who shared why it would be disastrous to close down the economy or impose vaccine and mask mandates. Kristina Wong, reporter for Breitbart News, detailed what happened during the first hearing of the January 6th House Select Committee. August Pfluger, U.S. Representative for Texas, questioned why President Biden is rejecting Cuban refugees while leaving the southern border wide open. And, Mark Green, U.S. Representative for Tennessee, critiqued the National Defense Authorization Act provision that forces women to register for the draft.7. Pray Vote Stand Broadcast: Saving HydeOn this edition of Pray Vote Stand, Tony Perkins was joined by Rep. Lisa McClain, Rep. Andy Harris, Chuck Donovan, and Ryan Bomberger to pray for the Hyde Amendment to be saved—and for the bloodshed that's robbed this nation of millions of innocent lives to end.
WARNING: JOE BIDEN WANTS TO CRACK DOWN ON CONSERVATIVE NEWS AND CONTENT. Before you listen, I want to strongly urgeThe post De Blasio: We Tried COVID Vaccine Incentives, Compassion: 'We Need Mandates' appeared first on Todd Starnes.

The book of Samuel shows us how to reconcile our differences through redemptive storytelling.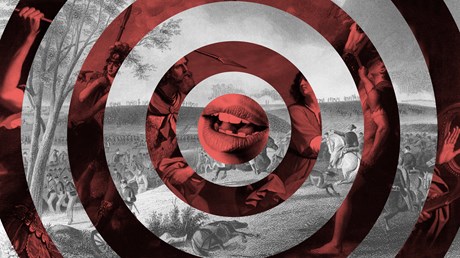 I am a missionary in Croatia, a beautiful country with a very complex past. Twenty-four years ago, when I first came here on a Cru summer missions trip, I found Croats were eager to spend hours in cafés sharing their stories. My new friends spent a lot of time talking about history—10th-century kings, fascists, communists, and their experiences in the War of Independence, which had ended two years before I arrived. The past constantly intruded into conversation.Coming from the future-oriented culture of Silicon Valley, I was fascinated by their interest in history. But it felt quaint. At the time, I couldn't imagine how the weight of the past would soon press down on America as well.We are living in a time of high social conflict. Our arguments are fueled by competing stories. Are we the city on the hill or the most evil nation in history? Was the election stolen, or is that story a fantastic lie? Are the COVID-19 vaccines a huge success or part of a dark conspiracy? Churches are being torn apart as well by competing stories over critical race theory, sexual abuse scandals, and more.This kind of conflict among believers is all over Scripture. The Bible unflinchingly wades into seemingly irreconcilable stories. Through terse, artful narratives, biblical authors often pushed their original audiences toward healing. For the Israelites, words like Jebusite or Samaritan were not unfamiliar and hard to pronounce. For them, these labels were as controversial as confederate, socialist, or Black Lives Matter are to us.The Old Testament historical books are likely the first use of narrative (instead of epic verse) to tell national history. They employ a courageous, forthright style to retell painful stories in such ...Continue reading...
Imagine a world where basic historical facts are contested daily, individuals who challenge the status quo are erased or "canceled" from society, and challenging viewpoints are crimes punishable by death. In George Orwell's novel 1984, Winston Smith's world of Oceania is a bleak, totalitarian dystopia demanding uniformity of thought, societal conformity, and most of all, allegiance and love for Big Brother. Every day, Winston clocks into his job at the Ministry of Truth in the Records Department and sets about his one task—to rewrite history to fit the narrative of the day.Reality, it seems, is often stranger than fiction. The term "Orwellian" has become a commonly used cliché, and yet the themes in 1984 are hitting increasingly close to home. In 2021, massive tech giants like Facebook, Twitter, and Amazon have become bullies that can promote, campaign for, rewrite the facts, or silence whomever they please. In the name of curbing "misinformation," Silicon Valley has exercised unchecked power over a social media-steeped society, assuming a position of authority for which Americans never cast their ballots in favor of.1984's Big Brother and 2021's Big Tech have a lot in common—silencing dissenting voices and viewpoints through censorship. Orwell's dystopian government implemented principles such as doublethink (rewriting facts, even if contradictory) and crimestop (halting dissenting views in their tracks) to curb those who questioned Big Brother's authority. Notably, Big Tech monopolies have been on a run recently of suppressing conservative voices and ideas as their executive leadership, philanthropy records, and policies conveniently favor the mainstream, progressive narrative. Increasingly, viewpoints deemed not politically correct are purged from social media platforms and dissenting opinions are removed—or given a glaring "Fact-checkers deem this information 'false'" tag.Since the start of 2020, Big Tech's efforts to control political and cultural narratives have been startlingly dystopian. "Non-partisan" fact checkers label posts about COVID-19, elections, debates, speeches, and vaccines as "false," "partially false," or simply "misinformation," despite the fact that many of these issues are currently under debate and discussion from a variety of angles and between experts. For example, in the most publicized story, several social media platforms ousted the sitting president of the United States from his accounts for content they disagreed with. Amazon intercepted the marketing of Irreversible Damage, a book by investigative reporter Abigail Shrier that criticized the transgender movement. They even went so far as to entirely remove a similarly critical book by Ryan T. Anderson, When Harry Became Sally. Conservative pundits and outlets such as Live Action, The Babylon Bee, and LifeSiteNews have seen their accounts, viewership, and content suspended or attacked by the fact-checking bots. These represent just the tip of the iceberg when it comes to attacks on free speech.In tandem with Big Tech's influence and moderation power, social media users have watched a destructive trend emerge as angry internet mobs target and cancel individuals for expressing ideas that push against progressivism and political correctness. Armed with pitchforks in hand and ready for a witch hunt, "cancel culture" has led to many unpersons (to use 1984 Newspeak lingo referring to erasing a deviant individual's existence) finding themselves on the receiving end of collective internet hatred in the form of doxing, threats, and reports for removal by the Tech platforms. In Orwell's novel, Winston and his colleagues participated in a daily Two Minutes Hate, a short propaganda video intended to rile up the audience against their political opponents and their ideologies, with the purpose of solidifying their love and allegiance to Big Brother. The destructive power of cancel culture has been in its ability to maliciously turn people against one another and create fear of public dialogue or debate, stirring hatred against politically and ideologically deviant "friends," "followers," and "public figures."Over the last two years, the actions of Big Tech have generated a lot of controversy—controversy that is sure to escalate as censorship affects more and more Americans. Thankfully, there are members of Congress, governors of states, and other leaders who are willing to stand up to the tyranny of Big Tech. Conservatives must ensure that government protects our fundamental right to free speech, and that society cultivates our ability to dialogue, disagree, and hold varying opinions. The First Amendment protects the rights of all Americans to speak their mind free of government coercion, regardless of which side of the aisle they fall on. This freedom is worth protecting.As modern-day Orwellian doublethink and crimestop threaten our basic freedoms, we must take a stand. Unlike the grim totalitarian world of Oceania and Big Brother, Americans ought to be able to express a diversity of opinions, thoughts, and stances, political or otherwise, without fear of erasure by Big Tech.Marjorie Jackson is the Digital Media Specialist at Family Research Council.