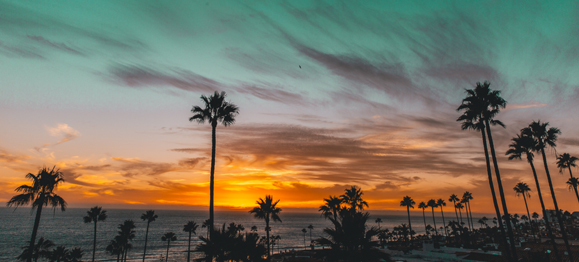 The results of an election can reveal the character and heart of a people. And this most recent election, at least in the state of California, didn't reveal a heart for God or loyalty to Christian values. Our newly-elected governor was, fourteen years ago, the first mayor to issue marriage licenses to same-sex couples in California. This week, the opening sentence of an LA Times article quipped, "Gavin Newsom's election as governor of California is expected to shift state politics and policy even further to the left after eight years under the leadership of Gov. Jerry Brown."Recent laws passed in our state have created increasing discomfort for Christians who believe in the sanctity of marriage, the life of the pre-born, and even the role of biblical values in society. Indeed, California and many other parts of America have more of a European flavor politically and religiously than ever before. But although this is a developing path for the United States, it is not new in world history. The psalmist talks about the depth of depravity to which those who are anti-God go. And if the intensity of vitriol that sometimes accompanies their insistence on a position seems disproportionate to the occasion, there is a reason. It often is not simply a single matter or viewpoint at hand, but a decision to rage against God Himself. Why do the heathen rage, and the people imagine a vain thing? The kings of the earth set themselves, and the rulers take counsel together, against the LORD, and against his anointed, saying, Let us break their bands asunder, and cast away their cords from us.—Psalm 2:1–3As Christians, during these times, we pray with the psalmist for deliverance from oppression, an opposition which I believe will only increase until the coming of the Lord: "Deliver me from the oppression of man: so will I keep thy precepts" (Psalm 119:134).Although times like these can be discouraging for a Christian whose focus is solely on experiencing comfort in this life, this is a short-sighted viewpoint. When we are living as Spirit-filled Christians, these can be exciting times to see God work in unusual and significant ways.In fact, two of the great men of the Old Testament whose stories we remember often—Joseph and Daniel—were both surrounded by political and spiritual depravity of the worst sort. It was against that backdrop that their lives made such a profound difference. So, rather than being discouraged with the results of this past election, I choose to be grateful.I am thankful because…1. God Is Faithful in Every GenerationO give thanks unto the LORD; for he is good: for his mercy endureth for ever.—Psalm 118:29Lord, thou hast been our dwelling place in all generations. Before the mountains were brought forth, or ever thou hadst formed the earth and the world, even from everlasting to everlasting, thou art God.—Psalm 90:1–2The first-century Roman empire was far more corrupt and pagan than the United States today, yet the gospel flourished and spread through its entirety. 2. The Mission of God's People Never ChangesAnd he said unto them, Go ye into all the world, and preach the gospel to every creature.—Mark 16:15My goal as a pastor is not to be overly concerned about red states and blue states. My goal is to preach the crimson red blood atonement of my Lord and Saviour Jesus Christ. When people are redeemed by His blood and inhabited by the Holy Spirit, their worldview will change. But until they know the Lord, the biblical worldview will not make sense anyway. While election results intrigue me, as a Christian, my task does not change from season to season. I need to be ready to share Christ with a spirit of love and compassion today.3. Our Mission Is ObviousNow while Paul waited for them at Athens, his spirit was stirred in him, when he saw the city wholly given to idolatry.—Acts 17:16Rather than being surrounded by professing and often carnal Christians, we have masses of unconverted heathen people in our state. If you lived in a county that was surrounded by hundreds of Baptist churches, you might not even think you need to actively look for ways to witness. But here, you can't help but see the need. A mature believer in California does not view his life as one dedicated to aerospace advancements, a hospital, or a law enforcement agency. He sees these as a vocation and certainly does his best, but he knows his higher calling is to be a light for Jesus in those places. This is a time to consider whether we will respond with flight or fight to the challenges in California. Will we flee discomfort? Or will we, not combatively but with a soulwinner's heart, have a spirit to take the Sword of the Spirit and stand for truth? The opportunity to do so has never been greater. 4. The Sovereignty of God Is Over AllThe LORD is high above all nations, and his glory above the heavens.—Psalm 113:4Behold, the nations are as a drop of a bucket, and are counted as the small dust of the balance: behold, he taketh up the isles as a very little thing…. All nations before him are as nothing; and they are counted to him less than nothing, and vanity.—Isaiah 40:15, 17I don't have to wring my hands in apprehension over the future because I know the King of kings and Lord of lords. No, we aren't promised a life of ease and comfort, free of persecution. But we are promised God's peace and comfort, and we can rest in knowing that He isn't surprised or disabled by an election.5. Revival Is an Ever-present PotentialWherefore should the heathen say, Where is now their God? But our God is in the heavens: he hath done whatsoever he hath pleased.—Psalm 115:2–3Wilt thou not revive us again: that thy people may rejoice in thee?—Psalm 85:6Frankly, for states like California and New York, as well as a growing number of other places across our land, revival may seem completely impossible. But it may be the complacency of Christians that is to blame. Perhaps now Christians will ponder the need for prayer, seeking the Lord, and humbling ourselves. These are the choices to which God responds with His grace. 6. The Natural Beauty of God's Creation Surrounds UsLet the heavens rejoice, and let the earth be glad; let the sea roar, and the fulness thereof. Let the field be joyful, and all that is therein: then shall all the trees of the wood rejoice.—Psalm 96:11–12From the giant sequoias to the redwoods to the expansive deserts to the sandy beaches and cliff-lined coasts to the Sierra Nevada Mountains, California is breathtakingly beautiful. And it all points to God as the creator and sustainer who is worthy of our honor and praise. 7. The Lord Is on Our SideI called upon the LORD in distress: the LORD answered me, and set me in a large place. The LORD is on my side; I will not fear: what can man do unto me?—Psalm 118:5–6When you're involved in politics, you always want the most persuasive, influential, or powerful person on your side. And when "the other side" has such a person, you cringe. As Christians, we have the Lord on our side. Sometimes we forget it, and sometimes we forget the significance of it. But He is always there, and we have no need to fear.8. The Local Church Will ContinueAnd I say also unto thee, That thou art Peter, and upon this rock I will build my church; and the gates of hell shall not prevail against it.—Matthew 16:18I'm thankful for the local church. In particular, I'm thankful for Lancaster Baptist Church—a place where God has allowed me to pastor for over thirty-two years and where I joyfully serve to this day. The assembly of believers is to be a place where we focus on the Lord, have a haven of rest, and pray and prepare to reach the lost with the gospel. As our culture becomes increasingly hostile toward God and biblical truths, the church should mean more to us today than ever. 9. Our Weather Is TerrificIn every thing give thanks: for this is the will of God in Christ Jesus concerning you.—1 Thessalonians 5:18I'm thankful I will not shovel snow to get to work this winter. And I'm thankful that I will enjoy an average of 284 sunny days out of the 365 this year. (There are several reasons California is the most populated state in the nation, and weather is definitely one of them.) 10. Laborers Are Being Trained to Take the Gospel to CaliforniaTherefore said he unto them, The harvest truly is great, but the labourers are few: pray ye therefore the Lord of the harvest, that he would send forth labourers into his harvest.—Luke 10:2Jesus had one prayer request—gospel laborers for the harvest. And here in northern Los Angeles county, of all places, I get to be involved in training some of these laborers at West Coast Baptist College. Not only are there WCBC graduates planting churches in dozens of countries around the world, but there are thirty who are currently pastoring in California, many of which are church planters. Everywhere I preach outside of California, people criticize our state—its policies, media, political agenda, legislation, and even the way churches do ministry. I would remind our friends across the country, you'll never see a monument to a critic. Rather than pointing out our challenges, why not come help us and be part of the solution? Pray for us, come share the gospel with us, and come plant more churches. In fact, I invite any student or recent graduate from another Bible-believing Baptist college or any pastor serving in an area that is surrounded by other churches to call my office regarding opportunities for church planting here in California, as well as the opportunity for Lancaster Baptist to support you in planting a church here.11. Our Citizenship Is in HeavenFor our conversation is in heaven; from whence also we look for the Saviour, the Lord Jesus Christ:—Philippians 3:20These all died in faith, not having received the promises, but having seen them afar off, and were persuaded of them, and embraced them, and confessed that they were strangers and pilgrims on the earth.—Hebrews 11:13We can get so focused on local, state, and national government that we forget who our King is. Although I believe that we as Americans should take advantage of the extraordinary privilege we have to be engaged in our government and its processes, we must guard against thinking of this world as our home. We are but strangers and pilgrims here, and we have a better Home coming. Back in the 1700s, there were a group of people who were known for the fact that, not just a few but all of the church considered themselves missionaries. Laymen surrendered themselves by the hundreds to go to far away places, including the Caribbean, North and South America, the Arctic, Africa, and the Far East to carry the gospel. If we today would have the godly depth and maturity of these Moravian missionaries, we who live in California would see the opportunities around us for the gospel as nothing more than a privilege. We would see what a great blessing it is to be living in the midst of millions of people needing a Saviour. If, however, we begrudge living in California (or wherever you may be living today), we should apologize to the missionaries we send to China, where it is illegal to hand out a gospel tract. We should apologize to the churches in Malaysia, where to simply give out a printed copy of the gospel would mean your hand would be cut off; and Iran, where a Christian would be imprisoned for the same offense. May we instead, as mature Christians filled with the Holy Spirit, serve God graciously and witness for Christ passionately where we are in the days ahead.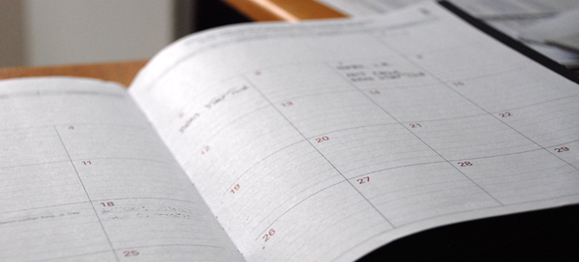 Every Sunday afternoon, I take time to review the previous week and plan the week ahead. It is a discipline that has been a tremendous help to me over the years in being proactive with my responsibilities.Sometimes, however, a well-planned week gets rearranged by an emergency or an all-consuming need. Changes of plans don't only happen to pastors. They happen to all of us at different times and in different ways. What do you do when you are in the midst of an already-full week and circumstances outside of your control slash through your schedule?1. Remember the Sovereignty of GodThis event may catch you by surprise, but it certainly didn't catch God by surprise. Remembering His goodness and sovereignty over your plans will help you to be flexible in setting your plans aside to meet the needs of others. Trust that He will give you grace, and remember that He knows the details of how this change will affect the rest of your schedule.Trust in the Lord with all thine heart; and lean not unto thine own understanding.—Proverbs 3:52. Remember Others Who Are HurtingIt's easy to get so caught up in how unplanned events or emergencies affect our schedules that we forget to give genuine compassion and practical care to those around us whose entire lives were just turned upside down because of tragedy.Rejoice with them that do rejoice, and weep with them that weep.—Romans 12:153. Remember to Give Thanks for Unsought OpportunitiesI remember when our grandson, Chandler, was in the hospital some time ago how many people with open hearts we were able to share the gospel with. Chandler's days in PICU certainly weren't in my schedule, but I thank the Lord for people saved or in some way touched with the love of Christ because of them.If God has sovereignly allowed your plans to be changed, you can rest assured that He is giving you opportunities to minister in ways you hadn't planned—opening doors you couldn't have opened.And…they assayed to go into Bithynia: but the Spirit suffered them not…. And a vision appeared to Paul in the night; There stood a man of Macedonia, and prayed him, saying, Come over into Macedonia, and help us.—Acts 16:7, 94. Remember to PrayPray for grace to be a minister of God's love. Pray for those who are hurting. Pray for Christ to be magnified. Pray for people to be saved. Don't get so caught up in the frenzy of this urgent moment that you neglect the most powerful resource on earth—prayer.Pray without ceasing.—1 Thessalonians 5:175. Remember to Seek the Filling of the Holy SpiritWithout the power of God, our best efforts to serve others fall flat. With His enabling, we are able to give the comfort of God and the gospel of Christ.And be not drunk with wine, wherein is excess; but be filled with the Spirit;—Ephesians 5:18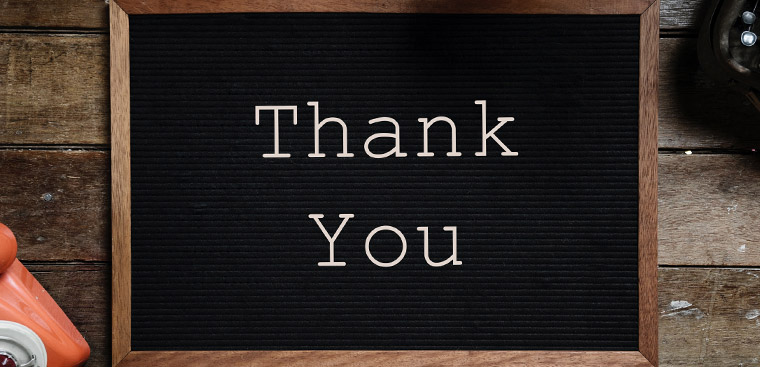 The Gratitude Attitude Not too long ago, a pastor friend of mine visited us at Heritage Baptist Church, and our conversation went to the subject of gratitude. My pastor friend made a statement to me, which at the time I felt was rather harsh, but upon reflection have recognized its validity. The church that he pastors takes excellent care of visiting speakers, but if that well-treated visiting speaker doesn't write a thank you note, he doesn't invite him back. Gratitude has much to say about who we are as people.It is interesting that Paul lists ingratitude as one of the earmarks of our depravity (Romans 1:21) and part of the apostasy of the last days (2 Timothy 3:2). An entitlement mentality has brought to many of us a spirit of ingratitude. We feel that we are "owed" certain luxuries and fail to see the gifts that come our way as God's grace. Every good and perfect gift is from above (James 1:17).God's ProvisionLuke's gospel records the cleansing of ten lepers, only one of which returned to thank the Lord for healing (Luke 17:11–19). I have often wondered if the statistics have improved over the years. I doubt it. When God provides health or wealth, we should be thankful. Has God brought healing to you? Has God given you the strength to earn a wage (Deuteronomy 8:18)? Are you thankful that you have a job, or do you gripe about the wage that you currently are paid (Matthew 20:10–11)? Through the years as a supervisor, I can attest that far more people have been in the office to complain about perceived inequities in the workplace than to express thankfulness for raises and benefits received. We should be thankful for the provision of God.God's DenialWe often complain when we feel that life (or really, God) is not being fair to us. We must stop and consider, however, that often God's denials are blessings in disguise. When Paul prayed for his thorn in the flesh to be removed, God denied the request in order that Paul might learn the sufficiency of God's grace (2 Corinthians 12:8-9). This gift of grace was a greater gift than renewed health, and Paul was able to "glory" in it because God had given him a greater yes.Many of us, for example, can now praise the Lord that we are not married to someone we dated in high school. History will reveal that even the denials of God were for our benefit. Not all things that happen to us are good, but all things that happen to us are for our good (Romans 8:28). Therefore, we can praise God even when things go wrong, and give thanks "in" everything (1 Thessalonians 5:18).God's SovereigntyWhen Job, a shining trophy of grace, received inexplicable trials, he praised the Lord (Job 1:21). It never entered Job's mind to blame the natural disasters, or even the human adversaries, for his reversals. Not even the devil was given credit for his problems. Job said, "The Lord hath taken away." Job praised God because he trusted the wisdom of God's sovereign hand even though he did not humanly understand it. May the same be true of us.The Bible commands us to do all things without complaining and arguing (Philippians 2:14). This is a tall order, but it is moral obligation. If you and I were only invited to places where we manifested gratitude, how wide would our circle of influence be? I venture to say that even if we are invited, we lose influence when we are characterized by gripes rather than gratitude.In every thing give thanks: for this is the will of God in Christ Jesus concerning you.—1 Thessalonians 5:18
by C. H. SpurgeonIt is grace, free, sovereign grace, which has made you to differ!Should any here, supposing themselves to be the children of God, imagine that there is some reason "in them" why they should have been chosen, let them know, that as yet they are in the dark, concerning the first principles of grace, and have not yet learned the gospel.If ever they had known the gospel, they would, on the other hand, confess that they were less than the least- the offscouring of all things- unworthy, ill-deserving, undeserving, and hell-deserving, and ascribe it all to distinguishing grace, which has made them to differ; and to discriminating love, which has chosen them out from the rest of the world. Great Christian, you would have been a great sinner if God had not made you to differ!O! you who are valiant for truth, you would have been as valiant for the devil if grace had not laid hold of you! A seat in heaven shall one day be yours; but a chain in hell would have been yours if grace had not changed you! You can now sing his love; but a licentious song might have been on your lips, if grace had not washed you in the blood of Jesus! You are now sanctified, you are quickened, you are justified; but what would you have been today if it had not been for the interposition of the divine hand? There is not a crime you might not have committed; there is not a folly into which you might not have run.Even murder itself you might have committed if grace had not kept you.You shall be like the angels; but you would have been like the devil if you had not been changed by grace!-----Excerpt from the sermon The Fruitless Vine by C. H. Spurgeon
Temple Baptist Church - 7-8-2018Romans 8:29-30Introduction:A. As we look at predestination tonight, we need to remember that the Bible plainly asserts that God is no respecter of persons. (Acts 10:34; Romans 2:6-11; Ephesians 6:9; Colossians 3:25; James 2:1) Any doctrine that places God in a position of such is blatantly false!B. Some confuse and equate Divine foreknowledge and foreordination. God can know a matter before hand without predetermining the matter to the point that the people (in this case) are excluded, as far as their will and participation are concerned. Some religionists, nonetheless, maintain such a radical view of predestination that in stressing the sovereignty of God, they have eliminated the will and role of man.C. God "understandeth our thoughts afar off" and, therefore, knows what choices that we will make. God knew that Satan would tempt Eve and that Adam would sin. He did not force or program them to sin. They committed sin by choice. God is a God of love and ultimate equity!D. Biblical predestination is proof of God's omniscience. Furthermore, biblical prophecy is predicated on God's foreknowledge and predestination. The fact that God knew that only a few would accept his Son is also indicative of God's love in sending his Son. "The few" who will be saved are not a group whom God arbitrarily and totally, without any participation on their part, chose to be save, but those who "enter in at the strait gate," which is faith in Jesus Christ!E. First, I hope everyone has the preceding straight. Man has responsibility to come to Jesus Christ for salvation. Period!F. Secondly, predestination has to do with God's purpose in salvation, not selection in salvation. Predestination has to do with foreknowledge! As we look at these verses, we see them from God's side which was precipitated in eternity past, declaring His purpose and man's side which began in verse 7. No man is predestined to either heaven or hell. Hell was prepared for the devil and his angels, not man! (Unless some ignorant theologian thinks that all the unsaved are the "angel-humans" of their "Sons of God" theory in Genesis 6!)G. Let's look at these verses in their context and see what God said concerning predestination. 1. The "For" at the beginning of verse 29 ties it to the preceding verses (Context Principle of Bible Interpretation) and, therefore to us as God's children. There is no mention of the unsaved in these verses! God is declaring the position of those in Christ. The antecedent of "whom" is the plural pronouns found in these verses. There is not one singular pronoun in the context. Paul, through the Holy Ghost, is speaking of the body corporate or the Body of Christ.2. The word "foreknow" is the key to the verses for tonight. God not only knew about us, He knew us! God knows all things. He sees the end from the beginning. Nothing ever surprises God or even occurs to God. He is omniscient. He knew that we would come to trust in Him from the foundation of the world.Ephesians 1:3-7 Blessed be the God and Father of our Lord Jesus Christ, who hath blessed us with all spiritual blessings in heavenly places in Christ: (4) According as he hath chosen us in him before the foundation of the world, that we should be holy and without blame before him in love: (5) Having predestinated us unto the adoption of children by Jesus Christ to himself, according to the good pleasure of his will, (6) To the praise of the glory of his grace, wherein he hath made us accepted in the beloved. (7) In whom we have redemption through his blood, the forgiveness of sins, according to the riches of his grace; (Notice the plural pronouns. Predestination and election are always found surrounded with plural pronouns. Never, when referring to man, do you find a singular pronoun in the context. God sees a "finished product" when He sees us!)Ephesians 2:5-6 Even when we were dead in sins, hath quickened us together with Christ, (by grace ye are saved;) (6) And hath raised us up together, and made us sit together in heavenly places in Christ Jesus: ("Ye" is plural because it becomes "we" and "us" and together.)Ephesians 2:8-10 For by grace are ye saved through faith; and that not of yourselves: it is the gift of God: (9) Not of works, lest any man should boast. (10) For we are his workmanship, created in Christ Jesus unto good works, which God hath before ordained that we should walk in them. ("Ye" is plural because it becomes "yourselves" and "we." It is the Body of Christ that conforms to the image of Christ.)3. "Predestinate" is to pre-determine. Predestination is our conformity to Christ, not "election" by Christ. What and who did God pre-determine. The collective Body of Christ. God sees us eternally home and like unto Him. He also sees a Bride perfected.Romans 8:29 For whom he did foreknow, he also did predestinate to be conformed to the image of his Son, that he might be the firstborn among many brethren.Ephesians 5:25-27 Husbands, love your wives, even as Christ also loved the church, and gave himself for it; (26) That he might sanctify and cleanse it with the washing of water by the word, (27) That he might present it to himself a glorious church, not having spot, or wrinkle, or any such thing; but that it should be holy and without blemish.4. "Called." The "called" in this verse are those whom God foreknew that would answer His call. We that are saved are the "called."Matthew 22:11-14 And when the king came in to see the guests, he saw there a man which had not on a wedding garment: (12) And he saith unto him, Friend, how camest thou in hither not having a wedding garment? And he was speechless. (13) Then said the king to the servants, Bind him hand and foot, and take him away, and cast him into outer darkness; there shall be weeping and gnashing of teeth. (14) For many are called, but few are chosen. (The "wedding garment" is the imputed righteousness of Christ. God's call is a universal invitation but the chosen are those who answer that call.)2 Thessalonians 2:13 But we are bound to give thanks alway to God for you, brethren beloved of the Lord, because God hath from the beginning chosen you to salvation through sanctification of the Spirit and belief of the truth: (How are we "chosen?" Through faith! We believed the truth. Sanctification and belief are simultaneous acts.)Matthew 23:37 O Jerusalem, Jerusalem, thou that killest the prophets, and stonest them which are sent unto thee, how often would I have gathered thy children together, even as a hen gathereth her chickens under her wings, and ye would not! (This verse Biblically answers the question: "Does man have a choice to accept or to reject?"John 5:40 And ye will not come to me, that ye might have life. (The Pharisees could have been saved just as Paul was on the Damascus Road.)5. "Them He justified." To be declared or to render innocent.Galatians 3:6-8 Even as Abraham believed God, and it was accounted to him for righteousness. (7) Know ye therefore that they which are of faith, the same are the children of Abraham. (8) And the scripture, foreseeing that God would justify the heathen through faith, preached before the gospel unto Abraham, saying, In thee shall all nations be blessed. (We are justified through our act of faith, not election or predestination.)6. "Glorified." As God knew us who are and are being saved before the beginning, He also sees us glorified with Him in eternity! Jude 24-25 Now unto him that is able to keep you from falling, and to present you faultless before the presence of his glory with exceeding joy, (25) To the only wise God our Saviour, be glory and majesty, dominion and power, both now and ever. Amen.Conclusion: I think that the conclusion becomes obvious.1. God's Foreknowledge Sees Our Salvation Blood Based.2. God's Foreknowledge Sees Us Conformed To The Image Of His Son.3. God's Foreknowledge Sees Us Holy And Without Blame Before Him In Love.4. God's Foreknowledge Sees Us Finally Home!