He brought archaeological expertise to Israel, Egypt, and North America.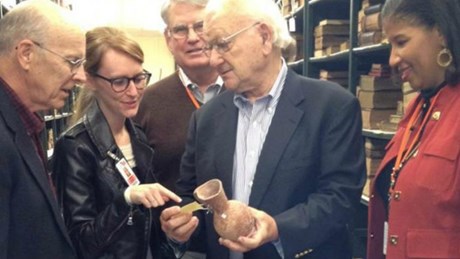 If you met Robert E. Cooley, you remember his arresting handshake. If you sat in a meeting with him, you recall a brilliance that stopped committee chatter or—more improbably—made sudden sense of it. If you worked with him, you remember a measured decisiveness that could pull your organization back to its mission or lead a whole new movement.Cooley, a Near Eastern archaeologist and former president of Gordon-Conwell Theological Seminary, died Thursday, April 1, at age 91.Best known for his presidency of the seminary from 1981 to 1997, Cooley spent much of his earlier career at archaeological sites in Israel and Egypt. His most important discoveries were made at Tel Dothan, in the West Bank, where he brought to light the burial rituals of the ancient city that speak volumes about how they lived. He played a key role in the founding of the Near East Archaeological Society.His later research of 106 Native American sites while director of the Center for Archaeological Research at Missouri State University became central for the U.S. government's "cultural resource management studies."But it was in higher education that he had his greatest impact on American religious life, much of it after he retired from Gordon-Conwell. He helped Tim Laniak, then-dean of the Charlotte, North Carolina, campus, develop that campus and plant a satellite school in Jacksonville, Florida."Those who knew Dr. Cooley," Laniak said, "assumed the whole world did."In 2008, Cooley helped to reorganize the governance of Oral Roberts University at a time when the school had fallen into debt and was on the brink of closing. Mart Green, a co-owner of the Hobby Lobby stores who brought Cooley in to help rescue ...Continue reading...
Eleven years later, an investigation by David and Nancy French plus a site for victims try to grasp the extent of predatory behavior by a longtime camp director.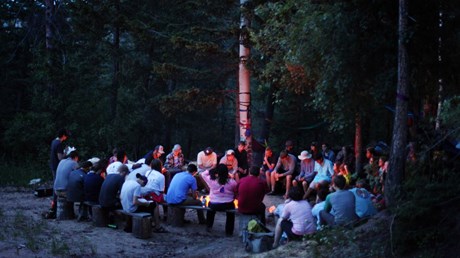 Former Kanakuk director Pete Newman has been in prison since 2010 for abusing boys from the popular Christian summer camp, but a recent report and petition say the public still doesn't know the extent of the child sex abuse that went on there.While 19 victims were identified in the initial investigation against Newman, a civil complaint tallied at least 57, and a prosecutor in the case estimates there could be hundreds over Newman's 15 years at the Missouri camp, according to a report published Sunday by David French and Nancy French through the conservative outlet The Dispatch.The Frenches' investigation noted how the number of Kanakuk victims who have come forward over the years remains unknown. Many have been settled complaints with non-disclosure agreements, which do not permit victims to speak out about what happened to them. A twelfth anonymous victim (John Doe XII) filed a lawsuit this year.This weekend, a new website, FactsAboutKanakuk.com, launched with a petition calling on the camp to release victims from NDAs so more stories of abuse at the camp can come to light."The nondisclosure agreements prevent victims and their families from seeking healing by connecting with other victims and sharing their stories, whether in private or in public," organizers said. The site lists five men affiliated with Kanakuk who have been convicted of sexual crimes against children.The Dispatch detailed Newman's behavior as a "superpredator" at the camp. Newman was known to play sports and ride four-wheelers naked with campers, conduct "hot tub Bible studies," and hold one-on-one sleepovers, according to the report, which includes extensive testimony from victims. He groomed ...Continue reading...
More than half of evangelicals will be back in person, but most Catholics and black and mainline Protestants are still waiting to return.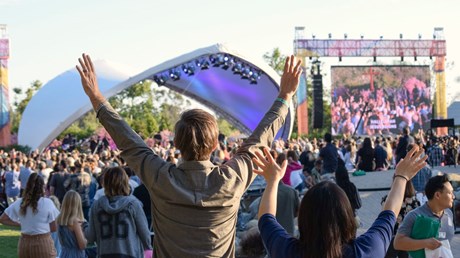 When churches first shut down for the pandemic, many Christians hoped they would be back together within weeks for Easter. A year later, the holiday will be the first time more than half of evangelicals in the US plan to return to worship in person, according to a Pew Research Center report out Monday.Even though most churches have reopened, the proclamation that "He is risen indeed" will be quieter than normal years, with sparser holiday crowds (and mask requirements muffling their voices). Among all American Christians, 39 percent say they plan to celebrate Resurrection Sunday in person, compared to 62 percent during a typical year.Evangelical Protestants are more likely than any other Christian group to say they'll be in church on Easter this year (52%). For many congregations, last year's socially distant drive-up worship will be replaced by traditional sunrise services and egg hunts.Easter is typically one of the most-attended weekends on the church calendar, and this year pastors anticipate that many Christians will want to get back to the familiar celebrations within their communities of faith.Connection Point Church in Jackson, Missouri, which celebrated virtually last year, is expecting in-person attendance to spike for Palm Sunday and Easter. "With all the other turmoil that's been on with our society, there is a longing [for] not only normalcy but hope," pastor Chris Vaught said in an interview with KFVS.But certain Christian traditions are holding out a little longer. Just 36 percent of Catholics and 27 percent of mainline Protestants say they'll return for Easter, Pew found. Though historically black Protestants typically rank among evangelicals for the highest ...Continue reading...
It was a privilege to present the Purposeful Parenting Seminar at Berean Baptist Church in Springfield Missouri this past Friday and Saturday.   The seminar was very well received and the Lord used the teaching of His Word to encourage many hearts.  Jeff Ables has been the pastor of Berean Baptist for the past 16 years and God [...]