Leesburg, Va. - Family Research Council and FRC Action today announced Senator Josh Hawley (R-Mo.) will speak on Friday at the Pray Vote Stand Summit. Other confirmed speakers for the final day of the summit include former Acting Secretary for the Department of Homeland Security Chad Wolf, former Ambassador-at-Large for Religious Freedom Sam Brownback, President and CEO of Alliance Defending Freedom Mike Farris, Arkansas Attorney General Leslie Rutledge, Ohio Attorney General Dave Yost, and Rep. Michael Waltz (R-Fla.)....

October 1 marks one month since the Texas Heartbeat Act went into effect, outlawing abortions past six weeks, which is when a fetal heartbeat can be detected. Since its implementation, about 150 unborn lives have been spared from abortion each day, meaning an estimated 4,500 babies will have the opportunity to be born because of the Act. According to estimates from the Charlotte Lozier Institute, the six-week ban could save upwards of 33,000 lives in the next year if it continues to remain in effect.This law has withstood many challenges since its passing and has triumphantly continued to defend human life. Even as radical proponents of abortion desperately seek any avenue to block the democratically enacted legislation, the Texas Heartbeat Act is unapologetically preserving the lives and futures of babies in the womb with each passing day.Like the obedient servants of God who were protected by the Angel of the Lord in the furnace, Texas' Heartbeat Act has persevered through fiery attacks. The uproar from pro-abortion advocates was instantaneous following its passage by the state legislature and signing by Governor Abbott in the spring. Members of the abortion lobby, led by Planned Parenthood, petitioned the U.S. Supreme Court to block the law before it could go into effect. However, in a 5-4 decision, the Court upheld the law on a procedural technicality, allowing it to take effect.In a reactionary strategy, House Speaker Nancy Pelosi forced a vote on the deceptively-named Women's Health Protection Act (H.R. 3755). It should really be called the Abortion on Demand Act, since it would effectively codify Roe v. Wade and eradicate the vast majority of state-level pro-life laws, including the Texas Heartbeat Act. The legislation passed in the House last Friday and has moved to the Senate for consideration in the near future. Archbishop Cordileone of San Francisco, who has the duty to instruct Speaker Nancy Pelosi as a baptized Catholic in his diocese, declared that H.R. 3755 equates to child sacrifice.Fortunately, the radically sweeping nature of H.R. 3755 has ruffled the feathers of even some Democrats. Legislators on both sides of the aisle are discomforted by the bill's mission to overturn democratically instituted laws in the states that are created to promote women's informed consent and human rights, such as ultrasound requirements, parental notification requirements for minors, and bans on discriminatory sex-selective abortions.Texas was well-prepared for the surge of mothers requiring assistance after the ban; Texas has about 230 pregnancy resource centers (PCRs) that have been meeting the needs of mothers—more than any other state in the nation. One report shows that 46 percent of Texans support the six-week ban, only 43 percent oppose it, and 11 percent are undecided. Although these statistics are hopeful, they also demonstrate the work that remains to be done to educate all Americans about the inherent dignity of human life from the point of conception. Texas also provides a model for preparedness in resources for mothers that other states implementing pro-life laws ought to pursue.The Texas Heartbeat Act has opened the eyes of pro-life legislators around the nation, who are now seeking to produce similar bills in their own states. Action to mimic Texas' law is happening in Arkansas, Florida, Indiana, Mississippi, North Dakota, and South Dakota. Florida Governor Ron DeSantis has demonstrated his support for a six-week ban that was introduced in the legislature last Wednesday. In Pennsylvania, legislators are anxiously seeking the election of a Republican governor in 2022 who would allow for a six-week ban to be signed into law.Through its month of life-saving action, the Texas Heartbeat Act has increased hopes that a greater national understanding of the humanity of the unborn will allow for a favorable ruling in the Dobbs v. Jackson Women's Health Center case, which the U.S. Supreme Court will hear on December 1. As additional pro-life bills are considered around the nation, and the pro-life movement prays for Roe v. Wade to be overturned by the Dobbs case, it is clear that Americans are increasingly valuing life and will increasingly oppose those who seek to end the lives of the most vulnerable humans.
Here are "The 7" top trending items at FRC over the past seven days:1. Update: How Should Christians Use Religious Exemptions for Vaccine Mandates?After months of promising that his administration would not mandate COVID-19 vaccines, President Joe Biden issued an executive order requiring millions of federal employees to either get the vaccine, get tested weekly, or face dismissal from their job. Shortly after the executive order, the president handed down another mandate, requiring all employers with more than 100 employees to mandate their workers be vaccinated or submit to weekly testing. Businesses that do not comply with the rule can be fined up to $14,000 per violation.2. Update: House Dems United in DeathPeople say it's hard to find consensus in Washington, but Democrats have found plenty on one issue: abortion. At least in the House, the idea of middle ground has vanished. When it comes to the taking of innocent life, the battlelines are clear: Republicans are 100-percent opposed, and all but one Democrat is in favor.3. Blog: Unconscionable: New Bill Proves Democrats Are Okay With Abortion Up Until BirthDemocrats in the U.S. House of Representatives recently passed an abortion expansion bill that deserves the full attention of the American people. This bill is so morally bankrupt that the hackneyed terms used to express political outrage, such as "extreme" and "radical," fail to capture the gravity of the bill's implications.4. Blog: Radical Progressive Ideology Has Become Normalized in Schools. It's Time to Act.Revelations of radical activism by a teacher in California with an Antifa flag in his classroom and marking student's papers using stamps with images of communist leaders roiled Sacramento area parents. In a shocking and at times profane 12 minute video, Inderkum High School AP Government teacher Gabriel Gipe explained that he has "180 days to turn [students] into revolutionaries."5. Washington Watch: Vicky Hartzler, Michael Burgess, Robert Cahaly, William LeeTony Perkins was joined by Vicky Hartzler, U.S. Representative for Missouri, who discussed the Pentagon leadership's testimony before the Senate Armed Services Committee over the disastrous withdrawal from Afghanistan and the atrocities that have followed. Michael Burgess, U.S. Representative for Texas, gave an update on the debt ceiling debate and House Speaker Nancy Pelosi's push for massive spending bills. The Trafalgar Group's Robert Cahaly shared the findings of a poll showing a 65 percent majority believe Americans who refuse the vaccine should not lose their jobs. And, William "Dean" Lee, retired Vice Admiral of the United States Coast Guard, shared his thoughts on the military vaccine mandates and the leaked documents showing how Coast Guard chaplains are being used to enforce the mandate.6. Washington Watch: Ron Estes, Mike Berry, Jerry Boykin, Arielle Del Turco, Meg KilgannonTony Perkins was joined by Ron Estes, U.S. Representative for Kansas, to talk about the massive spending votes in the House of Representatives. Mike Berry, with First Liberty Institute, discussed leaked documents showing the Coast Guard plans to grill service members about their religious beliefs over religious vaccine exemptions. Lt. Gen. (Ret.) Jerry Boykin, FRC's Executive Vice President and former commander of the U.S. Army's Delta Force, shared how imposing a vaccine mandate on the military will harm recruiting and retention. Arielle Del Turco, FRC's Assistant Director of the Center for Religious Liberty, talked about the recent March for Martyrs in Washington, D.C. And, Meg Kilgannon, FRC's Senior Fellow for Education Studies, discussed the graphic material a Fairfax High School mother found in school library books and what happened when she read them during a Fairfax County School Board meeting.7. Pray Vote Stand Broadcast: Biden's Mandates and Your FreedomOn this episode of Pray Vote Stand, Tony Perkins was joined by Christopher Ferrara, Attorney General Mark Brnovich, Jennifer Bridges, and Pastor Jack Hibbs to discuss and pray over what America soon might look like if President Biden's vaccine mandate is not stopped.
Southern Baptists become first to require vaccines as agencies navigate health requirements and travel restrictions.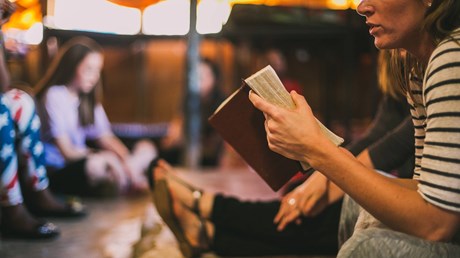 COVID-19 vaccine refusal rates may be high among white evangelical Christians, but the International Mission Board—which deploys thousands of missionaries—is not hesitant about the shot.The global agency of the Southern Baptist Convention, the largest evangelical Protestant denomination in the US, announced this month it is requiring vaccinations for missionaries they're sending into the field amid the pandemic.The IMB may be the first US missionary agency known to have such a mandate, according to leaders in the field, as other faith groups approach the issue in a variety of ways including limiting where people can serve and making considerations for uneven global access to the vaccines."This is a very common-sense decision," said Ed Stetzer, a Southern Baptist who is dean of mission, ministry and leadership at Wheaton College. "Mission-sending agencies from the United States have the real opportunity to be vaccinated, and they're going to places around the world that don't."The IMB policy applies to both current and future missionaries as well as some staff members. Among the reasons it cited for the measure are health concerns and the fact that increasing numbers of countries are implementing their own vaccine requirements—some field personnel have reported needing to show proof to board airplanes and subways or enter restaurants and malls.In a statement announcing the policy, IMB leaders acknowledged that it could be a deal-breaker for some people considering missionary work or currently serving with the organization.Allen Nelson IV, a pastor who leads a Southern Baptist congregation in Arkansas, said he is not against vaccines but is completely opposed to mandates ...Continue reading...
Some white evangelicals, the faith group most likely to refuse to get the shot, join thousands in citing "sincerely held" religious beliefs.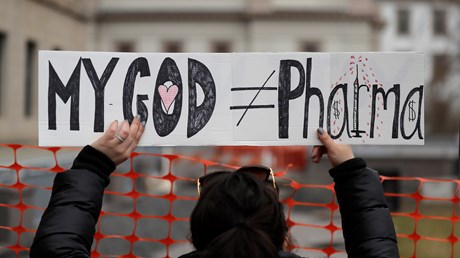 About 3,000 Los Angeles Police Department employees are citing religious objections to try to get out of the required COVID-19 vaccination. In Washington state, hundreds of state workers are seeking similar exemptions. And an Arkansas hospital has been swamped with so many such requests from employees that it is apparently calling their bluff.Religious objections, once used sparingly around the country to get exempted from various required vaccines, are becoming a much more widely used loophole against the COVID-19 shot.And it is only likely to grow following President Joe Biden's sweeping new vaccine mandates covering more than 100 million Americans, including executive branch employees and workers at businesses with more than 100 people on the payroll.The administration acknowledges that some small minority of Americans will use—and some may seek to exploit—religious exemptions. But it said it believes even marginal improvements in vaccination levels will save lives.It's not clear yet how many federal employees have requested a religious exemption. The Labor Department has said an accommodation can be denied if it causes an undue burden.In the states, mask and vaccine requirements vary, but most offer exemptions for certain medical conditions or religious or philosophical objections. The use of such exemptions, particularly by parents on behalf of their schoolchildren, has been growing over the past decade.The allowance was enshrined in the federal Civil Rights Act of 1964, which says employers must make reasonable accommodations for employees who object to work requirements because of "sincerely held" religious beliefs.A religious belief does not have be recognized by an organized religion, ...Continue reading...