Mexican Americans looked to the vibrant faith for hope, healing, and respite, writes scholar Lloyd Barba.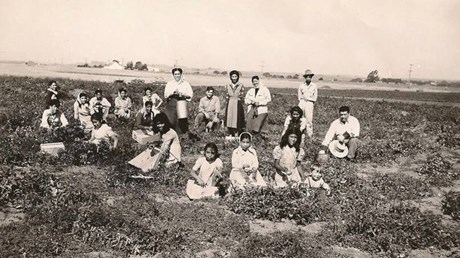 The farm labor history of California has often been told through the plight of agricultural laborers during the Depression era and the efforts, beginning in the early 1960s, of the United Farm Workers to improve working conditions of Mexicans in the fields.
But to Lloyd Barba, a professor of religion at Amherst College, this history isn't complete without factoring in religion, particularly the stories of California's Mexican farmworkers who embraced Pentecostalism, a Christian movement generally seen at the time as a "distasteful new sect" with "cultish and fanatical tendencies."
"I think about how often Latino history is told as labor history, and that makes sense … but where are the laborers going?" Barba said. "If we're going to get a more balanced and accurate Latino history, we have to look at Latino religious life."
In his recently released book, Sowing the Sacred: Mexican Pentecostal Farmworkers in California, Barba writes about the Mexican and Mexican American Pentecostal agricultural workers who built houses of worship in the state's agricultural towns, who turned to "divine healing" for injuries they sustained working in the fields and whose worship style inspired civil rights leader Cesar Chavez to incorporate music and singing in his union organizing.
Barba also writes about the role of women in these church spaces "who were the foundation of the church," despite not given ministerial credentials to become preachers. They raised money for the building of churches by selling food and made the worship spaces look holy through their handmade goods, such as doilies and fabric embroidered with biblical phrases, Barba ...
Continue reading...