A surprising encounter with my dad, Jesus, and Jerry Seinfeld opened a door to long-awaited healing.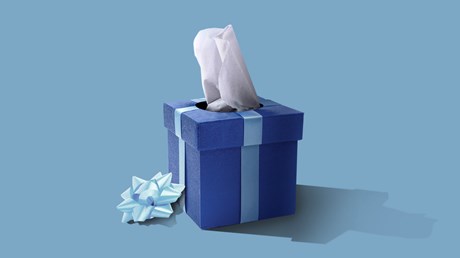 Last April, I found myself sobbing unexpectedly and uncontrollably while sitting in a barbershop for a haircut. It was the first time I'd really wept since my father passed away a month earlier.
I've had a complicated relationship with grief.
Six years before, I left vocational church ministry. I resigned from a church I'd helped plant 15 years earlier, a church I thought I'd retire from. But conflict and unhealthy leadership had wreaked havoc on my soul, and it was time to go.
In the intervening years, I found myself sitting on couches, in armchairs, and in Zoom rooms with various counselors and spiritual directors, trying to process my emotional and physical exhaustion.
"I'm anxious," I'd say.
"You have grief work to do," they'd reply.
"I can't sleep," I'd say.
"You have grief work to do," they'd reply.
"I've lost the eagerness to work hard and build things. That's not like me," I'd say.
"You have grief work to do."
I remember one day in particular sitting in my friend Bob's office. A caring and generous soul, Bob had sat with me for untold hours by then. Our session ended like every other. "How's your grief work going?"
I slumped in my chair and looked over at the fountain sculpture he had hanging on his wall. Water poured across from layer to layer, like barrels tumbling down levels in Donkey Kong. This question always felt like the barrel I couldn't avoid. I shook my head and blurted out, "I don't know what the hell that even means."
Bob has this subtle, almost imperceptible smirk when he knows he's hit a nerve. "Tell me ...
Continue reading...