Your weekly Dose of SpurgeonThe PyroManiacs devote some space each weekend to highlights from the lifetime of works from the Prince of Preachers, Charles Haddon Spurgeon. The following excerpt is from The Metropolitan Tabernacle Pulpit, volume 49, sermon number 2,814, "Abraham's great reward."
"You may have losses and afflictions; these are a part of your lot, but they shall not overwhelm you. You shall be no real losers in the end, but you shall be kept by the power of God, and shall be delivered out of every trial and affliction. He shall be to you also your shield, and your exceeding great reward."Have you, dear friend, made any sacrifices for Christ? Have you lately been called to imperil your own interests by pursuing right course? Have you been steadfast even though you lost friendships? Have you been so firm in your adherence to principle that you have been judged to be obstinate?Well, if so, you shall be no loser through your faithfulness. As certainly as God is in heaven, you shall prove, in some way or other, that in keeping his commandments there is great reward.It is always a pity when any of the children of God begin to think that they can be enriched by the king of Sodom, or try to find their portion, in any measure, amongst they ungodly sons of men.God's command to his people is, "Come out from among them, and be ye separate, saith the Lord, and touch not the unclean thing;" and his promise to those who do so is, "I will receive you, and will be a Father unto you, and ye shall be my sons and daughters, saith the Lord Almighty."
The odd Old Testament episode is a sharp reminder of our need for Jesus.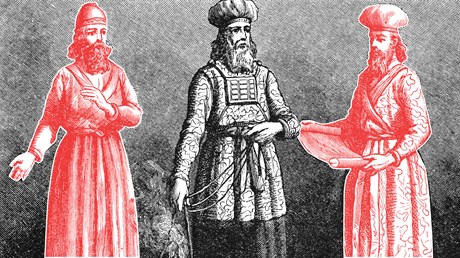 It's been a bad year for pastoral scandals in the church. Whether Roman Catholic cardinals or high-profile Protestant pastors, it's been devastating and sobering to read about sins and abuses by those entrusted to preach the gospel and shepherd God's people.Besides the horror of the abuses themselves, the sharp contrast between an outwardly successful ministry and the apparent darkness within is deeply discouraging. If our spiritual leaders cannot be trusted, who can?I'm reminded of the shocking deaths of Nadab and Abihu by divine fire in Leviticus 10. At this point in the Hebrews' journey to the Promised Land, things are going swimmingly. The Tabernacle is built. Moses has the instructions for the sacrifices. Aaron and his sons are being consecrated for ministry. On cue, God's glory appears, and fire consumes the burnt offering; the people are overjoyed (Lev. 9:24). But that joy suddenly turns to shock and sorrow when Aaron's sons try to offer up fire to the Lord—and flames burst forth and consume them instead (10:1–2).Most read this and naturally balk, asking, "Why is God so harsh? Isn't this just another sign of an arbitrary, angry, erratic God?"The natural question isn't always the right one, especially when taking the whole narrative context into account. This is the merciful God who redeemed Israel from Egypt, met them at Sinai, gave the covenant Law, forgave their infidelity with the golden calf, and instituted the priesthood and sacrifices precisely so sinful Israel could enjoy his holy Presence. We should ponder instead, "What went wrong?"Leviticus is light on explanation, but there are a few narrative clues. For one, the fire ...Continue reading...
Temple Baptist Church - 10-14-2018Psalm 92Introduction:A. Psalm 92 contrasts the wicked with the righteous. 1. The righteous love God!2. The wicked are the enemies of God!B. If the righteous love God, then they will love God's church!1. They will be faithful where they are planted.2. They will be thankful where they are planted.3. They will be flourishing where they are planted.C. It is interesting that the Holy Spirit used the word "planted" when referring to the faithfulness of God's people to the house of God. That word is normally used when speaking of trees, flowers, etc. being permanently placed into the ground.1. I only plant specific plants. I pick and choose what kind of plants that I buy because my yard is limited in area. I remember well that my mom would plant anything and everything in our yard when I was growing up and I had to mow around them. Most of them just looked like weeds and did not have flowers. Dad would mow them down.2. I only plant in specific places. I try to plant where there will be the fullest sun, which is hard in my yard as I live in the woods. I try to plant them in an orderly fashion so that they will look well.3. I only plant for specific reasons. For beauty and fruit!D. Several kinds of plants come to mind when looking at them considering God's people and the church.1. Special Occasion Plants – Easter Lilies and Poinsettias! a) Some people only come to church on special occasions such as Easter and Christmas. We are always glad to see them when they come and, evidently, two or three times a year is plenty for them to get their "religion" for the year. b) We leave them in the church for as much as a month around Christmas but, eventually, we give them away to someone who will take them home and care for them.c). You cannot lead them, and you cannot feed them because they are a type of the "natural" man who cannot receive or know the word of God. They just never seem to get it! They are satisfied with a little religion that soothes them a few days out of the year but have neither love nor desire for fellowship with God's people. 2. Artificial Plants – These are plants with no life in them that we buy that remain in certain places in the church. a) They just "adorn" the church but never produce or grow. These are the unsaved that never get right with the Lord. They never get saved and become spiritually alive through the new birth. b) They always sit in the same place and they are always there. I am not knocking our people sitting in the same places nor indicting them because they are always there. I say a sign that said, "Visitors welcome, members expected!" I pay them little attention because they require none. Every now and then, Marty will replace them or dress them up a little and they are beautiful but dead.c) I have tried to water them at times because I took them for the real thing but, alas, that never helped them. They never grow; they never need pruning; they never accept your efforts to care for them; they are just there and lifeless. You cannot lead them, and you cannot feed them because they are the "natural" man who cannot receive or know the word of God.3. Potted Plants – These plants do have life but, like the Artificial Plants, are moved around quite a bit and eventually are replaced. a) They cannot be planted because they are not able to withstand the elements. When it gets cold, you have a frost, or it becomes snowy, they must be brought in for the winter or they will die. b) These are people, and many are true believers (because they do have life) who can never get settled and continually, for always a "good reason," move on. They will never get settled because they do not like problems or imperfections in the environment. Spring and summer (good times) are their favorites but fall and winter (hard times) are not. c) Potted Plants need special care. They cannot survive in harsh weather. You must be careful how you handle them so as not to damage them. They must be watered and fed continually, or they will die. They constantly must be moved for cleaning or other purposes. d) Unfortunately, I always kill potted plants. I try my best to get them to live but everything I do with my "Brown Thumb" turns out wrong and they eventually die. I cannot lead them, nor can I feed them because they have no need of either a pastor or a church family.4. Planted Plants – there are two types of planted plants.a) Annuals – plants that you plant but must replant them each year. People who are saved—good people—but, because of difficult circumstances, will get out of church and must be restored when the trials are over. b) Perennials – plants that you plant, and they come back each year. Believers who survive despite of circumstances. These are the believers that come to get in, not get out. 1) Perennials are a vital, living part of the local church. I have been a member of only three churches in the 42 years since I was saved. I joined the church I was saved in and remained there until God called me into the ministry. I joined the church where I spent my Bible College years and remained faithfully there until God called me to pastor Temple Baptist. I joined Temple Baptist and have remained here. In March, it will be 32 years. 2) As a general rule, Perennials feed and water themselves. I may have to pour a little water on them in drought or fertilize once a year, but they are self-feeders. About once a year, I prune them to help natural growth. I am careful in my pruning because they can be cut back too hard. They will still grow but may skip a year in fruit production. I prune as to leave buds for natural growth and buds for fruit.3) I thank God for our Perennial people as most of you have been here for years and can be depended upon in both good and bad times. Planted plants are buried deep in the soil and survive because they can withstand the elements in the area in which they are planted. You can lead them, and you can feed them.4) Perennials are planted plants stay planted. We have a Windmill Palm in our front yard that is app. 20 feet tall now. It is a thing of beauty and adds so much to the overall décor of our yard and home. I never come home and find that my Palm tree has moved over to the neighbor's yard or somewhere else. Planted plants are always where the planter put them!5) Perennials are "planted plants" that are the "heart and soul" of the local church! It is them that carry on the work of the ministry. It is them that support the local church with their tithes and offerings. It is them that help missionaries get on the field and stay on the field with their missions giving. You cannot support new missionaries with inconsistent support! You cannot pay bills and maintain the church with inconsistent tithes and offerings. God bless these "planted plants!"E. We need to remain or to become Perennial plants!" 1. Perennials are Faithful Plants – vs. 1-2 Psalms 27:4 One thing have I desired of the LORD, that will I seek after; that I may dwell in the house of the LORD all the days of my life, to behold the beauty of the LORD, and to enquire in his temple.2. Perennials are Happy Plants – vs. 4 Psalms 122:1 I was glad when they said unto me, Let us go into the house of the LORD.3. Perennials are Protected Plants – vs. 9 Psalms 27:5 For in the time of trouble he shall hide me in his pavilion: in the secret of his tabernacle shall he hide me; he shall set me up upon a rock.4. Perennials are Fruitful Plants – vs. 14 Psalms 1:3 And he shall be like a tree planted by the rivers of water, that bringeth forth his fruit in his season; his leaf also shall not wither; and whatsoever he doeth shall prosper.5. Perennials are Satisfied Plants – vs. 14 Psalms 42:4 When I remember these things, I pour out my soul in me: for I had gone with the multitude, I went with them to the house of God, with the voice of joy and praise, with a multitude that kept holyday.F. Now, the question is, "How do we become planted?"1. Planted comes through Realization! There are no perfect churches! There are no perfect pastors! We will never agree with everything that we see or hear! We will not get our way! People are imperfect and no two will ever agree on everything. Where there are people, there will be problems, and this includes the pulpit! If we do ever find the perfect church and pastor, we need to leave them along because joining it will mess it up which leads up to point number 2.2. Planted comes through Remembering! None of us are not perfect! We are not always right! God knows best and faithfulness to the local church is not a request that God made, it is a command! When you join a church, you join it—it does not join you! We are not there to change the church; we are placed there to enhance it! When we fail to remember that we are flawed and often hard to get along with, then we hold others to a standard that we are not willing to live with ourselves. Critical people not only hurt others but also hurt themselves.3. Planted comes through Resolve! We are joining because we love the Lord and the church is His design and will for us! We are joining the church because it takes the combined effort and talent of the corporate body to get the job done! We are joining the church, not to be seen or to be somebody, but to be a blessing and encouragement to our brothers and sisters in Christ! We have ability to be used for the Lord and the Holy Spirit places me in a church that needs us.

Temple Baptist Church - 9-16-2018James 3:1-10Introduction: A. Division, the Pastor's nightmare! Did you know that the greatest problem that a pastor has in his work is division? Division can be accomplished in more than one way, but the simplest of these ways is that of an unbridled tongue.James 1:26 If any man among you seem to be religious, and bridleth not his tongue, but deceiveth his own heart, this man's religion is vain.B. We once said, "Keep your words short and sweet for you never know which ones you will eat." Speaking without thinking, in times of reaction, or in times of anger can do untold damage. Once words are turned loose, there is neither stopping nor gathering them back up again. Psalms 64:3 Who whet their tongue like a sword, and bend their bows to shoot their arrows, even bitter words:Illustration: There was once a young man who spoke evil words against another man in the neighborhood. Eventually, the young man realized his error and, with a repentant heart, approached his former enemy. He asked, "What can I do to make up for the damage that I have caused through my talking about you to others?" The neighbor who was hurt in the incident said, "Young man, get you a feather pillow and get into the back of my truck." The young man did not understand the reasoning behind such a request but, willing to make things right, obeyed. The neighbor then said, "Cut the pillow open with your knife and, as I drive across town, scatter the feathers on the way." The young man agreed, again not understanding. When they had driven across town and all of the feathers were scattered, the young man asked, "What good did scattering the feathers across town do?" The neighbor then said, "Go back the way that you came and gather up all of the feathers that you scattered." The young man cried, "That is impossible!" The neighbor replied, "I forgive you but neither can you go back and gather up all of the words that you have scattered about me!"C. How true! The tongue can be destructive and become an enemy of the church.Proverbs 18:21 Death and life are in the power of the tongue: and they that love it shall eat the fruit thereof.D. The tongue must be guarded, even in times of hurt and anger because words spoken cannot be taken back. My wife's life verse is Proverbs 21:23 and it is a good one.Proverbs 21:23 Whoso keepeth his mouth and his tongue keepeth his soul from troubles.Psalms 34:13 Keep thy tongue from evil, and thy lips from speaking guile.Psalms 39:1 I said, I will take heed to my ways, that I sin not with my tongue: I will keep my mouth with a bridle, while the wicked is before me.Psalms 39:3 My heart was hot within me, while I was musing the fire burned: then spake I with my tongue,1 Peter 3:10 For he that will love life, and see good days, let him refrain his tongue from evil, and his lips that they speak no guile:E. The tongue shows where the condition of the heart.Luke 6:45 A good man out of the good treasure of his heart bringeth forth that which is good; and an evil man out of the evil treasure of his heart bringeth forth that which is evil: for of the abundance of the heart his mouth speaketh.Matthew 12:36-37 But I say unto you, That every idle word that men shall speak, they shall give account thereof in the day of judgment. 37 For by thy words thou shalt be justified, and by thy words thou shalt be condemned.F. If the shoe fits this morning, then put it on. Clean it up and let it shine for Christ instead of wading it through the mud.TONGUES THAT WILL DESTROY THE WORK OF THE LORD!1. A Divisive Tongue - Proverbs 6:16-19 These six things doth the LORD hate: yea, seven are an abomination unto him: 17 A proud look, a lying tongue, and hands that shed innocent blood, 18 An heart that deviseth wicked imaginations, feet that be swift in running to mischief, 19 A false witness that speaketh lies, and he that soweth discord among brethren. (Discord – to play a wrong note. To be out of step. To walk contrary to something.)2. A Disgruntled Tongue - Acts 6:1 And in those days, when the number of the disciples was multiplied, there arose a murmuring of the Grecians against the Hebrews, because their widows were neglected in the daily ministration. (Why did they not do something about it except murmur? It was THEIR widows! Some people always go around griping about what they do not like or disagree with but, normally, not to the pastor. They look for a listening ear. It is a tongue that does not like; a tongue that does not agree; a tongue that likes to stay hidden from view; a devilish tongue is a disgruntled tongue.)3. A Gossiping Tongue - Proverbs 26:20 Where no wood is, there the fire goeth out: so where there is no talebearer, the strife ceaseth. (Did you know that gossip can be very easily stopped?) Here are some questions that will stop the gossiping tongue"a. What is your reason for telling me?b. Where did you get your information?c. Have you gone to those directly involved?d. Have you personally checked out all the facts?e. Can I quote you if I check this out?f. Let us go to the pastor and you can tell him.4. A Backbiting Tongue - Psalms 15:1-3 LORD, who shall abide in thy tabernacle? who shall dwell in thy holy hill? 2 He that walketh uprightly, and worketh righteousness, and speaketh the truth in his heart. 3 He that backbiteth not with his tongue, nor doeth evil to his neighbour, nor taketh up a reproach against his neighbour.Romans 1:30 Backbiters, haters of God, despiteful, proud, boasters, inventors of evil things, disobedient to parents,Psalms 101:5 Whoso privily slandereth his neighbour, him will I cut off: him that hath an high look and a proud heart will not I suffer.Exodus 20:16 Thou shalt not bear false witness against thy neighbour.Leviticus 19:16 Thou shalt not go up and down as a talebearer among thy people: neither shalt thou stand against the blood of thy neighbour: I am the LORD.1 Timothy 3:11 Even so must their wives be grave, not slanderers, sober, faithful in all things.1 Timothy 5:13 And withal they learn to be idle, wandering about from house to house; and not only idle, but tattlers also and busybodies, speaking things which they ought not.5. A Prating Tongue - 3 John 9-10 I wrote unto the church: but Diotrephes, who loveth to have the preeminence among them, receiveth us not. 10 Wherefore, if I come, I will remember his deeds which he doeth, prating against us with malicious words: and not content therewith, neither doth he himself receive the brethren, and forbiddeth them that would, and casteth them out of the church.1 Timothy 5:19 Against an elder receive not an accusation, but before two or three witnesses. (Not gossipers!)6. A Deceitful Tongue - Psalms 50:19 Thou givest thy mouth to evil, and thy tongue frameth deceit.Psalms 52:2 Thy tongue deviseth mischiefs; like a sharp razor, working deceitfully.Psalms 52:4 Thou lovest all devouring words, O[thou deceitful tongue.7. A Murmuring Tongue – Acts 6:1 And in those days, when the number of the disciples was multiplied, there arose a murmuring of the Grecians against the Hebrews, because their widows were neglected in the daily ministration.Exodus 16:8 And Moses said, This shall be, when the LORD shall give you in the evening flesh to eat, and in the morning bread to the full; for that the LORD heareth your murmurings which ye murmur against him: and what arewe? your murmurings are not against us, but against the LORD.1 Corinthians 10:10 Neither murmur ye, as some of them also murmured, and were destroyed of the destroyer.Philippians 2:14 Do all things without murmurings and disputings:8. A Discouraging Tongue - Deuteronomy 1:28 Whither shall we go up? our brethren have discouraged our heart, saying, The people is greater and taller than we; the cities are great and walled up to heaven; and moreover we have seen the sons of the Anakims there.9. A Lying Tongue - Psalms 109:2 For the mouth of the wicked and the mouth of the deceitful are opened against me: they have spoken against me with a lying tongue.Psalms 120:2-3 Deliver my soul, O LORD, from lying lips, and from a deceitful tongue. 3 What shall be given unto thee? or what shall be done unto thee, thou false tongue?Proverbs 6:17 A proud look, a lying tongue, and hands that shed innocent blood,Proverbs 26:28 A lying tongue hateth those that are afflicted by it; and a flattering mouth worketh ruin.

Your weekly Dose of SpurgeonThe PyroManiacs devote some space each weekend to highlights from the lifetime of works from the Prince of Preachers, Charles Haddon Spurgeon. The following excerpt is from The Metropolitan Tabernacle Pulpit, volume 35, sermon number 2,091, "Jesus wept."
There is infinitely more in these two words than any sermonizer, or student of the Word, will ever be able to bring out of them, even though he should apply the microscope of the most attentive consideration. "Jesus wept." Instructive fact; simple but amazing; full of consolation; worthy of our earnest heed. Note, too, that his pure body and his sinless soul were originally constituted as ours are. When his body was formed according to that Scripture, "A body hast thou prepared me," that holy thing had in it the full apparatus of grief: the lachrymal gland was in his eye. Where there is no sin, one would say there should be no sorrow; but in the formation of that blessed body, all the arrangements for the expression of grief were as fully prepared as in the case of any one of us. His eyes were made to be fountains of tears, even as are ours. He had about his soul also all the capacity for mental grief. As I said aforetime, so say I yet again, it would seem that there should be no tears where there are no transgressions; and yet the Saviour's heart was made to hold sorrow, even as an amphora was made for wine. Yea, more, his heart was made capacious enough to be a reservoir wherein should be gathered up great floods of grief. See how the sorrow bursts forth in a mighty flood! Mark the record of that flood in these amazing words, "Jesus wept." Beloved, have a clear faith in the humanity of him whom you rightly worship as your Lord and your God. Holding his divinity without doubt, hold his manhood without mistake. Realize the actual manhood of Jesus in all lights. Three times we read he wept. Doubtless he sorrowed full often when he was not seen; but thrice he was known to weep. The instance in our text was the weeping of a Friend over the grave of a friend. A little further on, after a day of triumph, our Lord beheld the city and wept over it: that was the weeping of a Prophet concerning judgments which he foresaw. It is not recorded by any evangelist, but Paul tells us, in the Epistle to Hebrews, that with strong crying and tears, he made appeal to him that was able to save him from death, and was heard in that he feared. This third record sets forth the weeping of our Substitute, a sacrificial weeping, a pouring out of himself as an oblation before God. Treasure up in your mind these three memories, the weeping of the friend in sympathy with bereavement, the weeping of the Judge lamenting the sentence which he must deliver, and the weeping of the Surety as he smarts for us, bearing griefs which were not his own, for sins in which he had no share. Thus thrice was it true that "Jesus wept."