by Hohn Cho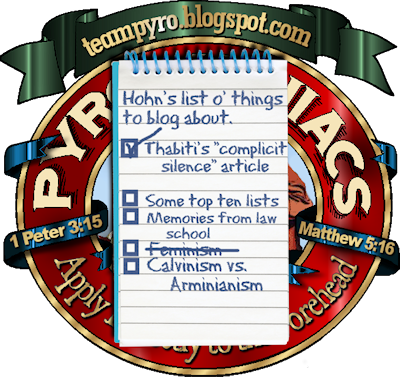 eader Graham and I have been having a fruitful exchange, and during it he said he was "stunned by the online reaction to a piece by Thabiti Anyabwile in The Washington Post in which Pastor Anyabwile argued that it was unwise for evangelicals to offer political support to Donald Trump." The original piece is here, and one reaction to it is here. Although the piece itself is now a couple of months old, I told Graham I'd try to offer some reasons why Anyabwile's article may have provoked the response it did. Besides, the general topic of the President's nomination of Brett Kavanaugh to the Supreme Court will surely remain highly relevant throughout autumn, especially with debate scheduled to begin in the US Senate imminently.The title of Anyabwile's article was, "Overturning Roe v. Wade Isn't Worth Compromising with Trump, My Fellow Evangelicals." Even from the very top, questions spring to mind. Wouldn't overturning Roe v. Wade be a very good and important thing to most Bible-believing Christians, worthy of significant prayer and personal sacrifices? And if so, what does Anyabwile mean by "compromise"? Who is the target audience? Is it self-identifying evangelicals, constituting over 25 percent of America according to this poll, or only evangelicals who actually voted for President Trump, or perhaps evangelicals who currently support the President?Regardless, even with some answers forthcoming in the article, the title alone could be received as thought-provoking and even somewhat controversial, especially coming from a left-of-center secular publication like the Washington Post. I don't doubt this could have been one of Anyabwile's reasons for choosing or consenting to the title, which is certainly within his rights to do, although I hope he would then understand why some reactions to it might be similarly inflamed, especially as readers reviewed the remainder of the piece. Because to me, the article as a whole came across as a finger-wagging scold, from a presumed position of moral superiority, regarding an issue—strategy and tactics relating to political engagement—which seems the very essence of adiaphora, or "disputable matters" as they are sometimes called, of the type described in Romans 14:1ff.But if the title could be construed as somewhat controversial, Anyabwile's lede was even more so: "We are going to give an account to God for our complicit silence before the immoral policies and actions of the Trump administration. By 'we,' I mean the entire country, but I have a particular concern for pro-life evangelical Christians, because I am one."Based on reading many dozens of his articles and hundreds of his tweets over the years—some of which I have appreciated, by the way[*]—I believe Anyabwile has an unfortunate habit of using sweeping, broad-brush rhetoric that treats certain groups as monolithic, and lumps them together in ways that are often accusatory, unhelpful, and would certainly be condemned were the groups reversed. For example, he has frequently decried the 80 percent of white self-identifying evangelicals who voted for Trump, but seldom has a mention for the over 90 percent of Black self-identifying evangelicals who generally vote for the Democrats. Are they also complicit via their vote when the Democrats routinely support certain issues that are antithetical to the Bible?[**]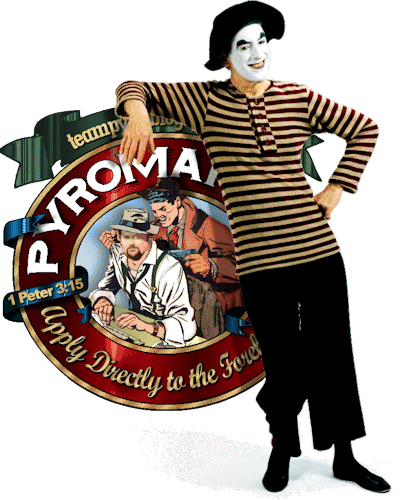 "Complicit Silence"But let's dig into the lede itself, specifically the claim of "complicit silence." This is a common accusation, but in all seriousness, are we biblically mandated to speak up in specific situations, or perhaps even required to become social activists? In asking the question, please note that I am not claiming that certain appropriately manifested forms of speech and activism are somehow prohibited in our Christian stewardship and liberty, of course. But the argument of Anyabwile (and others) appears to be quite different, specifically that Christians have some kind of overt obligation to speak out against certain "immoral policies and actions" which are arguably perceived.Candidly, I've seen little Scriptural support for this argument. Anyabwile himself has previously cited Proverbs 31:8-9 for the proposition that "refusing to speak up for the voiceless is a sin." But that passage is in the wisdom literature of the Proverbs, which lends itself more to what courses of action in life are wise or foolish. Moreover, this particular passage is directed to a future King with the power and authority to make decrees and decisions in theocratic Israel.But despite those distinctions, let's accept for the sake of argument that Christians today are commanded to speak up for the voiceless and the destitute. How are we then to balance that command with other commands, such as the ones in 1 Thessalonians 4:11, 2 Thessalonians 3:12, 1 Timothy 2:1-2, Proverbs 24:21, and Titus 3:1-2, among others? These verses speak about living a quiet and peaceful and dignified life, minding your own business, fearing the King and not associating with those given to change, and praying for and submitting to the governing authorities rather than getting into quarrels or even worse, maligning or speaking evil of the rulers and authorities, a command that we have often seen Christians break with great regularly as it pertains to the United States Presidency! Ultimately, how are we to navigate the course of wisdom in determining this balance, when all over the Proverbs, silence is commended as wise, as in Proverbs 10:19, 11:12, 13:3, 17:27-28, 21:23, 26:17, 29:11?Even when we consider the example of Jesus, He healed everywhere he went, but He did not abolish poverty, far from it . . . He acknowledged that the poor would always be with us in Mark 14:7, and emphasized the importance of the good news for the poor in Luke 7:22, prioritizing the spiritual over the temporal. He never sought to overthrow the oppressive Romans, He did not compensate the pig owners for their dead livestock in Matthew 8:32-34, and He declined the request of the crowd to always give them bread in John 6:34. Even when unjustly persecuted, He remained silent and did not retaliate, as we see in 1 Peter 2:21-23.At the end of the day, especially when we consider the context of desperate poverty and routine oppression of the Ancient Near East, whatever obligation that we might have to speak up for the voiceless and destitute is greatest in our own personal lives, with the people who cross our paths, in our immediate proximity. As we sweep outward from there, injustice and poverty multiply exponentially. Are we somehow obligated to personally and publicly condemn every social ill and inequity, even those which we know next to nothing about, and thus have a high chance of rushing to judgment with an incorrect determination? I believe the answer is not only no, but plainly and obviously no.I simply do not see how a Christian who is committed to charity and good works and speaking up about injustice that he or she might encounter daily, who is perhaps especially mindful about the wisdom of silence and not maligning or quarrelling in political or societal matters, is somehow guilty of "complicit silence" as Anyabwile accuses. There is no command to speak publicly about perceived injustice, and there are no plain Scriptural directions as to the time, place, or manner of such speech. And to the extent that one opts to speak out publicly, in one's own stewardship and liberty, care should be taken to avoid the real danger of "virtue signaling" like the publicly praying Pharisees in Matthew 6:5.Finally, here are a few questions to consider for the person who does choose to speak up in the public sphere for the voiceless and destitute. Who is more "voiceless" than an unborn infant? (And in contrast, is any adult in a free country truly voiceless in today's era of social media?) And who is more destitute than the poor of the world who are genuinely starving to death? (And in contrast, is any able-bodied person living in a wealthy nation like the USA truly destitute?) Meanwhile, in other cases where the extent of voicelessness and destitution are at least matters subject to debate, as people who stand for truth, points of factual dispute are important for Christians to investigate and acknowledge, as Gagnon's response to Anyabwile sets forth in considerable detail.Two Other ObjectionsAnyabwile also said, "In sheer numbers, more lives are ended by legalized abortion. Christians are correct to focus energy and concern on ending the practice. But in quieter, sometimes less observable ways, the carnage mounts in racial injustice and discrimination." I'm glad he recognizes as proper the desire among many Christians to end abortion, but the rather understated way in which he does it reminds me of the old saying, "But other than that, Mrs. Lincoln, how did you enjoy the play?" As I said in point E of an earlier article, in the US, abortion kills nearly one million unborn babies a year, a disproportionately high percentage of which are the children of ethnic minorities. Meanwhile, more people (189 in 2016) die in the US each year of constipation, than unarmed people of all ethnicities are killed by US police, despite much ink having been spilled by Anyabwile on that specific topic.Finally, Anyabwile said, "Some Christians appear to have made a Faustian bargain for the mere price of a Supreme Court nominee. The Devil gets the better end of that deal!" Aside from the clear insult directed toward evangelical Christians who voted for President Trump—and indeed, it's hard to think of a worse accusation for a Christian than to be cozy with the Devil—the entire line of thought appears to relitigate the 2016 US election, a painful and acrimonious time for many Christians, to be sure.Rather than recap this myself, I'm going to link to three articles that I believe are among the best I've read on this topic. First, we have Kevin DeYoung from 2012, on the topic of a functional (a.k.a. pragmatic, consequentialist, utilitarian) view of voting. Second, we have Dan Doriani from 2016, on an endorsement (a.k.a. principled, deontological, purist) view of voting. And third, we have Kevin DeYoung again, from 2016, on some thoughts from a functional voter who was practically confronted with the choices before us in that Presidential election.In early-mid 2016, I personally maintained the endorsement view of voting, to an extent that, in retrospect, was overly dogmatic. Over the course of time, persuasive arguments from my friends Lance (a missionary in Europe who is routinely faced with multiple horrible electoral choices), Todd (a local pastor who I greatly respect, who took the other side of the debate), and Phil (a pastor in Omaha who summarized it all in a way that just "clicked" with me[***]) moved me more to the center, although I still find the endorsement view of voting to be best for me personally. Ultimately, with all California polls showing a blowout for Clinton in the state, Christians here perhaps had an easier decision to make than others who happened to live in battleground states.What the entire raging debate convinced me of, however, is that as I alluded to earlier, trying to bind a person's conscience on matters of adiaphora like these is a clear violation of 1 Corinthians 10:29-30, and against God's explicit moral command in Deuteronomy 12:32, and could even be pharisaical pursuant to Matthew 23:4. And so acting with contempt or judgment toward a brother or sister on these "disputable matters" is clearly sinful as Romans 14:3 describes. This remains true whether a man confidently declares that supporting Trump is the moral choice, as Wayne Grudem did, or the immoral choice, as Anyabwile did.The reality is that the moral and ethical calculus a person utilizes on a choice like this is between that person and the Lord, as Romans 14:10-13 clearly states. And perhaps we would all do better if we paid closer heed to Romans 14:19-23 and worked toward peace and edification, not causing each other to stumble, and keeping certain decisions between ourselves and God. Regardless, branding brothers and sisters who might have voted for Trump and celebrated his appointment of Kavanaugh and the prospect of overturning Roe v. Wade as making deals with the Devil, and accusing them of helping to commit a crime or do wrong (which is the very definition of complicit), falls far short of both civil discourse and the standards for Christian liberty to which Scripture clearly calls us.ConclusionSo, Graham, I hope that will help explain why quite a few Christians took exception to Anyabwile's article. And I believe it would have been just as inflammatory had the lede instead said, "We are going to give an account to God for our complicit silence before the immoral policies and actions of the [Obama] administration. By "we," I mean the entire country, but I have a particular concern for [Black] evangelical Christians, because I am one." Perhaps Anyabwile genuinely believes that; he seems to say that very thing in this tweet.If that's the case, I pray that he will have the candor and integrity of speech to say so (or similar things) from time-to-time, and in his higher-profile writings and speeches, perhaps, rather than merely in the depths of Twitter mentions, or what might be even worse based on his own apparent convictions, remaining in "complicit silence" about it. After all, to avoid the sin of partiality from James 2:9, we need to be especially mindful of displaying favoritism toward groups of which we ourselves are members. This is one reason that I often call out the sin of partiality that exists among many Asians, particular from older generations, when they object to interethnic marriages.You see, I am adamantly and ardently opposed to actual sin displayed within the Body of Christ. The problem is, so much of what many "social justice" advocates are calling or implying is sin, is really just attempted heart—and motive—reading in violation of 1 Corinthians 4:5, or the "complicit silence" variety along with other perceived sins of omission, which is for the Holy Spirit to convict.Speaking for myself, I'm far more grieved over my own many sins of commission, as well as those sins of omission which are commanded at all times, such as rejoicing, praying, giving thanks, and preaching the Word and the Gospel in season and out of season.I've already outlined why I don't believe there's an overt obligation to speak out against specific immoral policies and actions, but if there's one that burdens me more than any other, it's the immoral policy that targets the most vulnerable, the most voiceless, and the most period, and that is abortion. And I will understand if some Christians might want to disagree with me on the importance of that particular fight . . . but what I pray you will never see me do is to seek publication, to the broadest possible secular audience, of a hit piece accusing my beloved brothers and sisters of making immoral deals with the Devil, merely for failing to sufficiently prioritize my own most cherished adiaphora.

Notes[*] My impression is that the convention these days is to praise up front the character and contributions of a fellow Christian whose public works one is critiquing. Although I appreciate the graciousness that I trust practitioners of this intend, it has become such a convention that I personally feel it can sometimes come across as a distraction and/or insincere. So I'll simply say that I loved Anyabwile's 2008 and 2010 messages at T4G, I've appreciated some of his writings, in particular I think he had the better argument in his back-and-forth with Doug Wilson on the topic of the South and slavery. But I strongly disagree with many of his comments and emphases more recently. I've never met the man, but I'd be glad to greet him as a brother should I ever come across his path. I do think that some have gone over-the-top in their criticisms of him, and I personally believe that taking shots at his chosen legal name is an exercise in pettifogging which reflects poorly on Christian disagreement.[**] Phil pointed this out in point #2 of his article responding to Anyabwile. Perhaps he never saw or read it, but since I mention it, I think it's important to reiterate that Phil clearly stated that he was not referring to Anyabwile as a "racist schlub" prior to the posting of his critique, which was predicated on that very (erroneous) assumption. Even though he was explicitly informed of this both on Twitter and in Phil's response, Anyabwile's critique of Phil remains posted and unedited to this day. Disagreeing strongly with an article published in the secular media, and its implications, is not uncharitable . . . but allowing a false critique to stand, even after being corrected about it? That certainly does seem uncharitable.[***] The quote was, "If both candidates are unacceptable, then so be it. I don't have to "win" to be faithful to my convictions. And you don't have to agree with me to be faithful to your convictions, thankfully. Politics involves complicated ethical decision making and it is understandable that good people will differ . . . I respect [others] who differ with me. What I do not respect is those who demonize the opposition and who paint Trump as far better than he really is. From the comments of some of my friends you would think that Trump was Saint George the dragon slayer. I know you don't take that position, but I say this just to explain myself."
Temple Baptist Church - 8-8-20182 Peter 3:14-18Introduction:A. As we end the Second Epistle of Peter, we find an admonition by the great Apostle to stand fast in the doctrine of the Scriptures. This message will be straight and without apology as I believe it to be essential to the steadfastness of the saints in these last, perilous times.2 Timothy 3:1-10 This know also, that in the last days perilous times shall come. (2) For men shall be lovers of their own selves, covetous, boasters, proud, blasphemers, disobedient to parents, unthankful, unholy, (3) Without natural affection, trucebreakers, false accusers, incontinent, fierce, despisers of those that are good, (4) Traitors, heady, highminded, lovers of pleasures more than lovers of God; (5) Having a form of godliness, but denying the power thereof: from such turn away. (6) For of this sort are they which creep into houses, and lead captive silly women laden with sins, led away with divers lusts, (7) Ever learning, and never able to come to the knowledge of the truth. (8) Now as Jannes and Jambres withstood Moses, so do these also resist the truth: men of corrupt minds, reprobate concerning the faith. (9) But they shall proceed no further: for their folly shall be manifest unto all men, as theirs also was. (10) But thou hast fully known my doctrine, manner of life, purpose, faith, longsuffering, charity, patience, (Moses, God's man, was sent to deliver the people of God from Egypt and these two men, Jammes and Jambres, withstood him. "So do these also resist the truth!)B. Peter wrote these two Epistles because of the difficulties that the "strangers scattered" were having.1. They wanted to know what their relationship was to the Nation of Israel now that they had been born into the Family of God.2. They also wanted to know their relationship to the Law.3. They had become infiltrated with false teachers.C. I believe that the Apostle Paul wrote the Book of Hebrews (verse 15), one of the Jewish Christian Epistles, but Peter also references his other epistles in verse 16 . He did not sign the epistle with his name because the saved Jews feared him because of the way he persecuted them before his Damascus Road conversion.2 Peter 3:15-16 And account that the longsuffering of our Lord is salvation; even as our beloved brother Paul also according to the wisdom given unto him hath written unto you; (16) As also in all his epistles, speaking in them of these things; in which are some things hard to be understood, which they that are unlearned and unstable wrest, as they do also the other scriptures, unto their own destruction.1. Peter mentioned such a letter. 2 Peter 3:15 And account that the longsuffering of our Lord is salvation; even as our beloved brother Paul also according to the wisdom given unto him hath written unto you;2. Paul mention those in bonds of which he was one. Hebrews 13:3 Remember them that are in bonds, as bound with them; and them which suffer adversity, as being yourselves also in the body.3. Paul mentioned Timothy, his son in the faith, coming to them. Paul often used Timothy and Titus to carry letters to churches while he himself was incarcerated. Hebrews 13:23 Know ye that our brother Timothy is set at liberty; with whom, if he come shortly, I will see you.4 Paul signed the Book of Hebrews with his token signature. Hebrews 13:25 Grace be with you all. Amen.2 Thessalonians 3:17-18 The salutation of Paul with mine own hand, which is the token in every epistle: so I write. (18) The grace of our Lord Jesus Christ be with you all. Amen. The second epistle to the Thessalonians was written from Athens.D. We live in the last day phenomena of false teachers. Peter fought them; Paul fought them; we fight them! They are everywhere. They are on the television, radio, colleges, and churches. The "falling away" of 2 Thessalonians, chapter 2, has been in full swing for over 100 years now. I have no "axes to grind" tonight but must preach on these verses.2 Peter 2:1-3 But there were false prophets also among the people, even asthere shall be false teachers among you, who privily shall bring in damnable heresies, even denying the Lord that bought them, and bring upon themselves swift destruction. (2) And many shall follow their pernicious ways; by reason of whom the way of truth shall be evil spoken of. (3) And through covetousness shall they with feigned words make merchandise of you: whose judgment now of a long time lingereth not, and their damnation slumbereth not. 1. These false teachers were not and are not outsiders. We do not listen to the heretics on TV or the radio. These false teachers were and are among us! This means that they have creditability and acceptance. 2. If a preacher got into this pulpit and said that there were mistakes in the King James Bible or said that this word could been translated differently or better, you would run him off. This is the way it is in most good churches. 3. But a college professor can undercut the purity of the bible and they are protected. If they did not have acceptance and protection, they would not be tolerated. When God's men preach against them, there is resistance.E. Before we dissect our text, let me bring this prophecy close to home for us all. I feel it necessary to use Peter's final admonition to "the strangers scattered," which is prophetic of our day, to point the people back to God's Way and God's Word. Out text explains the problem and gives the solution.F. Since other churches, TV and Radio preachers have no effect upon how we believe and operate, I want to look at the one area of problem that all of us face. Now for a little history lesson to show how far the God's people have been led from the truth.1. Before the beginning of the 20th Century, the local churches were places where the Bible was the accepted as the final authority. It was all that the child of God needed for doctrinal correctness. God gave us the local church, not a college, university, or seminary.2 Timothy 3:16-17 All scripture is given by inspiration of God, and is profitable for doctrine, for reproof, for correction, for instruction in righteousness: (17) That the man of God may be perfect, throughly furnished unto all good works. (The bible is all that God's people need to perfect and thoroughly furnish God's men.)2 Timothy 4:1-4 I charge thee therefore before God, and the Lord Jesus Christ, who shall judge the quick and the dead at his appearing and his kingdom; (2) Preach the word; be instant in season, out of season; reprove, rebuke, exhort with all longsuffering and doctrine. (3) For the time will come when they will not endure sound doctrine; but after their own lusts shall they heap to themselves teachers, having itching ears; (4) And they shall turn away their ears from the truth, and shall be turned unto fables. (These are the days that we live in. People do not want a straight preaching, King James Bible Church. They are wanting a sermonette from a preacherette that will make them feel good about themselves, not bring conviction and repentance.)a) Paul called the church the "pillar and ground of the truth." From the beginning, God gave the local church to the believers as a place of doctrinal grounding and fellowship. God gave the churches pastor-teachers to grind out the scriptures and feed it to the "flock of God." 1 Timothy 3:15 But if I tarry long, that thou mayest know how thou oughtest to behave thyself in the house of God, which is the church of the living God, the pillar and ground of the truth.2 Timothy 2:15 Study to shew thyself approved unto God, a workman that needeth not to be ashamed, rightly dividing the word of truth.Acts 20:26-31 Wherefore I take you to record this day, that I am pure from the blood of all men. (27) For I have not shunned to declare unto you all the counsel of God. (28) Take heed therefore unto yourselves, and to all the flock, over the which the Holy Ghost hath made you overseers, to feed the church of God, which he hath purchased with his own blood. (29) For I know this, that after my departing shall grievous wolves enter in among you, not sparing the flock. (30) Also of your own selves shall men arise, speaking perverse things, to draw away disciples after them. (31) Therefore watch, and remember, that by the space of three years I ceased not to warn every one night and day with tears.2. Before the beginning of the 20th Century, God's people did not argue over which bible to use; there was no generation gap between young and old. In the early 20th Century, this new phenomenon began to grow. a) Young preachers sat at the feet of older, settled, doctrinally correct men of God until they were grounded in the scriptures and doctrine. b) Each new generation followed the "Old Paths" that their fathers followed.Acts 2:41-42 Then they that gladly received his word were baptized: and the same day there were added unto them about three thousand souls. (42) And they continued stedfastly in the apostles' doctrine and fellowship, and in breaking of bread, and in prayers.3. In the 20th Century, instead of relying on what God chose to spiritually educate believers, religious denominations began starting seminaries for the instruction of God's men in the doctrine of their choosing. Methodists, Presbyterian, Baptist, etc. began to send their young preachers off to "college" to learn the Word of God and become sound in doctrine. Local churches were no longer deemed sufficient to do what God established it for.Ephesians 4:11-14 And he gave some, apostles; and some, prophets; and some, evangelists; and some, pastors and teachers; (12) For the perfecting of the saints, for the work of the ministry, for the edifying of the body of Christ: (13) Till we all come in the unity of the faith, and of the knowledge of the Son of God, unto a perfect man, unto the measure of the stature of the fulness of Christ: (14) That we henceforth be no more children, tossed to and fro, and carried about with every wind of doctrine, by the sleight of men, and cunning craftiness, whereby they lie in wait to deceive;4. The independent Baptist Movement was no different as they certainly did not want to send their young preachers to a denominational college that was not of like precious faith, so they started their own colleges. They began to rob the local church of its young, God called men! These colleges soon became infested with liberalism and the product was young men filling pulpits who were not doctrinally sound. They in turn begat followers of like heretical beliefs. 5. In the beginning, independent Baptist Churches started their schools of higher learning under the authority of the local church, but parachurch (outside of or against - the concept of the parachurch ministry was unknown to the first century church and is therefore not mentioned in Scripture)seminaries began to arise.6.The first bible schools were seminaries that were meant to aid in the training of Christian workers and preachers, but the people began to feel the need to educate their children in Christian schools instead of secular ones. Therefore, the seminaries adapted and began to offer Liberal Arts degrees along with bible educations. 7. The Liberal Arts degrees were and are good, but their bible education is often contrary to the teachings of the local churches. Schools and colleges became places of pride and, to some degree, allegiance to the graduates. The Latin phrase "Alma Mater" means "Nourishing or Bountiful Mother." 8. There became a gap between the pulpit of the local church and the professor in the classroom. I look back over my college years and see that I learned little or no doctrine in the classroom. I learned my doctrine by sitting under my pastors and studying the Bible. In college, I did learn things that were more "Baptist" than "Bible." The same in my post-graduate work.9. We are independent, autonomous local churches. What other churches preach, where they stand, has no affect upon us. If they stand, praise the Lord. If they go liberal, that is their business and does not affect our church. Bible colleges, seminaries, etc. can and do affect local churches because their people attend them.10. I owe no allegiance to any school. I owe my allegiance to my local church and pastor! I want you to fully understand what I am about to say. I am a BIBLICIST before I am a Baptist. That does not mean that I am not glad to be a Baptist; it means that where the Baptist and the Bible do not agree, I stand unerringly with the inerrant, infallible Word of God!G. Now, with all of that said, let us look at our text.1. The end time existence of unlearned and unstable men. These are people who place humanistic thinking about the authoritative Word of God. These are the people who wrestle with the Word of God. These are dangerous men and God called them wicked in verse 17. a. Peter and followers were unlearned and ignorant. Ignorant means to not have been taught. Not to have knowledge pertaining to a subject; uneducated, untrained, uninformed."Acts 4:13 Now when they saw the boldness of Peter and John, and perceived that they were unlearned and ignorant men, they marvelled; and they took knowledge of them, that they had been with Jesus.b. These men are unlearned and unstable. This means that they are not ignorant of what the bible teaches, but they do not accept the truth of its teachings and are unstable or changing. They are never satisfied with one version of the bible but go from the King James to the NASV to the ESV to the NKJV, etc. 2 Timothy 3:7 Ever learning, and never able to come to the knowledge of the truth.c. They have read the same bible that you and I have read but come to a different conclusion. Whereas we take God at His Word, they do not think that the bible is completely correct. This is the exact opposite of what the bible teaches.1 Corinthians 1:26-31 For ye see your calling, brethren, how that not many wise men after the flesh, not many mighty, not many noble, are called: (27) But God hath chosen the foolish things of the world to confound the wise; and God hath chosen the weak things of the world to confound the things which are mighty; (28) And base things of the world, and things which are despised, hath God chosen, yea, and things which are not, to bring to nought things that are: (29) That no flesh should glory in his presence. (30) But of him are ye in Christ Jesus, who of God is made unto us wisdom, and righteousness, and sanctification, and redemption: (31) That, according as it is written, He that glorieth, let him glory in the Lord.d. Now, before anyone labels me a heretic, let me say that not all men of education and wisdom are lost or heretical! God has and can use educated people, but their education must not destroy their faith in the Bible! The Apostle Paul was among the best educated men of his time.Acts 26:24-25 And as he thus spake for himself, Festus said with a loud voice, Paul, thou art beside thyself; much learning doth make thee mad. (25) But he said, I am not mad, most noble Festus; but speak forth the words of truth and soberness.c. These men are unlearned in that they do not believe the bible. The bible claims to be the perfect, inspired, preserved, inerrant, infallible, living word of God. I believe it to be so, but these men deny what the bible claims. Who is right, these men or the bible.d. These men are unstable because their version of the bible is in a state of constant change. Their bible is constantly being traded for a newer updated version. Bible believers remain with the bible and do not change.2. The end time existence of men who wrest with the Bible. The word "wrest" means to twist or to fight against. Peter mentions things hard to be understood. The simplest way to understand the bible is believe what it says is right and always interpret hard scripture (will never understand everything in the bible) with easy, plain verses. Wrestlers make the bible conform to their theology instead making their theology conform to the bible.2 Corinthians 4:2 But have renounced the hidden things of dishonesty, not walking in craftiness, nor handling the word of God deceitfully; but by manifestation of the truth commending ourselves to every man's conscience in the sight of God.a. The Word of God is just that: THE WORD OF GOD!1 Thessalonians 2:13 For this cause also thank we God without ceasing, because, when ye received the word of God which ye heard of us, ye received it not as the word of men, but as it is in truth, the word of God, which effectually worketh also in you that believe.b. God's people believe the Bible, not wrestle with it. "So then faith cometh by hearing and hearing by the Word of God."Romans 10:17 So then faith cometh by hearing, and hearing by the word of God.2 Timothy 2:15 Study to shew thyself approved unto God, a workman that needeth not to be ashamed, rightly dividing the word of truth.c. God intended for His people to be grounded in truth. God never intended for His people to be ignorant of what He said. His will is for people to get saved and sit under pastors who will teach them.Matthew 28:20 Teaching them to observe all things whatsoever I have commanded you: and, lo, I am with you alway, even unto the end of the world. Amen. (To teach them all things, you must have all things.)Matthew 4:4 But he answered and said, It is written, Man shall not live by bread alone, but by every word that proceedeth out of the mouth of God. (To live by every word, you must have every word. Was our Lord so wrong as to make this statement knowing that the Word of God would one day become erroneous.)3. The end time existence of being led away. Peter mentions the possibility of being led away with the error of the wicked. Thus, falling from their steadfastness.a. We live in days of instability. Ephesians 4:14 That we henceforth be no more children, tossed to and fro, and carried about with every wind of doctrine, by the sleight of men, and cunning craftiness, whereby they lie in wait to deceive; (I have never seen so many people who are regular in church that are doctrinally ignorant! It matters not where they go to church and believe that every denomination is alright. I do not want to preach a doctrinal series right now, but doctrine is important.)Romans 16:17 Now I beseech you, brethren, mark them which cause divisions and offences contrary to the doctrine which ye have learned; and avoid them.1 Timothy 4:16 Take heed unto thyself, and unto the doctrine; continue in them: for in doing this thou shalt both save thyself, and them that hear thee.b. We live in days of falling away. 2 Thessalonians 2:2-3 That ye be not soon shaken in mind, or be troubled, neither by spirit, nor by word, nor by letter as from us, as that the day of Christ is at hand. (3) Let no man deceive you by any means: for that day shall not come, except there come a falling away first, and that man of sin be revealed, the son of perdition; (People who once stood with us no longer believe what we believe. We believe the Bible.)1 Timothy 4:1-2 Now the Spirit speaketh expressly, that in the latter times some shall depart from the faith, giving heed to seducing spirits, and doctrines of devils; (2) Speaking lies in hypocrisy; having their conscience seared with a hot iron;c. We live in days of wrestling with the scriptures. Romans 3:4 God forbid: yea, let God be true, but every man a liar; as it is written, That thou mightest be justified in thy sayings, and mightest overcome when thou art judged. (To wrestle is to fight with or to fight against. Why can people not just believe what the Bible says and quit trying to make it say what they want it to say. The Bible is right, and man is wrong.)

Temple Baptist Church - 3-14-20182 Peter 2:1-9Introduction:A. Though all of this has been prophesized for thousands of years, it still amazes this preacher that America has gone so spiritually "south." In my lifetime, I have witnessed the decline in every major denomination.1. Older people, who have seen this change come, have evidently gotten used to the dark because they refuse to "come out from among them." Just because Granny is buried in the church cemeteries, they remain faithful to these liberal churches and will be buried there too.2. Younger people, who have never known the old paths of their fathers, now run after these false prophets who are leading contrary to the Word of God.B. We know what time it is and, yet, lose so many to follow their pernicious (wicked) ways. They speak evil of those who hold to the truth of God's Word and the multitudes are in agreemet with them.2 Timothy 3:13-17; 4:1-4 But evil men and seducers shall wax worse and worse, deceiving, and being deceived. (14) But continue thou in the things which thou hast learned and hast been assured of, knowing of whom thou hast learned them; (15) And that from a child thou hast known the holy scriptures, which are able to make thee wise unto salvation through faith which is in Christ Jesus. (16) All scripture is given by inspiration of God, and is profitable for doctrine, for reproof, for correction, for instruction in righteousness: (17) That the man of God may be perfect, throughly furnished unto all good works … (4:1) I charge thee therefore before God, and the Lord Jesus Christ, who shall judge the quick and the dead at his appearing and his kingdom; (2) Preach the word; be instant in season, out of season; reprove, rebuke, exhort with all longsuffering and doctrine. (3) For the time will come when they will not endure sound doctrine; but after their own lusts shall they heap to themselves teachers, having itching ears; (4) And they shall turn away their ears from the truth, and shall be turned unto fables.2 Thessalonians 2:1-5 Now we beseech you, brethren, by the coming of our Lord Jesus Christ, and by our gathering together unto him, (2) That ye be not soon shaken in mind, or be troubled, neither by spirit, nor by word, nor by letter as from us, as that the day of Christ is at hand. (3) Let no man deceive you by any means: for that day shall not come, except there come a falling away first, and that man of sin be revealed, the son of perdition; (4) Who opposeth and exalteth himself above all that is called God, or that is worshipped; so that he as God sitteth in the temple of God, shewing himself that he is God. (5) Remember ye not, that, when I was yet with you, I told you these things?1. Lucifer beguiled the angels in heaven to rebel against God.2. The satanic serpent beguiled Eve in the beginning.3. False Prophets in the Old Testament led the people astray.4. Pharisees of the times of Christ found fault and led to the crucifixion of Christ.5. Judaizing teachers followed the Apostle Paul and led the people away from his teachings.5. False teachers in churches and seminaries have challenged the Word of God in our day and turned the multitudes from the Bible by undercutting its purity and authority.C. Why do so many reject the Truth? You would think that everyone would follow truth, but this is not the case. They follow those who speak evil of truth instead. Why does the world choose to reject the truth of God's Word. And follow these false teachers?1. They do not want an authoritative Bible. If the Bible is God's Word, and it is, then they would have to submit to that authority. The world rejects the Bible without ever reading it. They have no personal knowledge of truth and follow those who pervert the truth.2. They do not want a salvation that changes the heart and desires. The world loves their sin and is not willing to give it up for a holy life. The world rejects righteousness and chooses to follow those who promote unrighteousness.3. The god of this world has done a good job of blinding their minds to the gospel. The gospel gives salvation to all who come to Christ by faith. The world rejects the concept that few are going to heaven and the many are on the broad way to hell. The gospel is exclusive!4. The false religions appeal to the flesh. The world loves worldliness and false teachers who make their message appealing to the sinful. Sinners are sinners by birth and sinners by choice. The world wants a religion that requires nothing and judges nothing. The Word of God condemns sin and judges it.5. The minds of the multitudes has been programed to think according to the philosophy of the world. This world has gone mad. Our children are being raised up in an ungodly world where common sense and right is labeled as the enemy of society. Their thinking is perverted and that is the reason that our minds must be renewed through God's Word.D. Why do so many professing Christians reject the truth? People who have known truth, people who were raised in truth, follow those who attack and speak evil of the truth. They leave good churches for ones that do not preach on sin, practical sanctification, and service.1. Because they reject God's command of distinction! We that are saved are not of this world! We are new creatures, we are different, and we are the enemy.Romans 12:1-2 I beseech you therefore, brethren, by the mercies of God, that ye present your bodies a living sacrifice, holy, acceptable unto God, which is your reasonable service. (2) And be not conformed to this world: but be ye transformed by the renewing of your mind, that ye may prove what is that good, and acceptable, and perfect, will of God. (Transformation to Christ comes through the renewing of our minds and the renewing of our mind comes through the Word of God. We are to love God, not the world. People follow their pernicious ways because of their affinity with the world.)2. Because of their love for sinfulness! God's people love God! But, as sinfulness comes, that first love begins to cool.Matthew 24:11-12 And many false prophets shall rise, and shall deceive many. (12) And because iniquity shall abound, the love of many shall wax cold. (The preaching of our day is mostly exhortational and positive were as Biblical preaching is mostly reproving and rebuking.)2 Timothy 4:2 Preach the word; be instant in season, out of season; reprove, rebuke, exhort with all longsuffering and doctrine. (Notice the Biblical order of preaching. This does not mean that the pastor is hateful or always negative. The key to reproving and rebuking is longsuffering and doctrine. Longsuffering shows compassion while doctrine does the rest. People do not want a church whose doctrine is right.)3. Because the world has changed their thinking! We that are saved are being constantly bombarded with the philosophy of the world. 1 Corinthians 2:14-16 But the natural man receiveth not the things of the Spirit of God: for they are foolishness unto him: neither can he know them, because they are spiritually discerned. (15) But he that is spiritual judgeth all things, yet he himself is judged of no man. (16) For who hath known the mind of the Lord, that he may instruct him? But we have the mind of Christ.Philippians 2:5 Let this mind be in you, which was also in Christ Jesus: (We have the mind of Christ but have to allow that spiritual mind to operate within the realm of our thinking.)2 Corinthians 4:4 In whom the god of this world hath blinded the minds of them which believe not, lest the light of the glorious gospel of Christ, who is the image of God, should shine unto them. (I do not like to take a text our of its context but do want to make a spiritual application from this verse. Satan is busily seeking whom he may devour. He uses philosophy to get his work done.)4. Because of spiritual loneliness! If you live for Christ in these last days, you will have to travel the road less traveled. "Though none go with me, still I will follow" is easily sung but takes spiritual resolve to accomplish. The sword of division brought by Christ is a reality.2 Peter 2:2 And many shall follow their pernicious ways; by reason of whom the way of truth shall be evil spoken of.