by Hohn Cho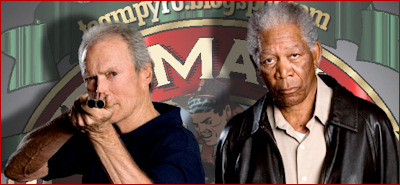 n my pre-Christian life, I was a political leftist who considered identity politics to be the pathway to a more enlightened future. I was deeply invested in what I like to call a "race-centric" view of the world, so much so that I would bristle and correct anyone who dared to use the word Oriental in my presence—with a toxic blend of self-righteousness, condescension, and pique that is sadly so common in much of today's political discourse.If anyone else has a mind to put confidence in "wokeness", I far more. As a student, I marched and protested and helped occupy buildings for the cause of affirmative action in faculty hiring, and my course of study was all about ethnicity in America. I was steeped in concepts of critical race theory at one of the most liberal campuses in the nation, and considered myself to be a full-blown socialist (not the weak-tea Bernie Sanders types that we see these days).Fast forward to today, and thanks to God's free gift of salvation, followed by the sanctifying power of the Holy Spirit working through the perfect Word, I can honestly say that verses such as Galatians 3:27-28, Colossians 3:11, 1 Peter 2:9, 2 Corinthians 5:16, and John 3:30, among others, have thoroughly demolished my race-centric worldview. And so it is that I marvel when I see significant portions of the conservative evangelical church appearing to move more and more toward a race-centric worldview, while the Gospel is seemingly emphasized less and less.Now, I will readily admit that even the most race-centric evangelicals would likely dispute that characterization quite vigorously, but the reality is that when race seems to be all that a person talks about, other topics—including the Gospel—start to recede into the background. This is the very point that Phil made to Thabiti Anyabwile in his article, "Against Mission Drift."As it has been in the world, this discussion is fraught with challenges in the church. Some people object to using the term "race" while others might prefer or actually insist on it. There are explicit or implicit questions about who is allowed to speak on the topic, or at least speak with any degree of perceived credibility. Actual data and even Scripture are sometimes minimized or ignored in favor of emotions and experiences. Positions are staked out, often at increasing distances from one another, the temperature rises, cognitive biases hinder understanding, unfair generalizations abound, and soon you realize that you're in the middle of a giant mess and you've lost sight of the exit.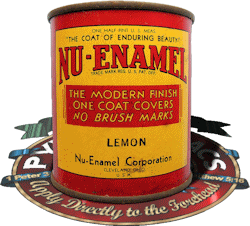 And very often, you see people bemoaning others' tone and diction. Offense is taken, accusations fly, people become defensive, and the odds of having a meaningful discussion plummet. This is a real shame, because in order to make any progress on an issue as intense and emotionally charged as race, the order of the day must be level-headed civil discourse—and in the church, always keeping central what the Word of God says.As with any passionate endeavor, however, if one decides to engage, there must also be a willingness to have a thick skin and "overlook a transgression" as we know from Proverbs 19:11 and 1 Peter 4:8Which brings me to the subject of my post. The often hair-trigger reactions to others' tone and diction are unsurprising in a world where "microaggressions" are actually a thing.Merriam-Webster defines a microaggression as "a comment or action that subtly and often unconsciously or unintentionally expresses a prejudiced attitude toward a member of a marginalized group (such as a racial minority)." I can understand why the world would buy into this concept, as it pushes all of the worldly buttons: the elevation of self, the smug moral righteousness that can come along with self-positioning as a victim, the clinging onto offense and unforgiveness, the rhetorical escalation of small slights into matters of first importance, and ultimately, the great sin of pride.In the church, however, this really ought not be, as we have the perfect Word to guide us. In that sense, even the very nature of the secular word "microaggression" is telling, because micro admits that the behavior being complained about is tiny, while aggression is self-refuting, as it typically requires overt hostility or violence, and not acting merely "subtly and often unconsciously or unintentionally".Instead, I would argue that a more biblical term for calling out small slights of this nature would actually be speck-plucking from Matthew 7:3, representing a microscopic focus on others' shortcomings while ignoring one's own. When we apply the concept of speck-plucking to race, seemingly the most common source of "microaggressions" today, the concern comes into stark focus, especially in light of the worst race-centric pundits' own propensity to make sweeping race-based generalizations (see, e.g., "white evangelicalism", "white fragility", "white guilt", "white privilege", etc.). They really ought to remove the planks from their own eyes, before critiquing others' subtle, unconscious, or unintentional comments or actions!This dynamic of racial speck-plucking is all the more puzzling when one understands that gauging whether or not someone else "subtly and often unconsciously or unintentionally expresses a prejudiced attitude" involves a significant likelihood of false positives, so much so that the first question should never be, "Are you offended?" but rather, "Did the other person intend to offend you?"Among Christians, hopefully the answer in the vast majority of cases will be, "Of course not!" If the world will know us by our love for one another (John 13:35), then we should exercise love toward one another, which according to 1 Corinthians 13:7 "bears all things, believes all things, hopes all things, endures all things." And ultimately, 1 Corinthians 4:5 tells us that we are not to pass judgment upon another person's heart motives toward us; it is instead the Lord who will reveal and judge.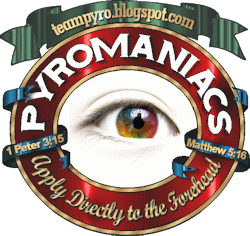 But the practice of fixating on speck-plucking carries with it another grave spiritual danger, and that is the sin of unforgiveness. In the Parable of the Unforgiving Slave in Matthew 18:21-35, after a slave's plea for mercy, the Master forgives his debt of 10,000 talents, which is billions of dollars in today's currency. This slave then proceeds to physically abuse another slave for not repaying a debt of 100 denarii, or 100 days of wages for a laborer. The debtor slave makes a nigh-identical plea for mercy, which is heartlessly rejected, and the debtor slave is thrown in prison. Upon hearing of this, the Master then hands the unforgiving slave over to the torturers.The entire passage is a beautiful but sobering picture of a Christian's response to salvation, as well as the reality that we who know that we have been saved from an unpayable debt and an eternity in Hell are to be kind and patient and forgiving even when wronged by others. I think many Christians understand this parable reasonably well as an abstract concept, but moving into the details, it's noteworthy that the example chosen as a debt to forgive, 100 denarii, is actually several thousand dollars by today's currency. This is not an insignificant sum!In light of this, I would be deeply concerned for any Christian who would seize upon a perceived "microaggression" and elevate it to the level of a confrontation, an issue between brothers. The way that we handle personal offense, suffering wrong, and being sinned against can be a powerful reflection of our own spiritual maturity. And to the extent a person escalates speck-plucking to the level of offenses or censorious accusations, were I shepherding that person, I would gently attempt to demonstrate from the Scriptures I describe above that responding to a perceived offense is actually an area where the person could grow spiritually.Bringing it back to the example of the speck, immediately prior to the famous speck-plank reference in Matt. 7:3-5, we see our Savior say in Matt. 7:2, "For in the way you judge, you will be judged; and by your standard of measure, it will be measured to you." So if we're actively engaged in speck-plucking toward others, we will have that returned to us in full measure . . . something that any rational person would want to avoid.James 2:13 is arguably an even more directly applicable verse along these lines. As a closing comment on a passage about the sin of showing favoritism to people based on their wealth and social class—and analogously, any class, such as race—James exhorts Christians to show mercy to each other, and warns that "judgment will be merciless to one who has shown no mercy."This warning was an especially apt one for early Christians who were overtly favoring the rich over the poor, in keeping with the heavy social stratification of Rome and the Ancient Near East. But I believe it's just as apt for today's environment, where hypersensitivity over race has led to a social media uproar over a high school girl's wearing of a Chinese dress, excoriations of a Jewish journalist for complimenting immigrants, and the mob-demanded firing of two former employees at a Portland bakery who appear to have done nothing objectionable. If there is mercy in any of these judgments, I am unable to see it.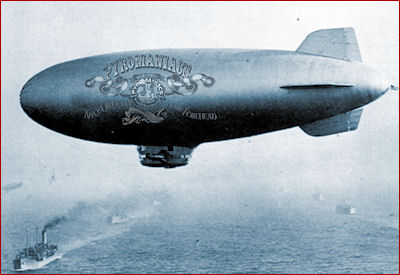 Sadly, even some within the conservative evangelical church appear to be heading down a similar path to the world. The race-centric nature of much of the recent discussion has seen prominent leaders such as Anyabwile saying, "My white neighbors and Christian brethren can start by at least saying their parents and grandparents and this country are complicit in murdering a man who only preached love and justice" (which Phil has already commented on). And Matt Chandler calling 300 people who left his church over his view on the topic of race "fools," in a manner that reminds me of the warnings in Matthew 5:22. . . because obviously, he spoke to all 300 people who departed, and none of them had any valid reasons to leave. And Eric Mason declaring that "pushback from a privileged position will get shut down," which could perhaps be summarized as "disagreeing while white". Although these types of statements are not (yet) to the level of the ones in the prior paragraph, the amount of mercy shown to their targets is still depressingly thin, especially in light of James 2:13.I take no joy in highlighting these public, unambiguous comments, all of which remain to this day without retraction. These men are conference speakers, authors, and most of all pastors accountable to James 3:1 who have significant influence in the conservative evangelical church, and their comments do not represent "microaggressions" nor are they merely specks to be plucked. They have not personally offended me; rather, I am deeply grieved to see even some men who preach a faithful Gospel seemingly following a path cut more by the world than by Scripture.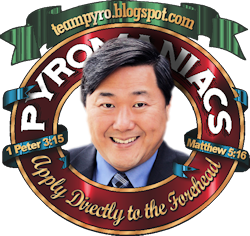 The current controversy over race-centric worldviews in the church is one that will require civil but robust discussion in order to attempt to make progress. May we do so with charity, yes, but also with stamina and perseverance, and without sweeping generalizations or hypersensitive speck-plucking.Hohn Cho
Dear Friends,A recent study reveals that loneliness has now reached epidemic levels in the United States. In a survey of over 20,000 adults 18 and over, the numbers are staggering:Nearly half of Americans report sometimes or always feeling alone (46 percent) or left out (47 percent).One in four Americans (27 percent) rarely or never feel as though there are people who really understand them.Two in five Americans sometimes or always feel that their relationships are not meaningful (43 percent) and that they are isolated from others (43 percent).One in five people report they rarely or never feel close to people (20 percent) or feel like there are people they can talk to (18 percent).Americans who live with others are less likely to be lonely (average loneliness score of 43.5) compared to those who live alone (46.4). However, this does not apply to single parents/guardians (average loneliness score of 48.2) – even though they live with children, they are more likely to be lonely.Only around half of Americans (53 percent) have meaningful in-person social interactions, such as having an extended conversation with a friend or spending quality time with family, on a daily basis.Generation Z (adults ages 18-22) is the loneliest generation and claims to be in worse health than older generations.Interestingly, the study notes that "Social media use alone is not a predictor of loneliness; respondents defined as very heavy users of social media have a loneliness score (43.5) that is not markedly different from the score of those who never use social media (41.7)." What is not being said here is that this statistic clearly indicates that increased social media use is affecting everyone, not just heavy users.I witnessed a perfect example of this last night at a restaurant. At the booth next to my wife and I, a large family had wedged themselves into both sides of the table. Despite this perfect opportunity for a great evening of quality family time, I couldn't help but notice that large periods of time went by with the family sitting in silence. Why? Because half of the people at the table had their faces buried in their phones, while the other family members stared off into space. Is it any wonder that half of the country is not having any meaningful conversations with anyone when the people they are trying to talk to are staring down at a screen?This study should be a reminder to believers that we should always be ready and willing to give everyone we encounter our full attention, not just our family and friends. Phones and social media aren't the only culprits here—often it is our own fear of looking abnormal that keeps us from spending a few moments talking with a homeless person on the street or our Uber driver. We must work on refocusing our priorities to giving everyone in our lives the time and attention they crave and rightfully deserve.God created us to love and to be loved. We all need to be constantly reminded of the timeless adage: "It is good that you exist." When we spend quality time with our family members and everyone else the Lord puts in our path, we reaffirm this basic truth and help to spread Christ's Kingdom.Thank you for your prayers and for your continued support of FRC and the family.Sincerely,Dan Hart Managing Editor for Publications Family Research Council FRC ArticlesChristians can influence the world without being influenced – Tony PerkinsWomen & Pornography – Patrina MosleyDismemberment Abortion – Patrina MosleyFlocking to tend to our nation's spiritual needs – Travis WeberPlanned Parenthood's tax dollar gravy train just got derailed – Cathy RuseImitating My Father – Dan HartGetting to Know Generation Z – Marion MealorGood But Not Great: Don't Be Fooled by the Masterpiece Decision – Andrew RockWarning to Northern Ireland: Science Without Faith is Dead – Patrina MosleyMasterpiece Cakeshop: How Can a 7-2 Supreme Court Decision Be "Narrow?" – Peter SpriggPolitically Motivated Research Underestimates Risk of Suicide After Abortion – Martha ShupingMasterpiece Cakeshop: Summary of Each Supreme Court Opinion – Peter SpriggThe Ethical Imperative of Adult Stem Cell Research – Hannah BorchersSupreme Court Protects Jack Phillips' Rights, Tells Colorado: "Not So Fast" – Travis Weber Religious LibertyReligious Liberty in the Public SquareSupreme Court Rules in Favor of Baker Who Declined to Make Same-Sex Wedding Cake – National Catholic RegisterState Judge Sides with Christian Baker – Rodney Pelletier, Church MilitantPhiladelphia Archdiocese sues city over foster care placements – Matthew Gambino, CruxValedictorian: "They Told Me I Had to Take Christ Out of My Speech" – ToddStarnes.comA tall Christian cross stood in a Michigan park for nearly 70 years. Now it's gone – Lisa Gutierrez, The Kansas City StarDemocrats introduce bill to counter Sen. Orrin Hatch's religious freedom law – Dennis Romboy, Deseret NewsIndiana high school accepts teacher's resignation over transgender policy – Kathleen Joyce, Fox NewsInternational Religious FreedomPence Meets Indonesia's Top Muslim Leader After Church Attacks – Kate Shellnutt, Christianity Today'Human rights disaster': China's persecution of Christians at highest level since Mao – Bradford Richardson, The Washington TimesReligious War Looms in Nigeria as Christian Body Count Climbs – Lela Gilbert, NewsmaxCanada's top court rules against Christian law school: LGBT rights trump religious freedom – Lianne Laurence, LifeSiteNewsPolice seizes 1,100 Bibles in China's Shandong province – Madeeha Bakhsh, Christians in PakistanThe Radical Forgiveness One Egyptian Mother Has for Her Son's Murderers – Lindy Lowry, Open DoorsSeveral Iranian Christians to Serve Time in Prison – Jeffrey Cimmino, The Washington Free BeaconInternational Religious Freedom Report for 2017 – U.S. Department of StateU.S. senator introduces bill for sanctions against Turkey – Hürriyet Daily News LifeAbortionWhat Happened When 3 Women Faced Deep Suffering Rather Than Abort Their Children – Maureen Mullarkey, The FederalistThe Silent Suffering of Fathers After Abortion – Victoria Robinson, The Daily SignalPresident Trump to cut Planned Parenthood funding – Cassy Fiano, Live ActionIreland votes to legalize abortion: 'a tragedy of historic proportions' – Claire Chretien, LifeSiteNewsSupreme Court Rejects Planned Parenthood Challenge to Arkansas Pro-Life Law That Could Close Two Abortion Clinics – Steven Ertelt, LifeNewsGirl with Down Syndrome stuns politicians with powerful speech about her 'right to be alive' – Jonathon Van Maren, LifeSiteNewsPro-life commercial from Herbal Essences stirs up controversy – Nancy Flanders, Live ActionAdoptionFoster Care Fanaticism in Philadelphia – Darel E. Paul, First Things3 Things We Learned While Waiting For Our Adopted Child – Kelly Cox, Her View From HomeI Chose Adoption For My Baby, But I Didn't Let Go – Leah Outten, Her View From HomeObamacareObamacare Is Shrinking the Individual Health Insurance Market – Edmund Haislmaier, The Daily SignalConservative groups, congressional Republicans appear poised for another try at ObamaCare repeal – Joseph Weber, Fox News FamilyMarriageHow to Build a Healthy Marriage With Authentic Communication – Michelle Habel, Focus on the FamilyFive Myths About Fathers and Family – W. Bradford Wilcox, Family StudiesBaby Bust: Fertility is Declining the Most Among Minority Women – Lyman Stone, Family StudiesHere's why it matters that Americans are having fewer children than ever before – Jeremy Carl, Fox NewsMarriage Support Needs Time to Work – W. Bradford Wilcox, Family StudiesCouple with Down syndrome reveals secret to 23 years of wedded bliss – Cerith Gardiner, AleteiaGrandpa's 6 tips for a successful marriage – Jackie Pilossoph, Chicago TribuneNatural Rights, God, and Marriage in the American Founding – Vincent Phillip Muñoz, Public DiscourseEconomics/EducationThe Left's War Against Prosperity in Seattle – Jarrett Stepman, The Daily SignalFaith/Character/CultureThe Importance of Dads in an Increasingly Fatherless America – Virginia Allen, The Daily SignalOn Father's Day, Remember the Fatherless – Alysse ElHage, Family StudiesThank You For Being a Dad Who Shows Up – Emily Solberg, Her View From HomeWhat Mothers Cannot Give to Their Sons – Anthony Esolen, Public DiscourseNo, Amazon Tribes Should Not Be Allowed To Kill Their Children – John Daniel Davidson, The FederalistWhat Anthony Bourdain Reveals About Living In The Age Of Loneliness – Ben Domenech, The FederalistHow Faith Communities Can Push Back the Darkness of Suicide – Emilie Kao, The Daily SignalHuman SexualitySchool Can Force Students to Share Bathrooms With Transgender Students, Federal Court Rules – Rachel del Guidice, The Daily SignalSan Diego Parents Pulling Their Kids From School Over Inappropriate Sex-Ed Curriculum – Grace Carr, The Daily SignalThe War Against Abstinence: Blockers, American Pie, and the Last Great Sexual Taboo – Daniel Ross Goodman, Public Discourse'The Dating Project' movie offers a 101-level course in courtship – AleteiaNearly 90 Percent of Public Opposed to Virginia County's Sex Ed Changes – Rob Shimshock, The Daily CallerHuman TraffickingDOJ Arrests 2,300 Alleged Child Pornographers And Sex Traffickers – Jacob Airey, The Daily WirePornographyRadical Parenting – Protecting Our Kids from Pornography – GretaEskridge.comDoes Pornography Feed Sex Tourism? – Rose Brugger, Public DiscourseMore Americans Say Pornography Is Morally Acceptable – GallupPorn Addict Says 'Wrong Click Changed My Life' as a Teen, Exposing Her to Abusive, Animal-Like Sex – Stoyan Zaimov, The Christian Post
For years, researchers have been studying the worldview of millennials and how it differs from the generations before them. More recently, however, a new generation that is just entering their college years is stepping into the spotlight and gaining attention—Generation Z. Who are they? The simple answer is that they are the 60-70 million people born between 1999-2015 (ages 2-18), making them the second largest generation in America. The more complicated answer, however, encompasses the identity of the most ethnically diverse generation alive today. What is shaping them? What is their worldview? How can we lead them? Based on research conducted by the Barna Group in partnership with the Impact 360 Institute, Jonathan Morrow answers these questions at an FRC Speaker's Series event yesterday in Washington, D.C.As Gen Z is growing up, it is vital to know and understand what is shaping them and if they will carry on the cultural and moral trends that defined Millennials. David Kinnaman, president of Barna Group, asks a very significant question, "Is it possible that many churches are preparing young Christians to face a world that no longer exists?" This is something we must recognize in order to equip Gen Z for the challenges they are sure to face. The percentage of people with a biblical worldview has been in evident decline with each generation, from the Baby Boomers to Gen Z. According to Morrow, only four percent of Generation Z have a biblical worldview, making them the "post Christian" generation. It is important to evaluate whether we are preparing our young people for the world we wish we lived in or the world that actually exists.Jonathan Morrow, the Director of Cultural Engagement at the Impact 360 Institute, offers some essential mindset shifts needed for leading Generation Z. This generation does not remember a time without interactive screens, and they exemplify the pros and cons of being "digital natives." Many in this generation need to learn more about how to form relationships with people and how to engage in face-to-face conversations. Today, many young people feel unequipped to defend their faith because they lack the training and knowledge to do so. Morrow pointed out the importance of allowing them to test what they believe by being challenging in their faith, which will give room for it to grow.Too often, the data of our lives is compartmentalized into different boxes, but one of the best gifts we can give Gen Z is showing them how all these isolated parts work together. Our faith should not start and end when we go to church on Sunday, but instead be integrated into everything we do. One of the positive things about Gen Z is that they have a lot of empathy. Our job is to help them channel that in the direction of virtue. They need to know why they believe what they believe so they can take a stand of faith no matter what they may face. In short, Gen Z needs more connections, more challenge, more training, more integration, and more critical thinking.Understanding Generation Z is critical if we want to serve, lead, influence, and equip this next generation. The majority of these young people are still heavily influenced by parents, friends, teachers, and churches. They are driven by the desire for success in schooling and careers, and one of the best ways to reach them is vocational discipleship. We can be an ally to this "next, next generation" and continue to direct them to a biblical worldview. In the words of Morrow, "Listen and be present." For more information and to learn more about Generation Z, be sure to view FRC's Speaker Series event with Jonathan Morrow.Marion Mealor is an intern at Family Research Council.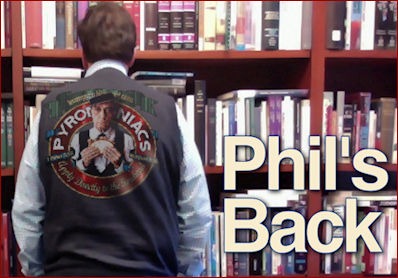 by Phil Johnson

t's been more than six years since I retired from the blogosphere. For half a decade, whenever someone would ask if I missed blogging, my honest answer was, "Not at all. Never even once." There wasn't a single moment in all those years when I thought, I wish I were still blogging so I could write something more than a Tweet about this issue. In my seven years of blogging, I had posted on practically every issue I really cared about. I ran out of opinions.Some HistoryI began blogging in 2005 because I was concerned about my fellow evangelicals' blithe acceptance of the so-called Emerging Church Movement. It seemed as if every elite evangelical agency—from Christianity Today to the Southern Baptist Ethics & Religious Liberty Commission (ERLC)—was foolishly hoping the Emergent Narrative would be The Next Big Thing. They were practically cheerleading for the movement! D. A. Carson was a rare voice of dissent, but his reply to the Emergent idea was (in my view) much too tepid to be an effective critique.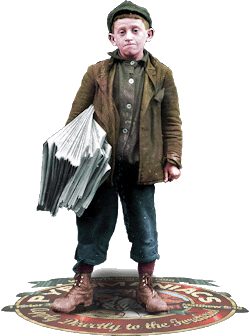 I had tried posting some opinions in the comments sections of a couple of popular blogs, but they made it clear they were not interested in dissenting views. One famous blog closed their comments completely when I tried joining their discussion. So on the last weekday of May 2005 I formally opened my own blog. My main goal was merely to articulate and catalogue my own misgivings about the drive to postmodernize evangelical Christianity. I had no expectation that anyone outside my circle of friends (and my Sunday school class) would be any more interested in my opinions than those blogs that had shooed me away when I commented.My first real blogpost went live the day after Memorial Day that year. It was a poke at the "Young, Restless, Reformed" movement, though I wrote it a year and a half before Christianity Today and Collin Hansen gave that movement its name.Right away, readership far exceeded what I anticipated. I immediately realized that I had inadvertently jumped into the deep end of the pool without any floaties.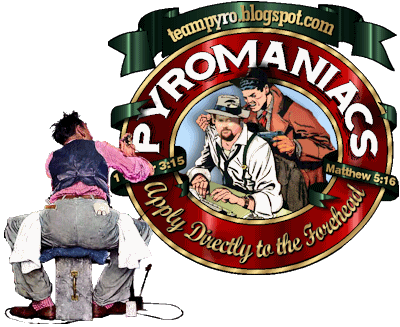 PyroManiacS: The birth of the Group BlogSo six months in, I invited Dan Phillips and Frank Turk to partner with me in the effort. I'd never met either one of them before, but I'd read their comments on line, and I knew 1) that they shared my views about the folly of postmodernism, and 2) that they were gifted writers with minds full of verbal mischief, more than capable of the kind of critique I wanted to level against the Emergent movement. So we launched the team blog in January of 2006.We wrote a lot of good, thoughtful posts attempting to provide Emergents with the "conversation" they were saying they wanted. But we quickly noticed a couple of surprising trends. First, the more purposefully rational and irenic our content, the less discussion our writing evoked. Second, no matter what we wrote or how we wrote it, there were swarms of smug postmoderns prepared to deconstruct our prose, pleading for every kind of "tolerance" other than tolerance of others' ideas, preaching love and kindness while eagerly spoiling for a fight with us.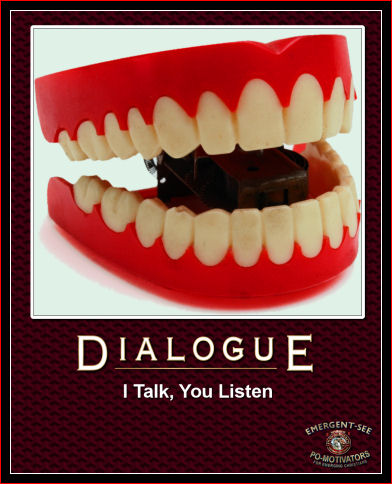 The High-Water MarkFrankly, making fun of postmodernism's foolish inconsistencies did far more good than trying to reason with postmoderns. Looking back, it seems to me that the Po-Motivators® may well have done more to open readers' eyes to the dangers of evangelical postmodernism than all the text we wrote combined. I'd hate to think those posters were the blog's high water mark, but it's true that the advent of the posters marked the turning point after which our postmodern critics dropped some of their trademark arrogance, and some of them actually left the Dark Side and joined the discussion we were having.Anyway, the Emergent movement finally died, and we're thankful for that. When we knew the fad was well and truly over (that the popular movement phase had passed, anyway), blogging seemed less urgent and less appealing. I formally retired in 2012 on my 59th birthday, and most of the evangelical blogosphere breathed a deep, cosmic sigh of relief.At the time, I remarked to anyone who raised the subject that although Emergent was dead and discredited as a movement, it had unleashed countless postmodern ideas and deconstructionist methodologies into the evangelical community, and these would bear some nasty fruit within a decade or less.I see the fulfillment of that prophecy in a myriad of ways today—including the emboldening of Andy Stanley, the rise of a quasi-evangelical brand of Critical Race Theory, eroding definitions of "biblical inerrancy," evangelical waffling on the moral questions raised by people who classify their own "sexual orientation" as LGBTQ, evangelicals still craving academic recognition or popular esteem from worldly minded people, the recent drift of Russell Moore and the ERLC—and other related or similar issues.So Here's the Thing . . .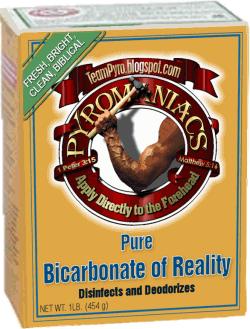 I suddenly have the itch to write about some of these things. Not every day, of course, but from time to time—perhaps weekly or so. Dan Phillips is now blogging to a bigger audience at PJ Media, and Frank Turk is more determined than I to maintain his retirement from controversial social media. Still, I'd love to get occasional contributions from them—or from others, such as Darrell Harrison, Justin Peters, Josh Buice, or anyone else who shares both my passion for biblical Christianity and my contempt for every effort to make the evangelical movement more politically correct. Consider this an open invitation to submit articles you think might be of interest to my readers. If you write enough blogposts that fit, I'll give you a set of keys to the blog and make you an official PyroManiac.Watch this space for my first actual issues-oriented re-entry into the blogosphere. If the Lord wills, I'll post it sometime next week.

Dear Friends,Bishop Robert Barron recently wrote a concise yet profound reflection on John 17:1-11. Here it is in full (emphasis mine):"Friends, Jesus' prayer in today's Gospel sums up his wonderful work as he is about to return to his Father. Jesus was, in his very person, the meeting of heaven and earth. God and humanity came together in him, and his entire ministry was the outward expression of that inward identity. By calling a scattered Israel to unity, inviting the poor to table fellowship, healing the sick in body and heart, and embodying the path of forgiveness and love, Jesus was bringing God's will and purpose to earth.Now, in his Passion and Death, Jesus brought heaven all the way down into the world. He carried the divine light into the darkest places of the human condition—hatred, cruelty, violence, corruption, stupidity, suffering, and death itself—and thereby transformed them. And the proof that heaven is able to transform earth is, of course, the Resurrection. Now we know that cruelty, hatred, violence, fear, suffering, and death are not the most powerful forces in the world. Now we know that the divine love is more powerful. God's kingdom has, in principle, broken the kingdoms of the world, which thrive upon, and in turn produce, those very negativities."This is a great reminder for believers to not be afraid of witnessing this divine love to those who do not believe. Christ has transformed even the worst thing that can possibly happen in life—death. We truly have nothing to fear.Thank you for your prayers and for your continued support of FRC and the family.Sincerely,Dan Hart Managing Editor for Publications Family Research Council FRC MediaOne Year Later: The Impact of President Trump's Executive Order Protecting Religious Liberty – Travis WeberFairfax County School Board to Teach Kids: "Biological Sex Is Meaningless" – Cathy RuseRemembering the Little Ones Up Above on Mother's Day – Dan HartSponsors of California's AB 2943 Claim It Wouldn't Ban the Bible. Maybe. But What About These Books? – Peter Sprigg"Death Panels" Are Now a Reality – Patrina MosleySpeaker Series: NIFLA: Preserving Free Speech for Those Who Advocate for Women and the Unborn – Rep. Andy Harris (R-Md.)Religious Liberty and National Security Go Hand in Hand Religious LibertyReligious Liberty in the Public SquareHow a 'Far-Left Propaganda Machine' Got a Respected Legal Group Expelled by Amazon – Greg Scott, The Daily SignalStudy: Trump Religious Freedom Order Helps 13.7 Million Receive Health Care and Social Services – Tyler O'Neil, PJ MediaTony Perkins appointed to US panel on international religious freedom – Jack Jenkins, Religion News ServiceCatholic Marriage Counselor Fired Because of her Religious Beliefs – ToddStarnes.comLGBT Activists Falsely Smear Those Protecting Children in Need – Monica Burke, The Daily SignalBusinesses to Avoid If You Can – Mark Bauerlein, First Things5 Reasons The Southern Poverty Law Center Is A Hate-Mongering Scam – Joy Pullmann, The FederalistTrump Religious Freedom Order Helps Charities Serve Over 13.7 Million in Need, Analysis Finds – Samuel Smith, The Christian PostCollege demands student remove Jesus, Bible references from graduation speech. Then she fights back – Dave Urbanski, The BlazeFight over cross at Florida public park resumes before appeals court – Kim Chatelain, The Times-PicayuneInternational Religious FreedomNorth Korea's Prisoner Release: 3 Down, 119,997 to Go – Olivia Enos, The Daily SignalExplosions at 3 Indonesian churches leave at least 2 dead: reports – Max Greenwood, The HillArrested in Chengdu – June Cheng, WORLDState Department knocks China over church harassment – Joel Gehrke, Washington ExaminerMilitary Religious FreedomLawmakers Say Army May Have Violated Law by Targeting Baptist Chaplain – ToddStarnes.com LifeAbortionIowa legislature votes to ban abortions once a fetal heartbeat is detected – Nancy Flanders, Live ActionPlanned Parenthood sues Iowa for banning abortion of babies with beating hearts – Claire Chretien, LifeSiteNewsNew Device Lets Pregnant Moms Take Ultrasound Pictures of Their Baby on Their Phone – Micaiah Bilger, LifeNewsThousands protest Trudeau's abortion agenda at Canadian March for Life – Lianne Laurence, LifeSiteNewsI Had an Abortion. Here's the Message I Want to Share With Other Women. – Victoria Robinson, The Daily SignalAdoption4 Things a Birth Mom Wants Adoptive Families To Know – Adrian Collins, Her View From Home10 things that will kill your orphan care ministry: Part 4 – Rick Morton, Ethics & Religious LibertyCommissionWill Placing Fewer Children in Foster Care Fix the System? – Naomi Schaefer Riley, Family StudiesThe Ache While We Wait to Adopt – Caroline Saunders, Her View From HomeBioethicsJudge Overturns California Law Legalizing Assisted Suicide – Steven Ertelt, LifeNews FamilyMarriageDaily Rituals Cultivate Lasting Love – Amber Lapp, Family StudiesHe's My Husband, Not My Savior – Kelli Bachara, Her View From HomeEncouragement for New Moms – Alysse ElHage, Family StudiesEconomics/EducationNew Data Show California Kids' Math Achievement Took A Nosedive After Common Core – Joy Pullmann, The FederalistWhy Employers Are Ignoring The Untapped Potential Of Stay-At-Home Moms – Joy Pullmann, The FederalistThis Is a Bad Look: In Current Farm Bill, Conservatives Prop Up Rich Farmers – Daren Bakst, The Daily SignalStraight Talk About the Success Sequence, Marriage, and Poverty – W. Bradford Wilcox, Family StudiesFaith/Character/CultureThe War on Wisdom – Dennis Prager, The Daily SignalYou Can Pursue Your Dreams and Love Your Family – Katie Warner, National Catholic RegisterThe Democrats' God Gap – David French, National ReviewNevada bank robber, FBI agent who arrested him, pray at White House – Debra J. Saunders, Las Vegas Review-Journal'Every Day With Her Was the Best Day:' Remembering My Mom – Armstrong Williams, The Daily SignalThe Childhood Quality That's the Best Predictor of Health, Wealth, and Happiness – Annie Holmquist, Intellectual TakeoutHuman SexualityMale Sexlessness is Rising, But Not for the Reasons Incels Claim – Lyman Stone, Family StudiesWhy A Compromise On Transgender Politics Would Be Capitulation – Walt Heyer, The FederalistConsent is No Cure – Craig Michael White, Ethika PolitikaHuman TraffickingUncovering The Silent Sex Trafficking Epidemic In New York City – Fight the New DrugChristian Rocker Risks Life in Undercover Mission to Rescue Victims in Sex Trade – Jeannie Law, The Christian PostPornographyYou Can Write An Open Letter to the Pornography Industry – National Center on Sexual Exploitation