A record 1 in 5 freshman politicians falls into a Protestant catchall category.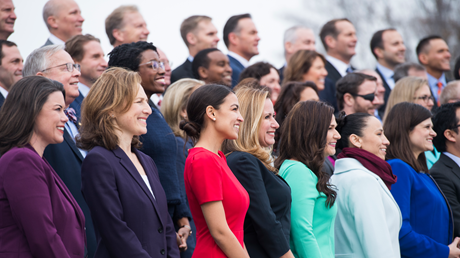 At the swearing-in of the 116th United States Congress today, nearly 100 new legislators will take the oath of office, pledging to "well and faithfully discharge" their new duties, "so help me God."
After last year's campaign and midterm elections, the ceremony represents answered prayers for dozens of incoming evangelical politicians.
Though the overall number of Christians in Congress fell slightly from 91 percent from 2017 to 88 percent in 2019, a vast majority of freshmen—78­ of the 96 newly elected lawmakers—identify as Christian and around half—47—are Protestants, according to the Pew Research Center's Faith on the Hill report.
With the largest freshman class since 2011, these representatives bring historic levels of diversity to Washington, a range of backgrounds outside politics, and deep convictions about faith in governance. The group includes Sunday school teachers, deacons, Christian college graduates, missions trip participants, prayer advocates, a former aspiring pastor, and plenty of churchgoers.
"In Romans 13, government officials are described as ministers of God," said Senator Josh Hawley of Missouri, who assumes Claire McCaskill's seat, in an interview last year about his faith. "That's how serious God is about politics."
Former counsel with the religious liberty legal group Becket (where he helped defend the Hobby Lobby and Hosanna-Tabor cases before the Supreme Court), Hawley belongs to the Evangelical Presbyterian Church, speaks before Baptist crowds, and is one of 22 freshmen who identify as unspecified/other Protestants in the congressional questionnaire from CQ Roll Call, the basis for the Pew report released ...
Continue reading...